This came via Gourmet Magazine in March of 2002, but I've changed up a few things.  While it does appear to take a long time, make it while you are doing laundry, or cleaning up around the house, and dash back in when necessary to put it in the pan.  My advice: less flour, rather than more.  Whenever I make it with the full 5, it's dull and too stiff.  When I use about 4-1/2 cups, it's about right.
Active time: 15 min Start to finish: 3 1/2 hr
1 (1/4-oz) package active dry yeast, or 2-1/4 teaspoons regular dry yeast (not the bread machine kind)
4 to 5 cups unbleached all-purpose flour
1/4 cup plus 3 tablespoons extra-virgin olive oil
1 tablespoon finely chopped fresh rosemary
1/2 to 1 teaspoon coarse sea salt (depending on how much you like salt)
Special equipment: a standing electric mixer with paddle attachment and dough hook
Stir together 1 2/3 cups lukewarm (105 to 115°F) water and yeast in bowl of mixer and let stand until creamy (see photos below), about 5 minutes. Add 4 to 5 cups flour, 1/4 cup oil, and 2-1/2 teaspoons table salt, and beat with paddle attachment at medium speed until a dough forms. Replace paddle with dough hook and knead dough at high speed until soft, smooth, and sticky, 3 to 4 minutes.
(OPT: if you don't have a dough hook and a mixer) Turn dough out onto a lightly floured surface and knead in 1 to 2 tablespoons more flour. Knead dough 1 minute (it will still be slightly sticky).
Transfer the dough to a lightly oiled bowl and turn dough to coat with oil. Let rise, covered with plastic wrap, at warm room temperature, until doubled in bulk, 1 to 1-1/2 hours.
Press dough evenly into a generously oiled 15- by 10- by 1-inch baking pan. Let dough rise, covered completely with a kitchen towel, until doubled in bulk, about 1 hour.
Preheat oven to 425°F.
Stir together rosemary and remaining 3 tablespoons oil. Make shallow indentations all over dough with your fingertips, then brush with rosemary oil, letting it pool in indentations. Sprinkle sea salt evenly over focaccia and bake in middle of oven until golden, 20 to 25 minutes.  Immediately invert a rack over pan and flip focaccia onto rack, then turn right side up (see Cook's Note below). Serve warm or at room temperature.
Cook's Note: If grains of coarse sea salt are very large, you may want to crush them slightly before sprinkling over focaccia.
Second Cook's Note: I just loosen the focaccia in the pan with a spatula, then drag it over to the rack.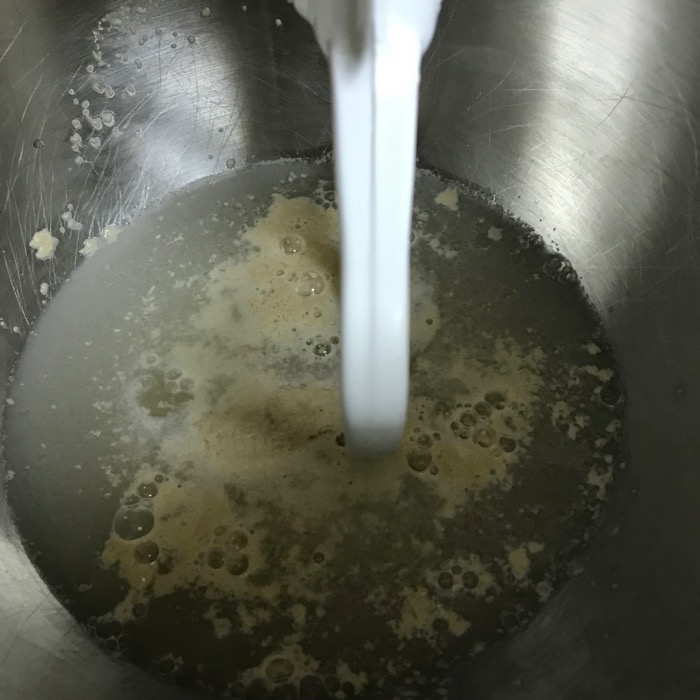 Yeast, all proofed and creamy-like.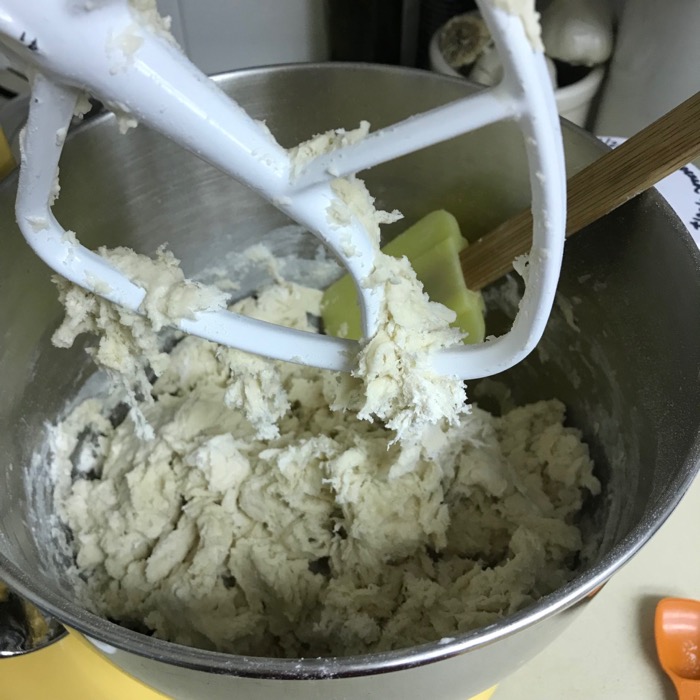 The dough is a little raggy with the added flour.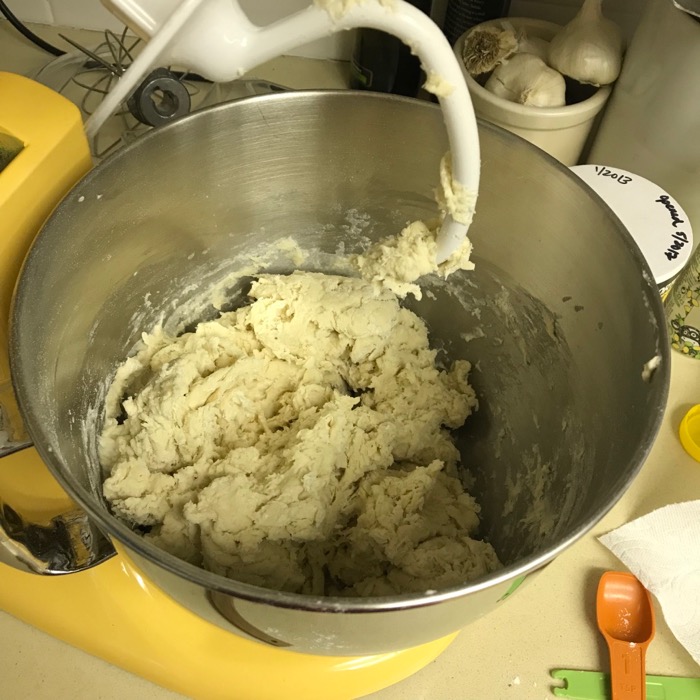 Switching over to the dough hook, to knead it.  If you have a mixer with a dough hook, no need to knead the dough on a floured surface.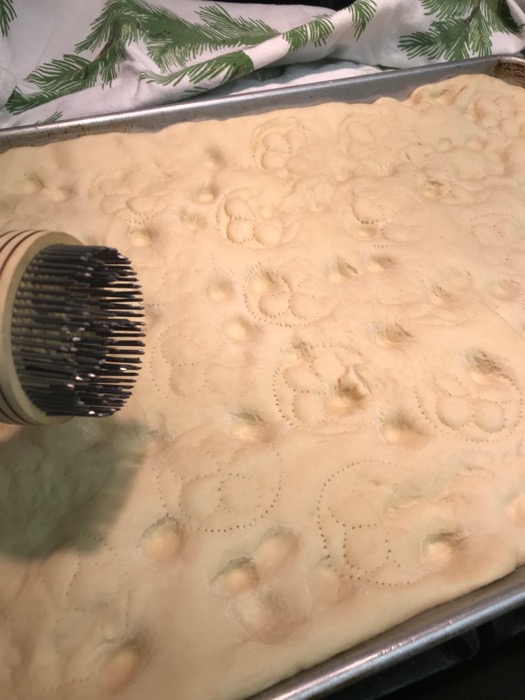 After second rise in the baker's half sheet (cookie pan with sides), push indentations with your fingers to allow oil to pool up on surface.  I also used a tool to add designs.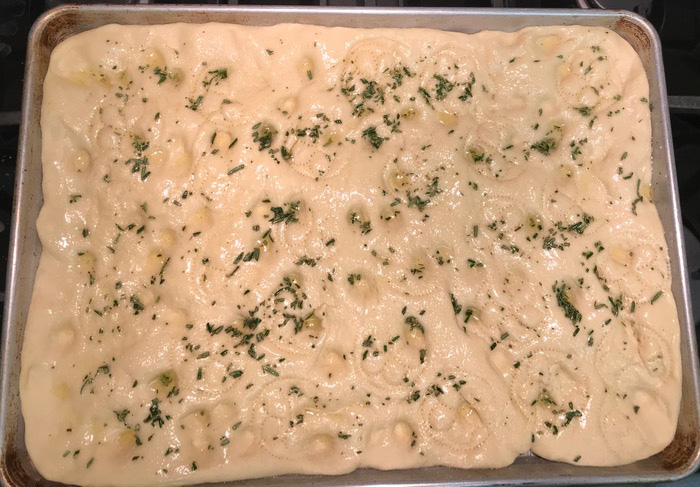 Brushed with rosemary oil, salt and ready for baking.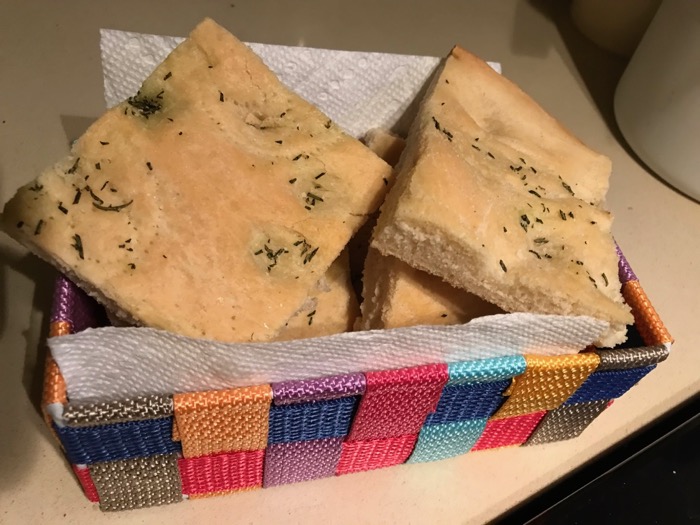 Yummy!  Drag it over to the rack, cut into squares, and serve.