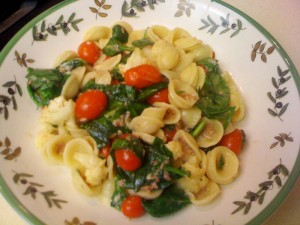 This is one of those recipes that you pick up while meandering through the blogosphere and end up really liking it.  I do like it.  See
additional post
.
Ingredients
1/2 medium cauliflower, cored and broken up into 3/4-inch florets (4+ cups)
1 pint cherry tomatoes, or 1 cup quartered tomatoes
Olive oil
Salt
Freshly ground black pepper
1 1/2 teaspoons fresh sage
3 large cloves garlic
2 ounces of bacon, fat trimmed and cut into small dice
8 ounces orecchiette pasta
5 ounces spinach, cleaned and coarsely chopped
1 cup grated Parmesan cheese
Preparation
1 Preheat oven to 425°F. Lay out cauliflower and tomatoes in a roasting pan, coat with olive oil and sprinkle with salt and pepper. Roast until just lightly browned and cooked through, about 15 minutes.
2 Bring a large pot of salted water to a boil (1 teaspoon salt for every quart of water).
3 While water is heating, pulse garlic, sage, and prosciutto together in a food processor until coarsely chopped. Once cauliflower has browned lightly, remove from oven, toss cauliflower with garlic prosciutto mixture, and return to oven to cook for 5-7 minutes more.
4 Boil pasta uncovered (rolling boil) for 9-10 minutes until firm, but done (al dente). Reserve one cup of pasta liquid. Drain water from pot. Add cauliflower, arugula (or spinach), and Parmesan to the pasta. Stir in enough cooking water to moisten. Add salt and pepper to taste.
Serves 4.