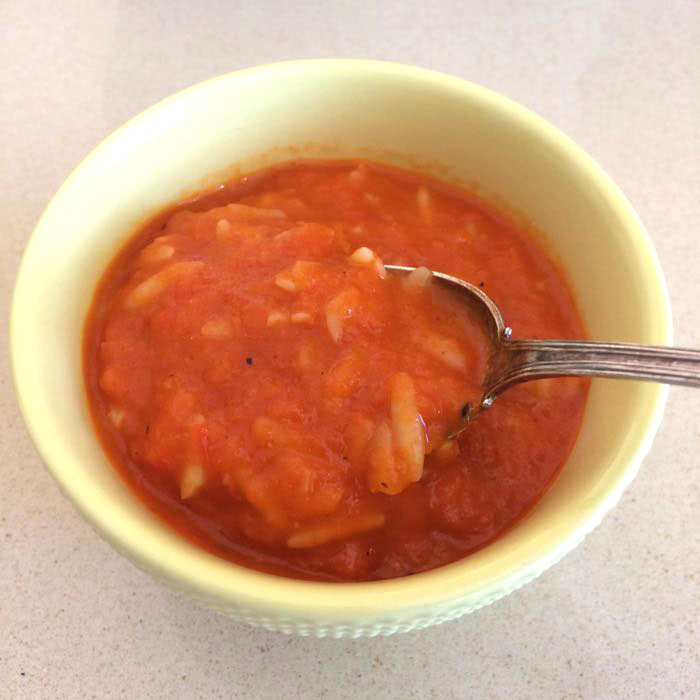 Think of this as a snappier version of tomato rice soup; the amount of pasta used here is just enough to temper the peppers' bite.  I have modified this recipe from one I found in the Washington Post.
Serve with a loaf of Mary's Retreat Bread.
Servings: Tested size: 3-4 servings; makes 3 1/2 to 4 cups
Ingredients
1 medium shallot
1 clove garlic
5-6 red roasted peppers (directions below) ***
2 teaspoons olive oil, plus more for optional garnish
3-1/2 to 4 cups chicken broth (you get to determine the texture: soupy or thick)
1/2 cup dried orzo pasta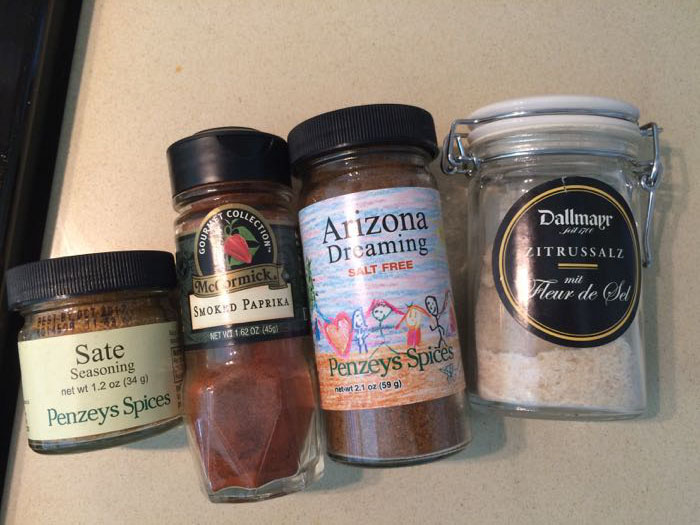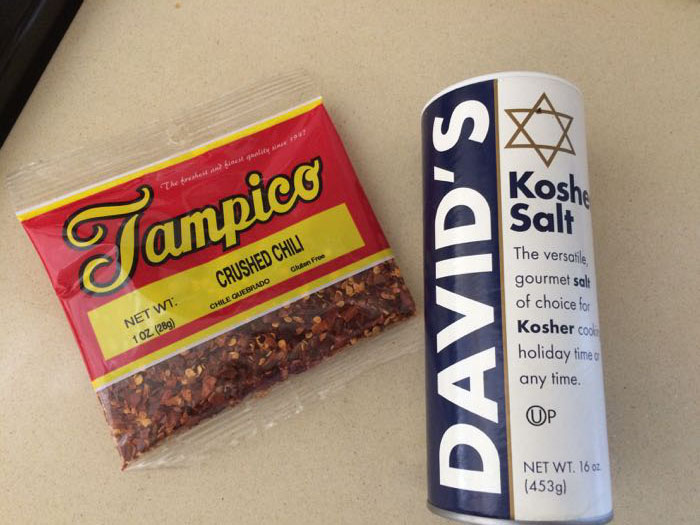 Spices to Taste:
wave of Arizona Dreaming, Sate, Smoked Paprika and [optional] a pinch of lemon-salt (use a shake of Kosher salt and 1 tsp. lemon rind, as substitute)
pinch of crushed red pepper flakes (also called "chili" flakes)
NOTE: Arizona Dreaming is my new go-to spice.  Get yourself a jar.
Directions
Peel and coarsely chop the shallot and garlic. Prepare the red peppers by broiling the seeded, washed halves for 15 minutes under high broiler heat on a prepared pan (line with tin foil).  Wrap the whole pan in foil, and let the peppers cool while they continue to steam and melt into goodness, about 30 minutes. Alternatively, you could put them into a covered bowl, and go that route.  Peel off the blackened skins and discard.
Heat half of the oil in a medium saucepan over medium heat. Once the oil shimmers, stir in the shallot and garlic. Cook for 3 or 4 minutes, until just softened.
Add the red peppers and broth; if your peppers weren't soft after the broiling stage, let them cook a bit more in the hot broth until tender.  Using a stick blender, puree the peppers/broth until smooth. Add the spices listed above.
Bring to a boil over medium-high heat, then stir in the orzo. Cook for 7 to 9 minutes or until the orzo is tender and more visible in the pot, stirring often to keep it from sticking to the bottom. Add more broth, if needed. Taste, and adjust seasonings as needed, using spices listed above.  You can also add a Tablespoon of lemon juice to pop things up, if needed.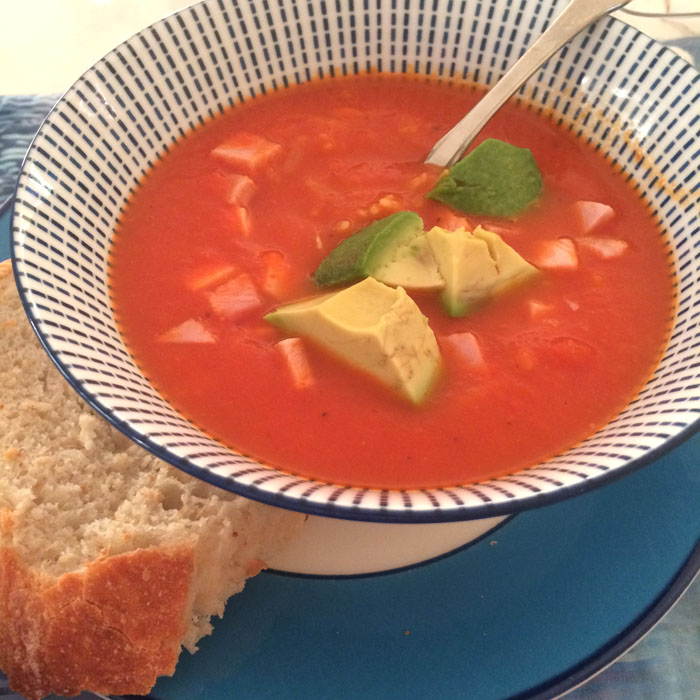 Also good with slices of avocado, if you like that sort of thing, or a really good sandwich.  We also added cubes of cooked ham, a carryover from another meal.
Other garnishes possible:
2 tablespoons pine nuts, for garnish
1 tablespoon grated pecorino Romano cheese
1 cup baby spinach
few leaves fresh basil
***COOK'S NOTE: To make this quickly, use two jars of roasted red peppers from Trader Joe's instead of roasting up your own peppers.  Drain, then use in the recipe instead of the home-done peppers.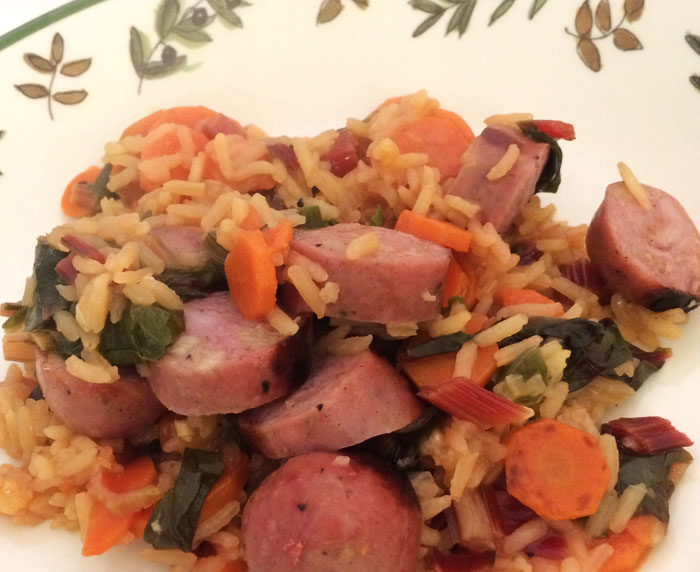 When you have lots of chard in your garden, or it's on sale at the green grocer's, it's time to make this dish.  If you don't add the brats and use water instead of the broth, it's vegetarian, but we like to use Apple-Chicken sausage (we buy it at Costco) and add it to this dish.  The original recipe came from Mark Bittman, but I've made some modifications.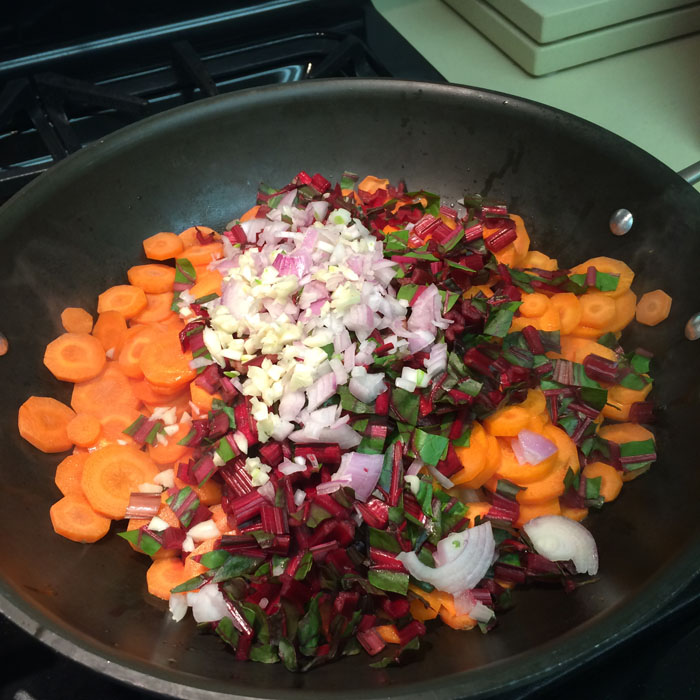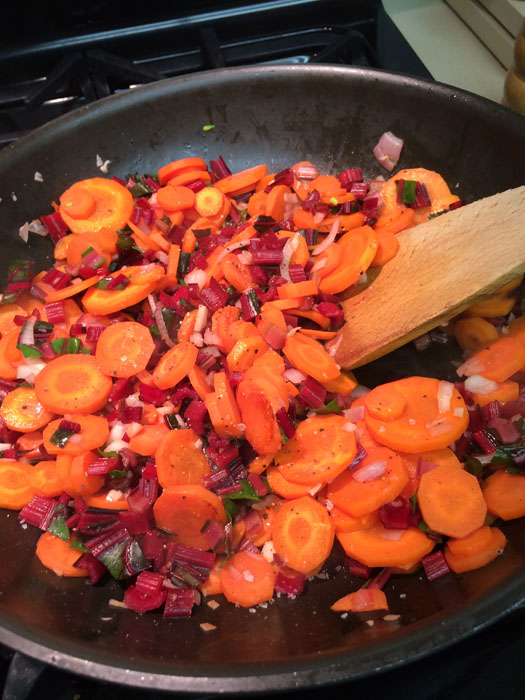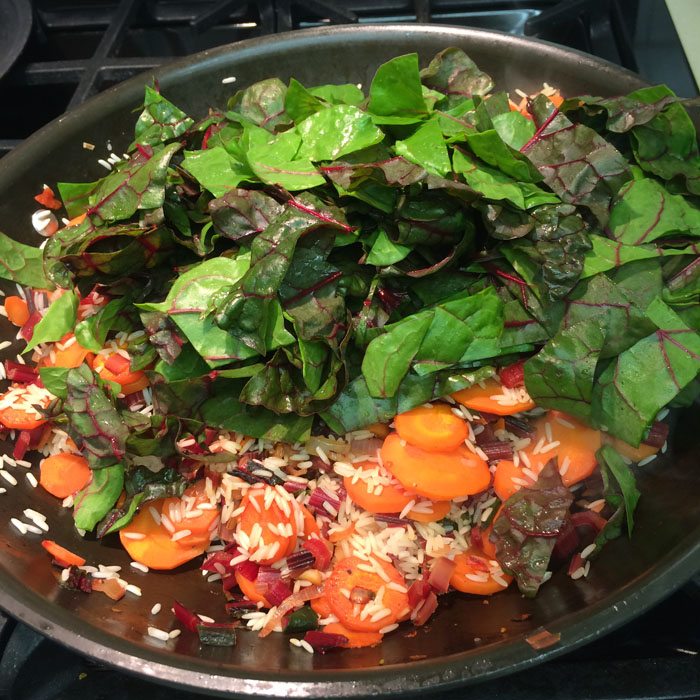 Ingredients
1 pound (or one large handful) chard, washed and trimmed
1/3 cup extra virgin olive oil
5-6 carrots, peeled, and either sliced, or roughly chopped
1 shallot, peeled and minced
2 cloves garlic, chopped
salt and pepper (this needs more than you think)
2/3 cup jasmine rice
2 cups chicken broth
Aidell's Apple and Chicken Sausage, 5 links
juice of one lemon
Directions
Cut the stems out of the chard leaves. Line up the stems (they look like pink celery) and slice them across the bunch, then cut the leaves into wide ribbons. Keep separate.
Put all but a tablespoon of the oil in a large skillet over medium heat. When hot, add the garlic, shallot, carrots and chopped chard stems, sprinkle with salt and pepper, and cook about 15 minutes, stirring occasionally.
When chard/carrots are tender, add chard leaves, more salt and pepper, the rice, and chicken broth. Cover and simmer for about 20-30 minutes, or until water is absorbed (you may have to lower the heat). Add water if needed, until rice is cooked. The mixture will be moist, but not too soupy.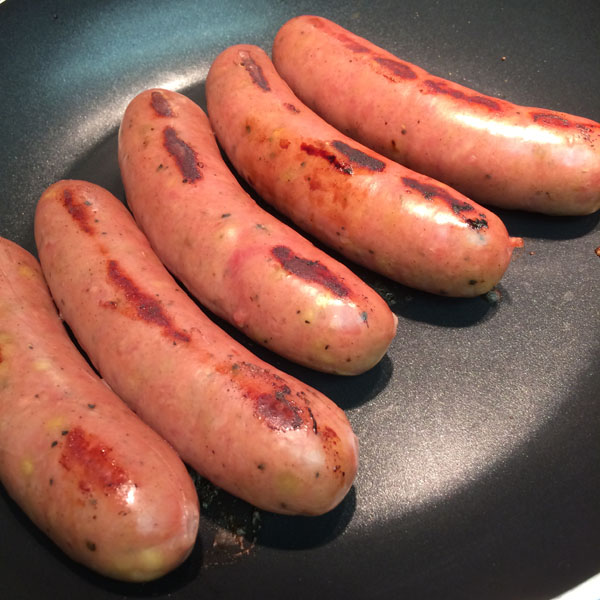 While those cook, place the sausage links into a non-stick pan, and over a low heat, cook until they are plump and slightly brown in places on the outside.
To finish the dish, add the juice of one lemon and a circle of olive oil, and if necessary, some more salt and pepper.  Slice the sausage/brats and pile on top of the rice/chard mixture.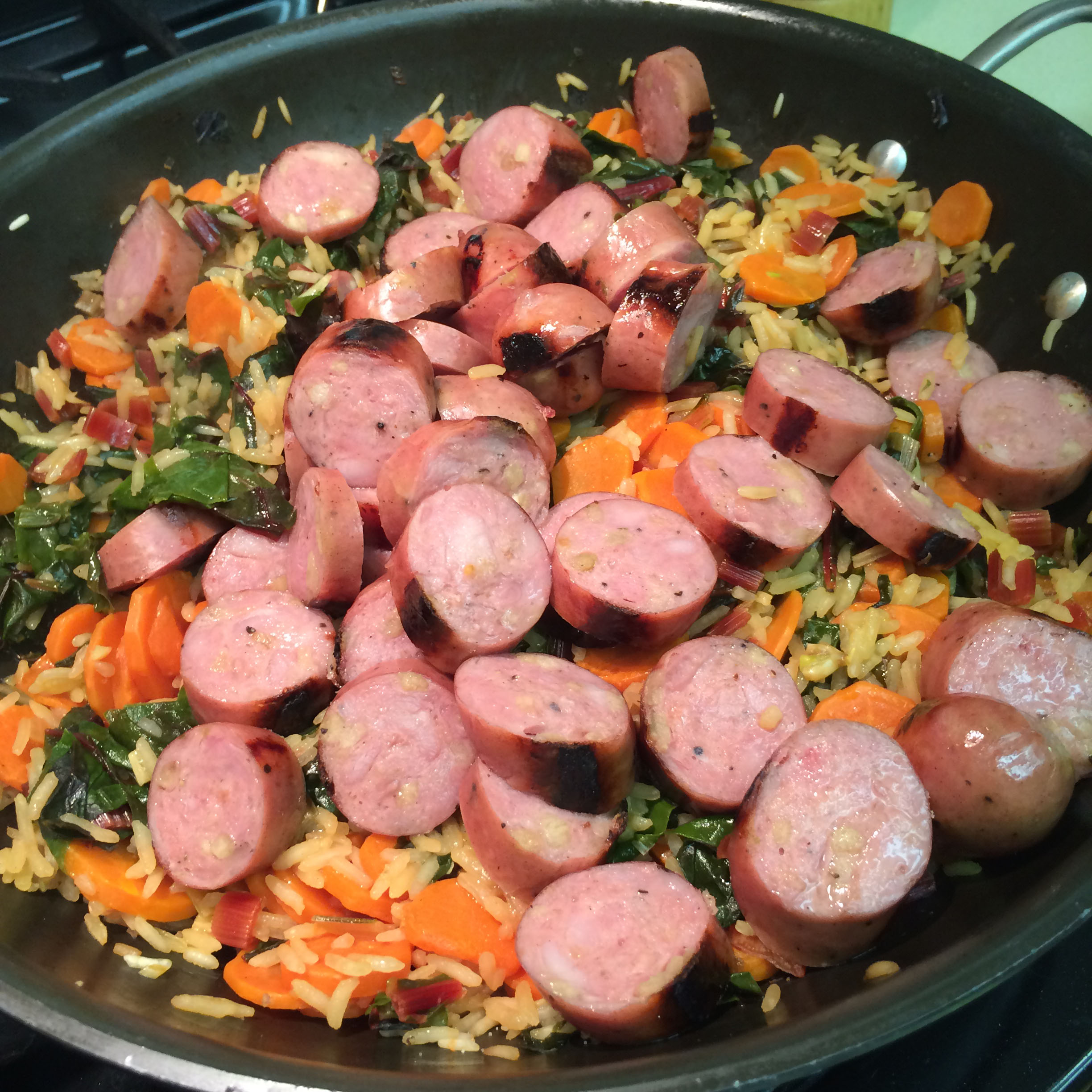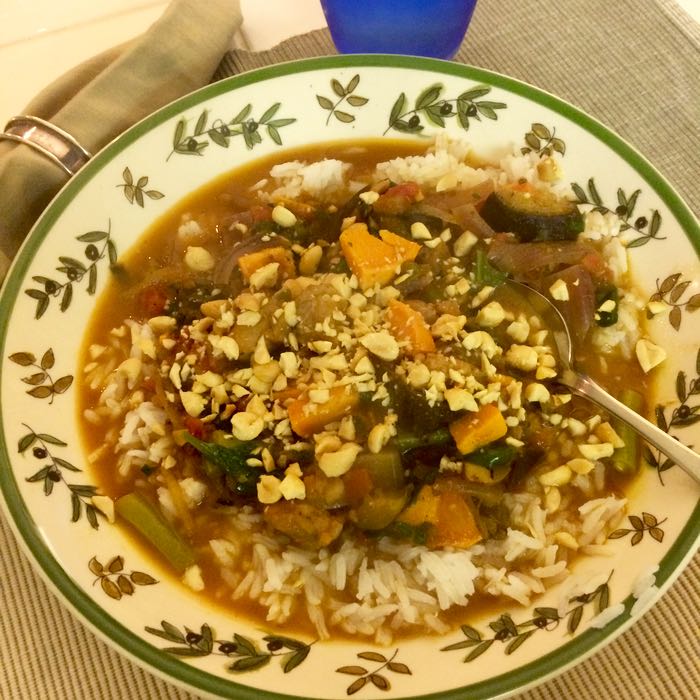 I first found this recipe in the New York Times; one version was by Julia Moskin and the other by Mark Bittman.  I have made this several times and combined/changed things up to suit me.  I like it because it begins with eggplant, and I always use the Japanese kind (so I can skip the salting step).  It's a good stew to serve over some rice, on a day when you just need something flavorful and hearty for dinner.
Ingredients
1 teaspoon ground cumin
1 teaspoon ground coriander
¼ teaspoon turmeric
⅛ teaspoon cayenne
2 medium-size Japanese eggplants, peeled and cut into 1-inch dice
1 teaspoon salt, plus more to taste
¼ cup good quality oil, peanut oil (if you have it)
2 shallots, thinly sliced
2 inches fresh ginger, peeled and minced
1 jalapeño chili, seeded and minced
1 onion, chopped
⅓ cup tomato paste
½ pound skinless, boneless chicken (about 2 thighs or breasts) cut into chunks
1 small (14.5 ounce) can diced tomatoes, preferably roasted
4 cups vegetable stock or water
½ cup natural unsweetened peanut butter (creamy or chunky)
1 medium-size zucchini, 6 to 8 ounces, cut in quarters lengthwise, then sliced 1/2 -inch thick
2 tablespoons freshly squeezed lemon juice (1 to 2 lemons)
2-3 cups coarsely chopped greens, such as spinach or chard
⅓ cup coarsely chopped cilantro leaves, plus whole leaves for garnish
Cooked rice, for serving
Chopped roasted salted peanuts, for garnish (optional)
Preparation
In a colander, toss eggplant with 1 teaspoon salt; set aside for 30 minutes [I skip this step if using Japanese eggplant]. Rinse, drain well and set aside. In a small bowl, combine cumin, coriander, turmeric and cayenne; set aside.
In a large pot, heat 3 tablespoons oil over medium-high heat. Add shallots and fry, stirring often, until soft, and caramelized, about 5 minutes. Add chicken and continue cooking for another 3 or 4 minutes, until just starting to turn color. Using a slotted spoon, transfer shallots and chicken to a large bowl, leaving oil in pot (may need to add some more). Raise heat to nearly high and add eggplant. Cook, stirring often, until lightly browned and just tender, about 10 minutes. Transfer to bowl with shallots/chicken.
Add remaining 1 tablespoon oil to pot and heat over medium-high heat. Add ginger and jalapeño and cook, stirring for 30 seconds. Add spices and cook, stirring, 30 seconds more. Add onion and cook, stirring to scrape up any browned bits, until softened and translucent, about 5 minutes. Add tomato paste and cook, stirring, 1 minute.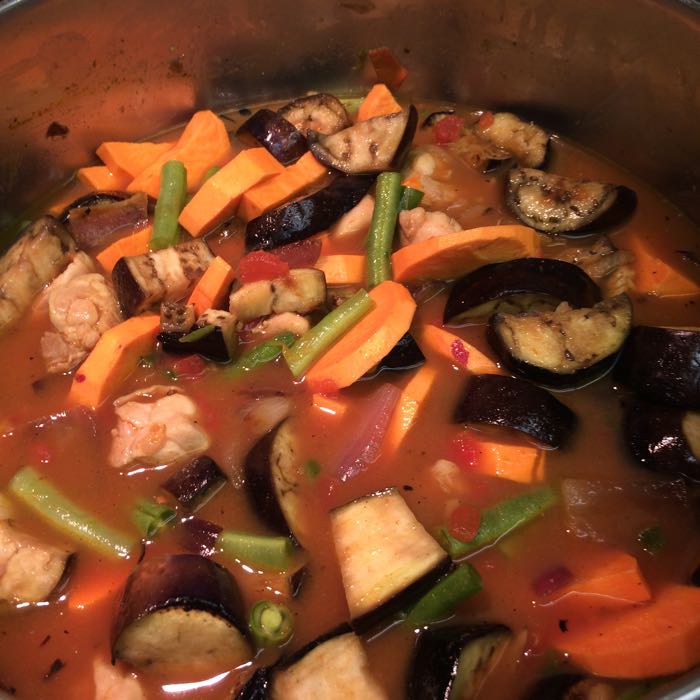 Add diced tomatoes, stock or water, eggplant, chicken, shallots and a sprinkling of salt. Bring to a boil and cook 5 minutes. Place peanut butter in a medium bowl, add one or two ladlefuls of hot soup, and stir until emulsified, then pour mixture back into soup.
Reduce heat to a simmer, add zucchini, cover and cook 10 to 15 minutes, until vegetables are tender and chicken is done. Turn off heat and stir in lemon juice, chopped cilantro, greens; stir until greens are wilted. Let cool slightly and taste; add salt if necessary. Serve in bowls with rice, garnished with cilantro leaves and chopped peanuts, if desired.
Note: Can omit chicken and add 1 (15 oz.) can garbanzo beans, if desired.  Can also add 1-2 thickly sliced sweet potato (as shown in the image above).