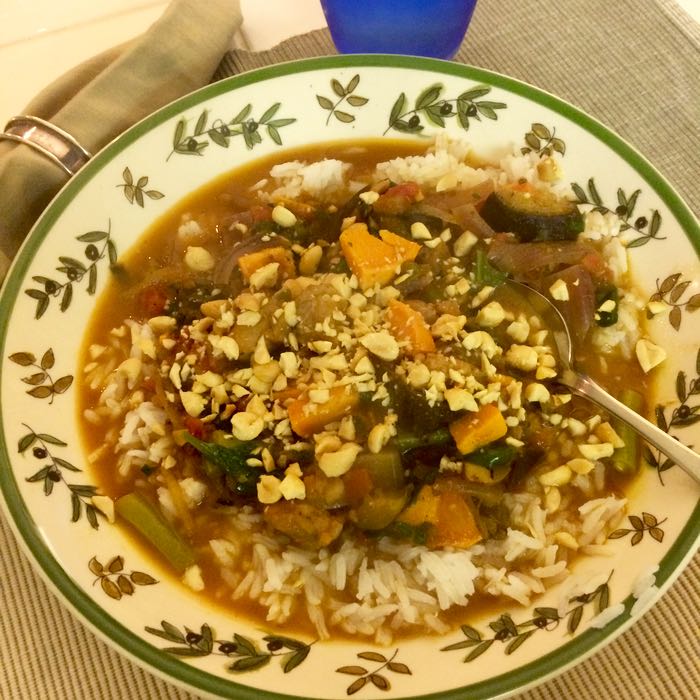 I first found this recipe in the New York Times; one version was by Julia Moskin and the other by Mark Bittman.  I have made this several times and combined/changed things up to suit me.  I like it because it begins with eggplant, and I always use the Japanese kind (so I can skip the salting step).  It's a good stew to serve over some rice, on a day when you just need something flavorful and hearty for dinner.
Ingredients
1 teaspoon ground cumin
1 teaspoon ground coriander
¼ teaspoon turmeric
⅛ teaspoon cayenne
2 medium-size Japanese eggplants, peeled and cut into 1-inch dice
1 teaspoon salt, plus more to taste
¼ cup good quality oil, peanut oil (if you have it)
2 shallots, thinly sliced
2 inches fresh ginger, peeled and minced
1 jalapeño chili, seeded and minced
1 onion, chopped
⅓ cup tomato paste
½ pound skinless, boneless chicken (about 2 thighs or breasts) cut into chunks
1 small (14.5 ounce) can diced tomatoes, preferably roasted
4 cups vegetable stock or water
½ cup natural unsweetened peanut butter (creamy or chunky)
1 medium-size zucchini, 6 to 8 ounces, cut in quarters lengthwise, then sliced 1/2 -inch thick
2 tablespoons freshly squeezed lemon juice (1 to 2 lemons)
2-3 cups coarsely chopped greens, such as spinach or chard
⅓ cup coarsely chopped cilantro leaves, plus whole leaves for garnish
Cooked rice, for serving
Chopped roasted salted peanuts, for garnish (optional)
Preparation
In a colander, toss eggplant with 1 teaspoon salt; set aside for 30 minutes [I skip this step if using Japanese eggplant]. Rinse, drain well and set aside. In a small bowl, combine cumin, coriander, turmeric and cayenne; set aside.
In a large pot, heat 3 tablespoons oil over medium-high heat. Add shallots and fry, stirring often, until soft, and caramelized, about 5 minutes. Add chicken and continue cooking for another 3 or 4 minutes, until just starting to turn color. Using a slotted spoon, transfer shallots and chicken to a large bowl, leaving oil in pot (may need to add some more). Raise heat to nearly high and add eggplant. Cook, stirring often, until lightly browned and just tender, about 10 minutes. Transfer to bowl with shallots/chicken.
Add remaining 1 tablespoon oil to pot and heat over medium-high heat. Add ginger and jalapeño and cook, stirring for 30 seconds. Add spices and cook, stirring, 30 seconds more. Add onion and cook, stirring to scrape up any browned bits, until softened and translucent, about 5 minutes. Add tomato paste and cook, stirring, 1 minute.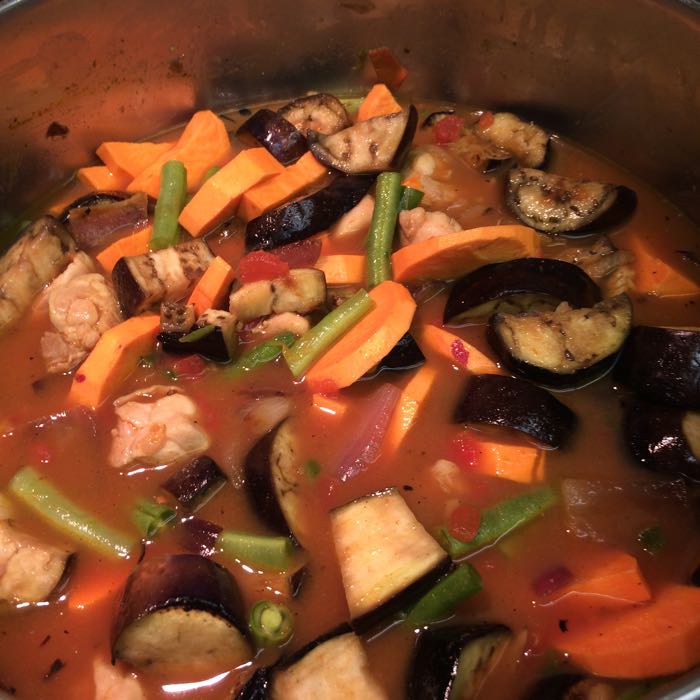 Add diced tomatoes, stock or water, eggplant, chicken, shallots and a sprinkling of salt. Bring to a boil and cook 5 minutes. Place peanut butter in a medium bowl, add one or two ladlefuls of hot soup, and stir until emulsified, then pour mixture back into soup.
Reduce heat to a simmer, add zucchini, cover and cook 10 to 15 minutes, until vegetables are tender and chicken is done. Turn off heat and stir in lemon juice, chopped cilantro, greens; stir until greens are wilted. Let cool slightly and taste; add salt if necessary. Serve in bowls with rice, garnished with cilantro leaves and chopped peanuts, if desired.
Note: Can omit chicken and add 1 (15 oz.) can garbanzo beans, if desired.  Can also add 1-2 thickly sliced sweet potato (as shown in the image above).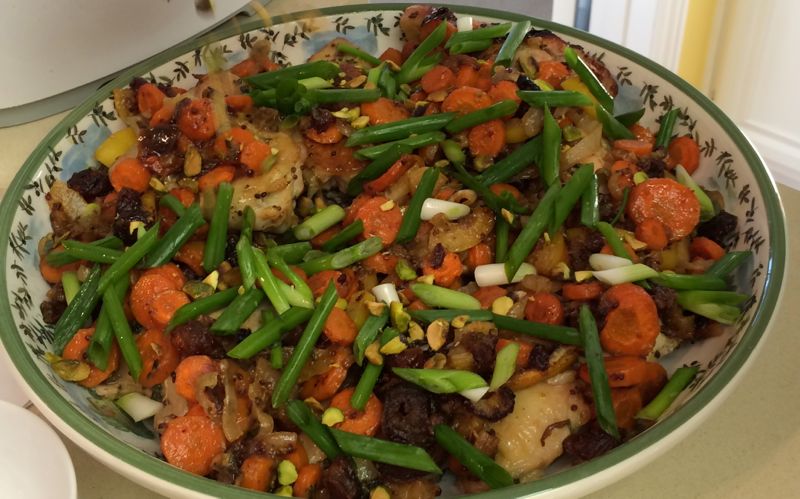 This is a modification of the recipe "Sweet and Spicy Chicken" published on the New York Times website, which I found one day while perusing the videos from Melissa Clark.  She makes me believe I can cook anything.  Since I am of a certain age, I crave more layering of flavors and textures and this fits the bill.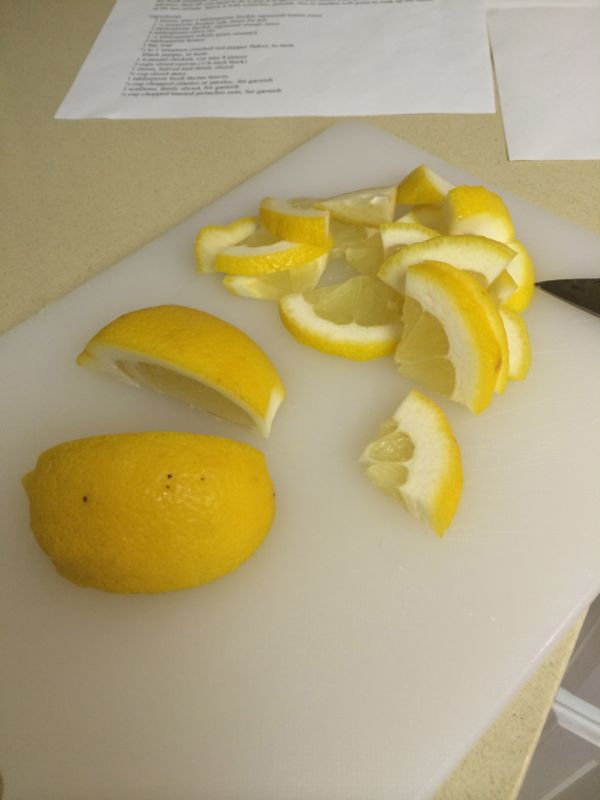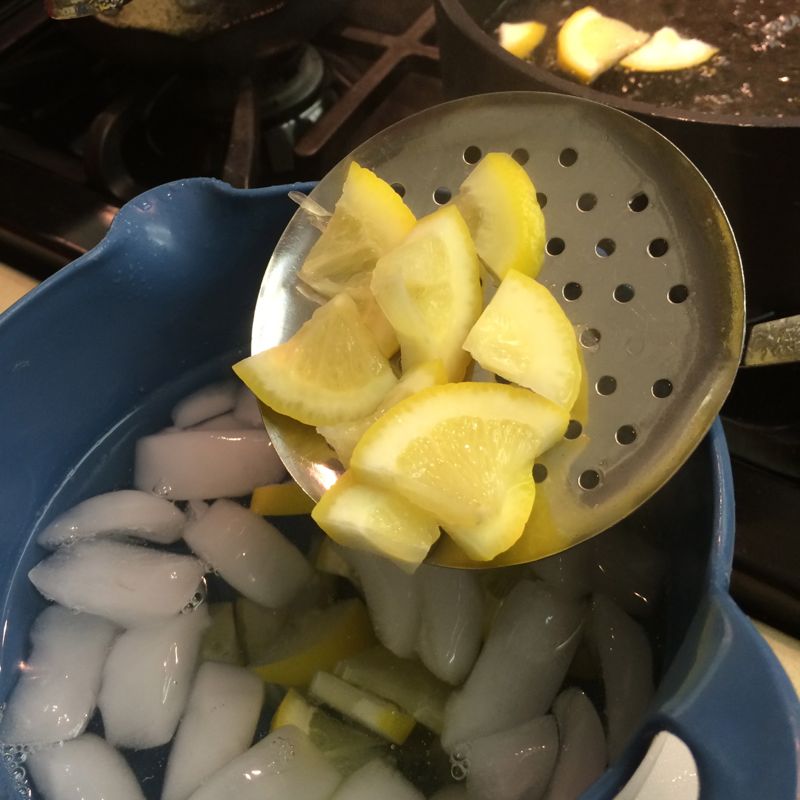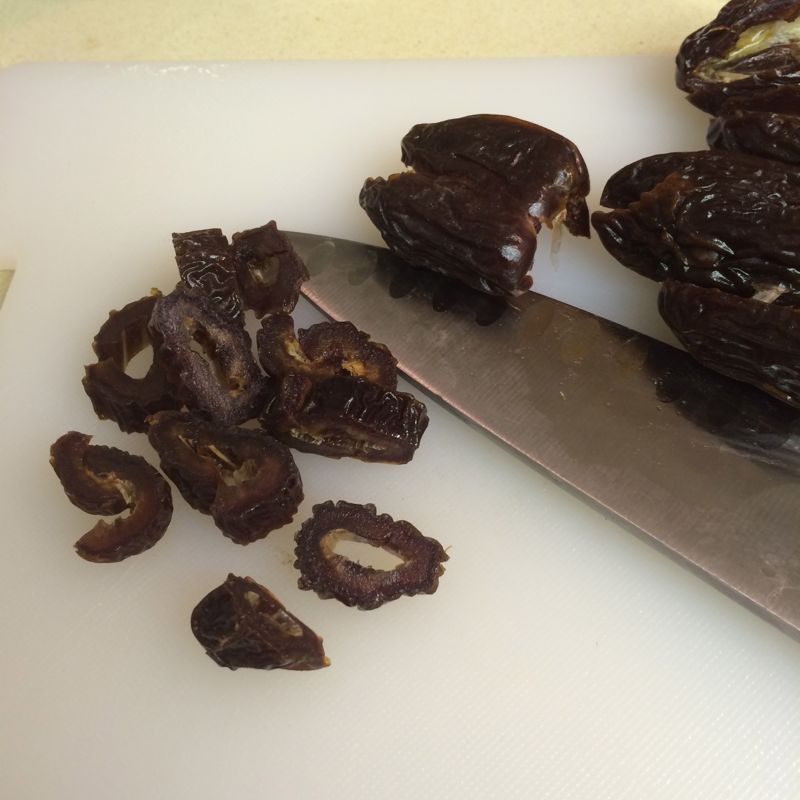 We served it to two young adult guests one night and one cleaned her plate and the other one pushed most of it around.  When you bite into those lemons, it's a jolt, that's for sure, but I loved the surprise of all the flavors together.
Ingredients
1 lemon, plus 3 tablespoons freshly squeezed lemon juice
2 and 1/2 teaspoons kosher salt, more for pot
3 tablespoons freshly squeezed orange juice
4 tablespoons olive oil
1 and 1/2 tablespoons whole grain mustard
3 tablespoons honey
1 bay leaf
1/2 teaspoon crushed red pepper flakes, to taste
Black pepper, to taste
About 4 lbs. of bone-in chicken thighs, drumsticks and/or breasts–about 8-10 pieces total.  (Hers call for one 4-lb. chicken cut up, but we thought all this good flavor was wasted on the bony chicken backs and wings.  We also liked the dark chicken parts better than the white, although both were moist and delicious.)
3 cups sliced carrots (1/4-inch thick)
1 onion, halved and thinly sliced
3/4  cup sliced dates
1 tablespoon fresh thyme leaves
1/4 cup chopped cilantro, mint or parsley, for garnish (we used cilantro)
2 scallions, thinly sliced, for garnish
1/4 cup chopped toasted pistachio nuts, for garnish
Preparation (to be done the afternoon before, if possible)
Quarter the lemon lengthwise, removing any seeds. Thinly slice crosswise into small wedges and add to small pot of boiling, salted water. Blanch for 2 minutes and drain. Reserve slices.
In a saucepan, whisk together lemon juice, orange juice, oil, mustard, honey, salt, bay leaf, red pepper flakes and black pepper to taste. Bring to a boil and simmer for 5 minutes. Let cool.
Put chicken in a bowl and add honey mixture. Add carrots, onion, dates, thyme and blanched lemon slices. Turn mixture several times to coat.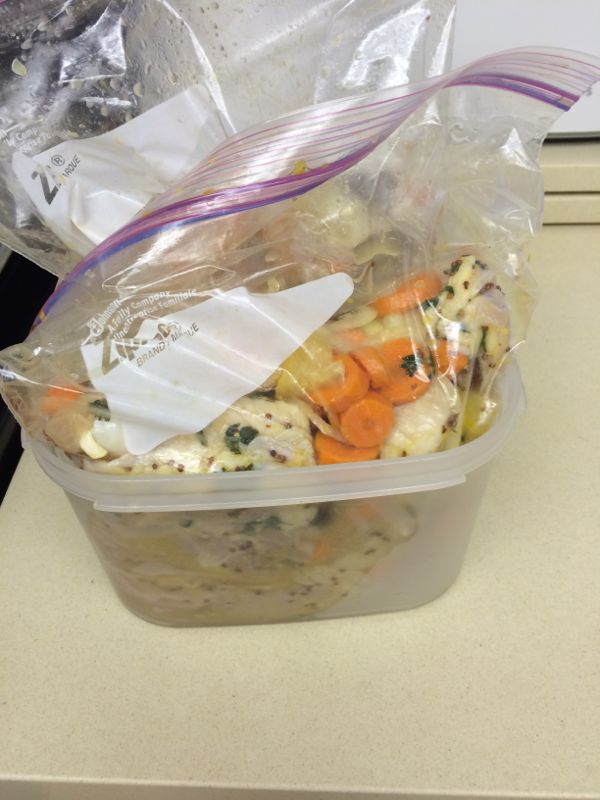 We stuffed ours into two plastic zipper bags (yes, I ripped the bay leaf in half), set it in a bigger container and left it in the fridge overnight.  (She says you could let it marinate for at least 30 minutes at room temperature, but then the marinade won't really have time to work its magic.)
The next day, heat oven to 425 degrees. Transfer all ingredients, including marinade, to a sheet pan with a rim. Chicken should be skin side up. Roast until chicken is browned and cooked through, about 20 to 30 minutes for breasts and 30 to 40 for legs and wings (remove the pieces as they are done cooking). When the chicken is done, give the carrot mixture in the pan a stir; if the pan looks dry add 2 to 3 tablespoons water. Continue roasting the carrots until they are tender, about 7 to 12 minutes longer.  When you have about 3 minutes to go, add in the scallions/green onions to roast along with the vegetables, just to take that rawness off of them. (A change from her recipe)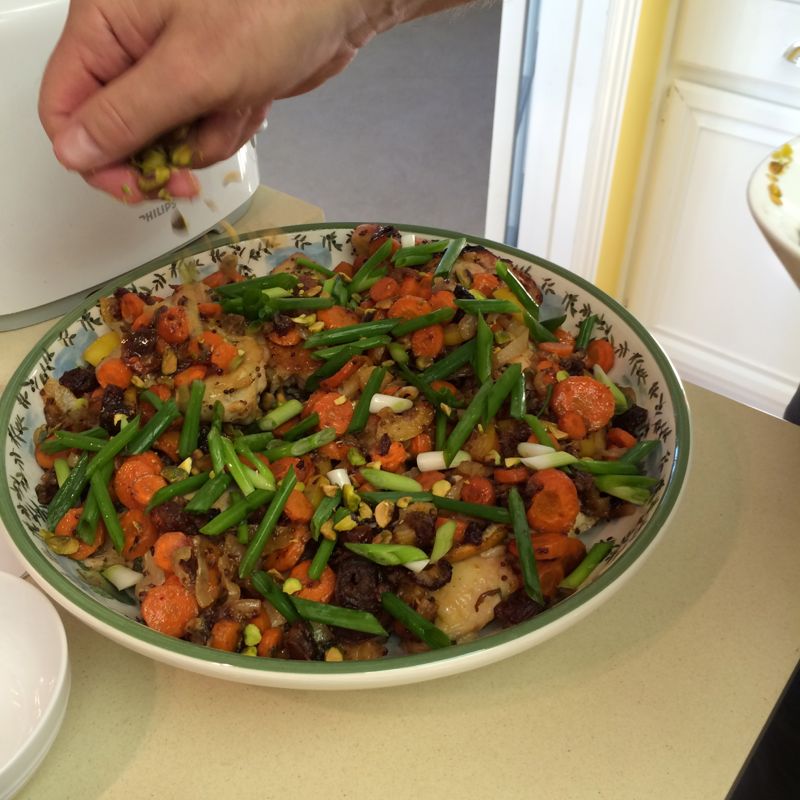 Spoon carrots over chicken and top with cilantro (or parsley or mint), scallions and pistachio nuts.  This is even better the next day.  I served it with Rice Pilaf, and served up some homemade cookies, and gelato from the grocers for dessert.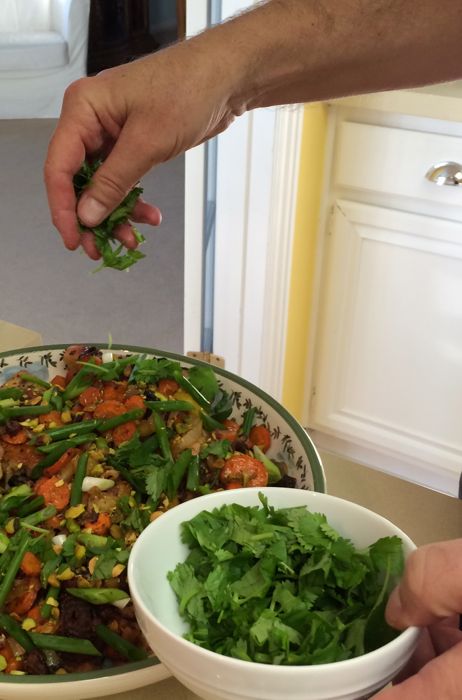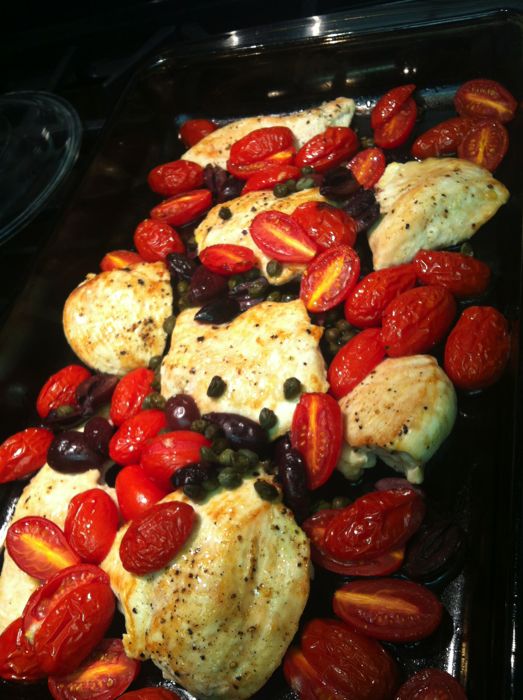 This dish hails originally from Martha and I pretty much make it like she says, but don't worry so much about the proportions.  If I think it needs more tomatoes, I add a few.  Likewise with the olives.  This goes together quickly and is good for a crowd.  Once I served it to over 50 people, and they all liked it (although I did see a few olives left on plates–guess they didn't like those).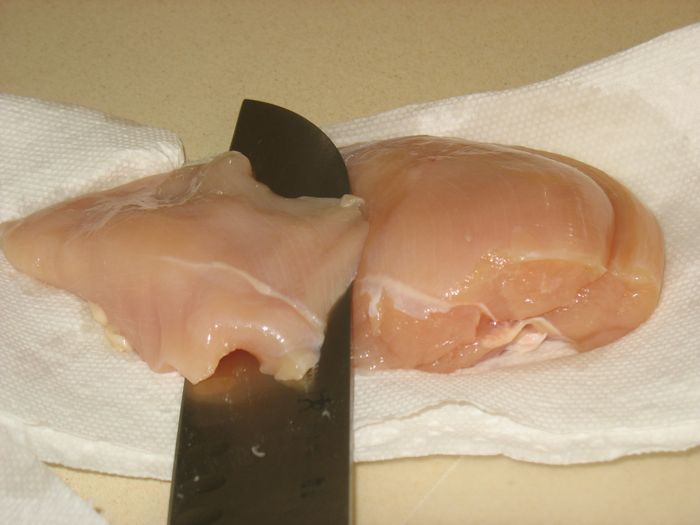 Cook's Note: Like I've said before, I think the chicken breasts these days are beyond one person's serving size, so I "fillet" them into thirds by slicing them on the diagonal, with the blade closer to horizontal than vertical.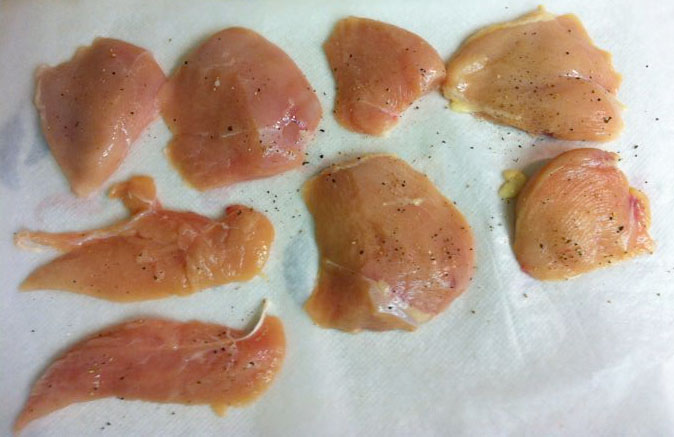 This is the yield from two chicken breasts.  While the recipe originally called for 4 chicken breasts, I find that by filleting the chicken and leaving the amounts of the vegetable mixture the same, this will feed four nicely.
Ingredients:
2 cups grape tomatoes (1 pint)  *I like to cut some of mine in half, the long-way. I have used Roma tomatoes cut into large thumb-sized chunks and that works just fine too.  Different flavor, though.*
16 Kalamata olives, pitted and drained *The ones from the grocery store are bigger than the ones from Trader Joe's, so use 20-25 of the Trader Joe's olives.*
3 Tablespoons drained capers
3 Tablespoons olive oil, divided
2 boneless skinless chicken breasts (although Martha calls for chicken breasts with skin)
Salt and Pepper
Directions:
Preheat oven to 475 degrees.  Toss tomatoes, olives, capers and 2 Tablespoons oil together in a medium bowl.
Rinse chicken and pat dry.  Season both sides with salt and pepper.  Heat a large skillet over high hot until hot.  Add 1 Tablespoon oil and heat until hot, but not smoking.  Place chicken in skillet; cook until golden brown, then turn chicken over to sear the backside briefly.
Place chicken in oven-proof baker.  Add tomato mixture all around.  Roast until chicken is cooked through and tomatoes have softened, about 18 minutes.
Note: Martha says to use an oven-proof skillet, then you can just add the tomato mixture to the pan and pop that in the oven.  Now you have options.