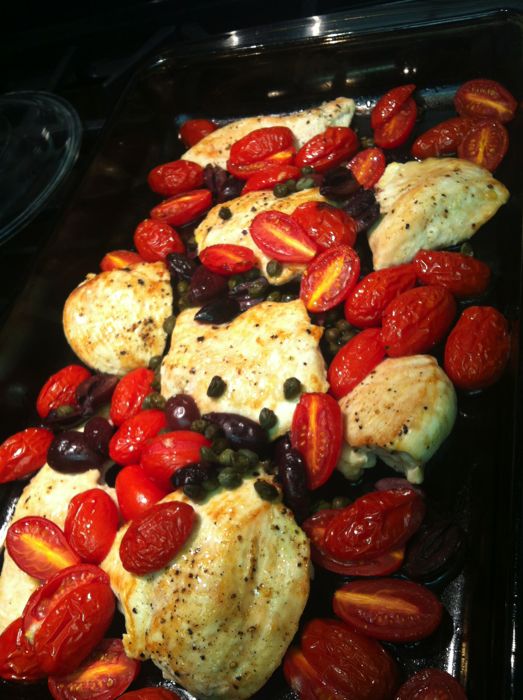 This dish hails originally from Martha and I pretty much make it like she says, but don't worry so much about the proportions.  If I think it needs more tomatoes, I add a few.  Likewise with the olives.  This goes together quickly and is good for a crowd.  Once I served it to over 50 people, and they all liked it (although I did see a few olives left on plates–guess they didn't like those).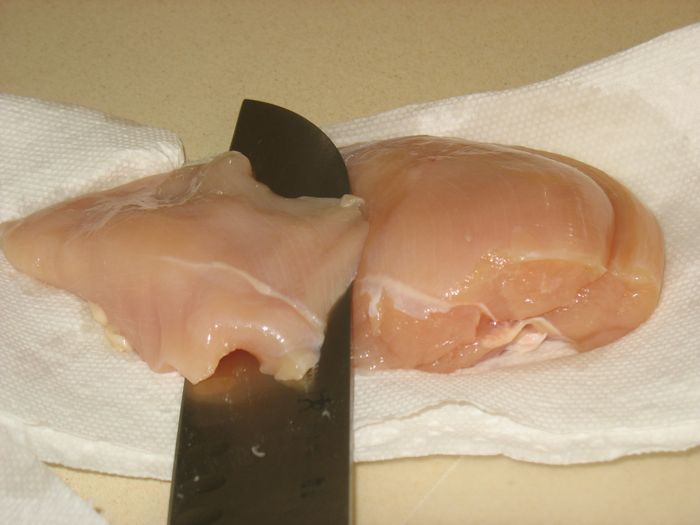 Cook's Note: Like I've said before, I think the chicken breasts these days are beyond one person's serving size, so I "fillet" them into thirds by slicing them on the diagonal, with the blade closer to horizontal than vertical.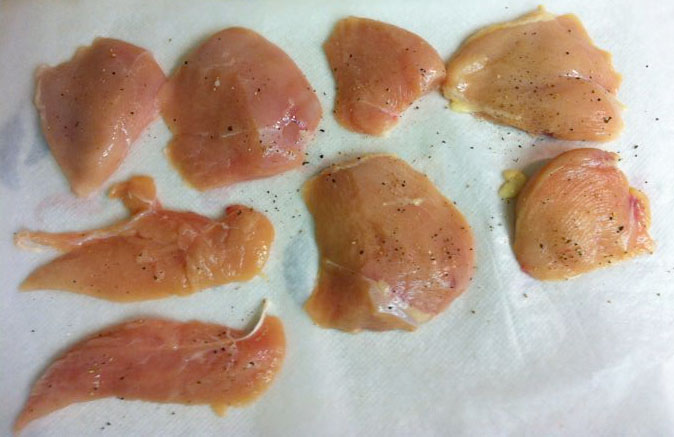 This is the yield from two chicken breasts.  While the recipe originally called for 4 chicken breasts, I find that by filleting the chicken and leaving the amounts of the vegetable mixture the same, this will feed four nicely.
Ingredients:
2 cups grape tomatoes (1 pint)  *I like to cut some of mine in half, the long-way. I have used Roma tomatoes cut into large thumb-sized chunks and that works just fine too.  Different flavor, though.*
16 Kalamata olives, pitted and drained *The ones from the grocery store are bigger than the ones from Trader Joe's, so use 20-25 of the Trader Joe's olives.*
3 Tablespoons drained capers
3 Tablespoons olive oil, divided
2 boneless skinless chicken breasts (although Martha calls for chicken breasts with skin)
Salt and Pepper
Directions:
Preheat oven to 475 degrees.  Toss tomatoes, olives, capers and 2 Tablespoons oil together in a medium bowl.
Rinse chicken and pat dry.  Season both sides with salt and pepper.  Heat a large skillet over high hot until hot.  Add 1 Tablespoon oil and heat until hot, but not smoking.  Place chicken in skillet; cook until golden brown, then turn chicken over to sear the backside briefly.
Place chicken in oven-proof baker.  Add tomato mixture all around.  Roast until chicken is cooked through and tomatoes have softened, about 18 minutes.
Note: Martha says to use an oven-proof skillet, then you can just add the tomato mixture to the pan and pop that in the oven.  Now you have options.