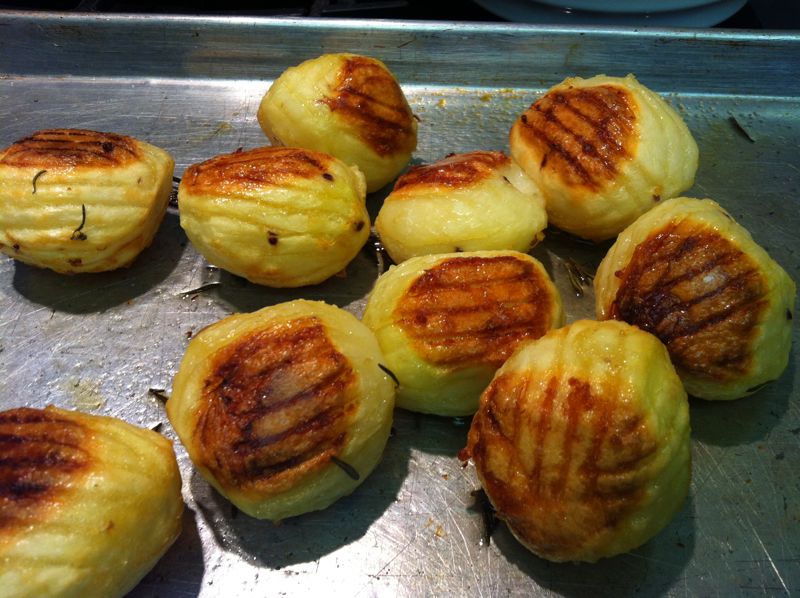 Weird title, but I can't remember what Bon Appetit's title is, but it does have "forked" in it somewhere.  You can see the fork tines, above, which helps create this wonderfully crispy-on-the-outside, tender-on-the-inside texture.  I followed their recipe for the most part, except I added some rosemary leaves to the potatoes when I put them in the oven.  We had potatoes with rosemary in Italy one Christmas, so I have added it ever since to my roasting potatoes.
We had these last night for our Christmas Dinner (a bit early, as we are going traveling for the holidays) and we both agreed they were good enough to put into rotation in our regular meals.  They didn't take that much work either.  Mine were done in about 45 minutes.  Try to time them so you can serve them hot, without having covered them with any tin foil, as I think that would make the outsides soft.  It's the texture that is so wonderful.
Twice-Cooked, Once-Forked Roasted Potatoes, adapted from Bon Appetit
6 pounds small Yukon Gold potatoes (1 1/2″–2″-diameter), peeled  [NOTE: I couldn't remember which kind of potatoes to buy, so I ended up buying red (boiling) potatoes; they worked out just fine)
1 tablespoon salt plus more [They call for kosher, but Trader Joe's has been out for a while, so I used my sea salt grinder.]
1/2 cup olive oil
Preheat oven to 425°. Working in 2 batches ( about 5 potatoes each batch), cook potatoes in a large pot of boiling salted water for 3 minutes. Using a slotted spoon, transfer potatoes to a rimmed baking sheet [Note: I put a rack on my baking sheet and put the potatoes on there]. When cool enough to handle, firmly scrape the tines of a fork up and down potatoes, creating a rough, grooved surface.
Pour oil onto another rimmed baking sheet; bake (to heat oil) for 5 minutes. Add potatoes; turn to coat. At this point, if you are using fresh rosemary, sprinkle about 1-2 Tablespoons leaves over all, sloshing the rosemary around with the potatoes and olive oil–that amount is about one 9″ twig, if you are cutting it off your landscaping plants out front.  Season with 1 tablespoon salt [I used a few grinds of the salt grinder]. Roast, turning 3 times during cooking and occasionally basting with oil, until browned and tender, 60–70 minutes.