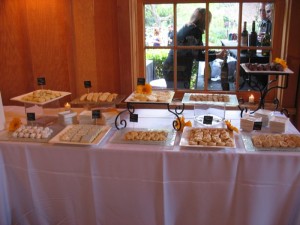 When we went to Drew and Lisa's wedding in March of 2010 we enjoyed their cookie table, a traditional touch for those from Philadelphia (the groom is from that city).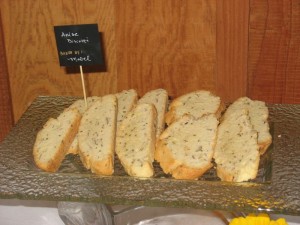 We fell in love with these cookies, so I looked for a recipe for them.  I ended up combining two: one from the website Epicurious and one from the Cookies & Biscotti cookbook by Williams-Sonoma.
Ingredients
3 1/4 cups all purpose flour
1 tablespoon baking powder
1/3 teaspoon salt
1  and 1/4 cups sugar
10 tablespoons (1 1/4 sticks) unsalted butter, melted
3 large eggs
1 tablespoon vanilla extract
2 teaspoons aniseed, ground or crushed
1 Tablespoon lemon rind (optional)
1 cup whole almonds, toasted, coarsely chopped
Preparation

Crush or grind the anise seed.  Here's my high-tech version: an old kitchen mallet that has been used for playdoh creations for 20 years and two zip-loc bags.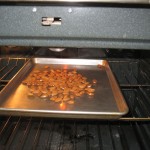 Toast the almonds, then chop.  And here's the toasting the almonds business–some do it in a pan on top of the stove, but I've burned them too many times.  So I do it under broiler–this also works for when you make Butternut Crunch Toffee at Christmastime.
Position rack in center of oven and preheat to 350°F. Line baking sheet with parchment paper.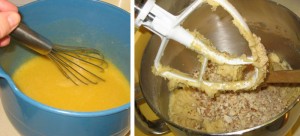 In mixer, mix sugar, melted butter, 3 eggs, vanilla extract, lemon rind and ground aniseed. In another bowl, sift (or stir together) flour, baking powder and salt into medium bowl.  Add flour mixture to egg mixture and stir on low speed, scraping when needed until well blended. (Yes, I know I did it backwards–I fixed it for you.) Mix in almonds.

Glop half of the dough onto the parchment-lined cookie sheet.  Dough is kind of gooey–so I used my spatula to shape each dough half into 13 1/2-inch-long, 2 1/2-inch-wide log. Mine got a little wide, so the final biscotti were a little flat.  Remember that, when you shape them.  Space the logs 2-3 inches apart.
Bake logs until golden brown (logs will spread), about 30 minutes. They should be firm to the touch. Cool logs completely on sheet on rack, about 20 minutes.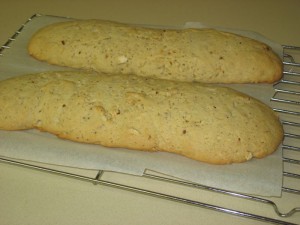 I dragged mine over onto a baking rack by using the edge of the paper, and tilting the cookie sheet a little bit.  Don't turn off the oven!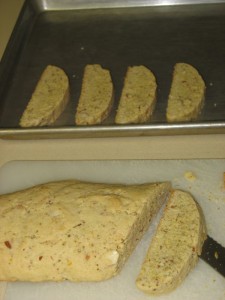 Transfer logs to work surface; discard parchment paper. Using serrated knife, cut logs on diagonal into 1/2-inch-wide slices.  I used to lay them down, like those in the above photo, but now I just stand them up: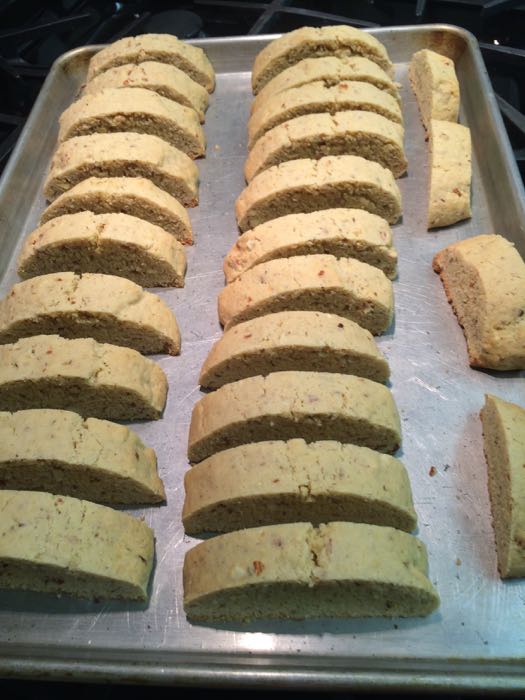 If you do it this way, you don't have to turn them over, and you can get it all on one baking sheet.  Bake 10-14 minutes.
Transfer to rack and cool. These can be prepared 1 week ahead of your Big Party. Store in airtight container at room temperature, that is if they last that long.  These have a melt in your mouth crispness that are typical of homemade biscotti.
I'll never go back to store-bought again.
Note: One interesting thing about the Epicurious website is the community, and their many comments.  From those, I gleaned that some have changed this by adding 1 Tbs. orange zest, cranberries, chocolate.  Some say okay not to crush the seeds. Others say to substitute 1 tsp. anise extract.