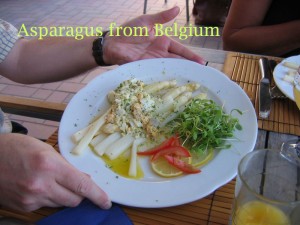 This Easter I had a desire for simple supper on Easter Sunday, that would be followed by a more traditional meal the next day when my husband returned from his traveling. I had picked up some fresh asparagus at the store–only the green variety was stocked, but the white is also delicious–and decided that this would be just the ticket.  One year when traveling in Belgium, a friend took us to her country club where white asparagus was in season.  It was served simply, with crumbled hard-boiled egg and a light vinaigrette over the top, served with a side of greens and a garnish of lemons and tomato wedges.  I hoped to recreate that.
Ingredients:
asparagus spears, white or green, approximately 3/4 pound (one bundle)
2 hard-boiled eggs
a good quality vinaigrette if store bought, or use Lemon Vinaigrette if you have time to make it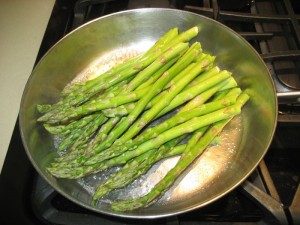 Wash the spears, then snap them near the bottoms to remove the woody part.  Place them in a pan with about 1/4 to 1/2″ of water, and cover.  Steam them, shaking occasionally.  Don't let them get too done–check by inserting a knife tip in the lower portion and when it slides out easily, it's done.  Turn off the heat and prop the lid slightly so the spears don't discolor.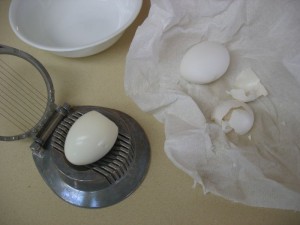 This should be a good way to use up those dyed Easter eggs, but mine are just plain.  Peel the eggs, then cut them into ribbons by slicing first one way then the other in an egg slicer.  In the photo from Belgium, the eggs are crumbled, but this way will do fine.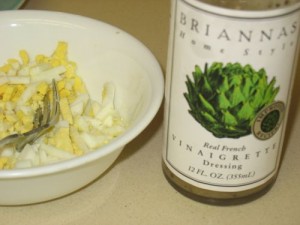 Photo is slightly out of focus, I know, but I was hungry and in a hurry.  I think Brianna's French Vinaigrette is a good substitute for the homemade vinaigrette if you like.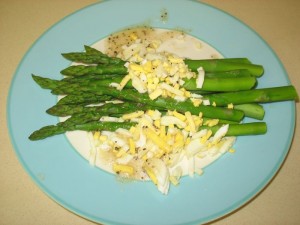 You know what to do from here.  Lay the asparagus onto your plate, scoop out some of the egg, then drizzle with the vinaigrette and enjoy!