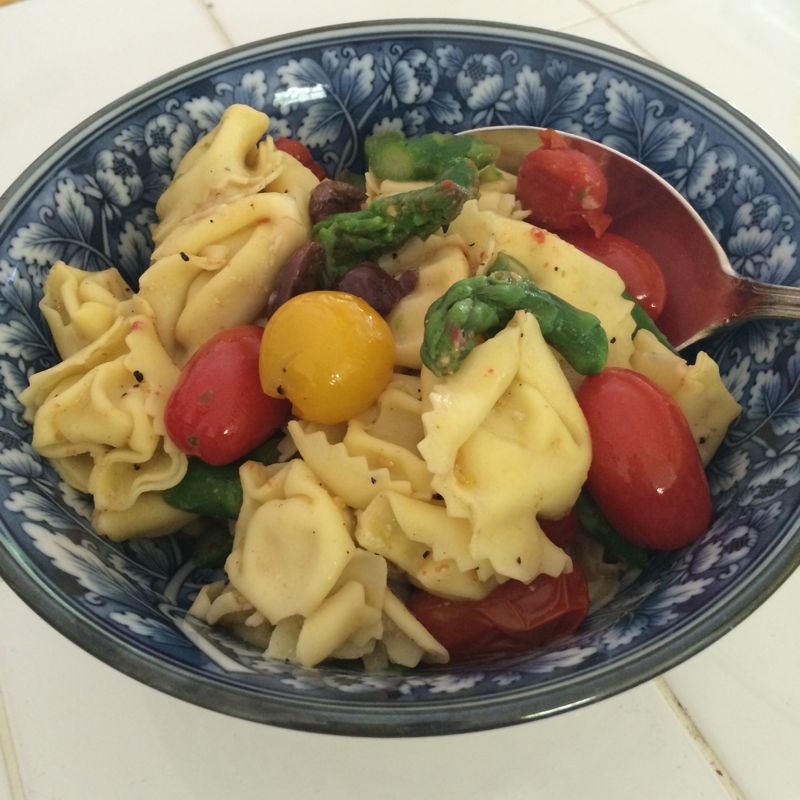 Even though I call this Summer Pasta Salad, asparagus is typically a spring vegetable.  But I always make some version of this just as the heat begins to creep into our days, as it's easy and delicious.  Add some bread, and bowl of fruit for dessert and dinner's done.
Ingredients
1 lb. package of high quality cheese-filled tortellini
about 8 ounces of golden cherry tomatoes (2-3 handfuls)
about 8 ounces of sweet red pearl-like tomatoes
bunch of asparagus, about 15 spears
pitted black Greek olives, about 10 very large ones, or 20 medium
extra-virgin olive oil
good quality balsamic vinegar
red wine vinegar
salt and pepper to taste
a light shake of cayenne pepper
Method
Toss the tomatoes with some olive oil and some salt and pepper, then spread out on a rimmed cookie sheet and bake at 425F for 15 minutes.  The tomatoes should still have their shape but be a little wobbly-looking.  Set aside to cool.
Wash, then prepare asparagus by snapping off the ends.  Hold your fingers at the end of the spear, letting it snap off where it wants to, then cut into 1″ pieces.  Cook in a gently simmering pot of salted water for 1 minute, then plunge into an ice-water bath to stop the cooking.  They should have some chewiness to them, but not crunchiness.  I always test first as some batches can take up to two minutes to be at the right texture.  To do that, grab one piece and put it in the ice water bath, then taste.
After each batch, place cooled asparagus to drain in a strainer or colander, then set aside.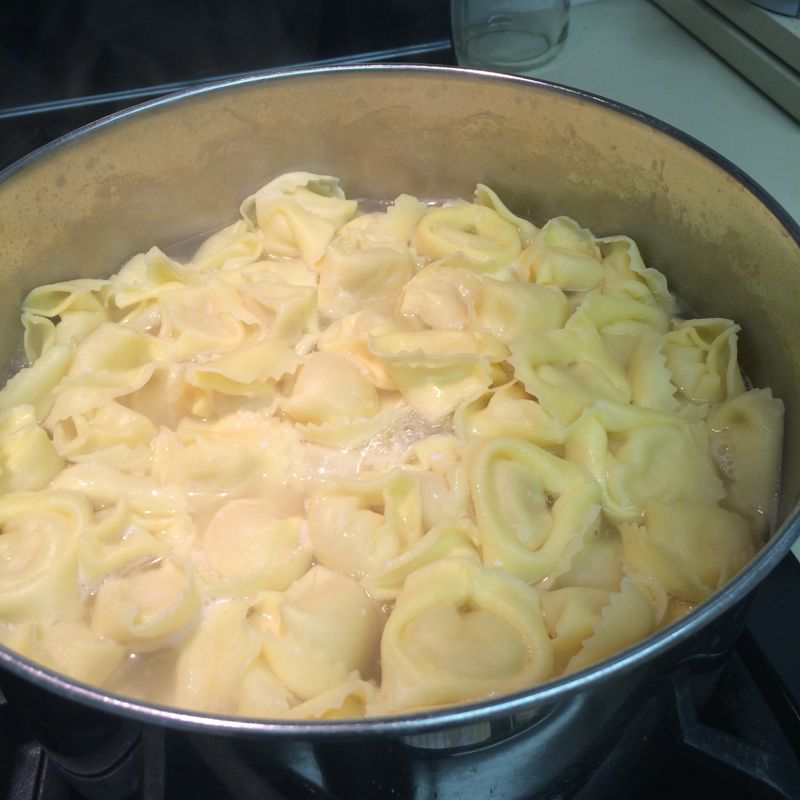 Cook the pasta in lightly salted water on a gentle boil until done, but not DEAD-done.  You don't want the pasta to fall apart.  Tip into a colander in the sink and rinse with cool water. GENTLY.
In a large bowl, place drained pasta, tomatoes, blanched asparagus, Greek olives.  Splash more olive oil on the mix, then some balsamic and some red wine vinegar (about 2-4 Tablespoons combined for the vinegars) then grind on some fresh pepper and salt, then a light sprinkle of cayenne..  Toss gently, then taste.  Adjust as needed.
Serves a crowd.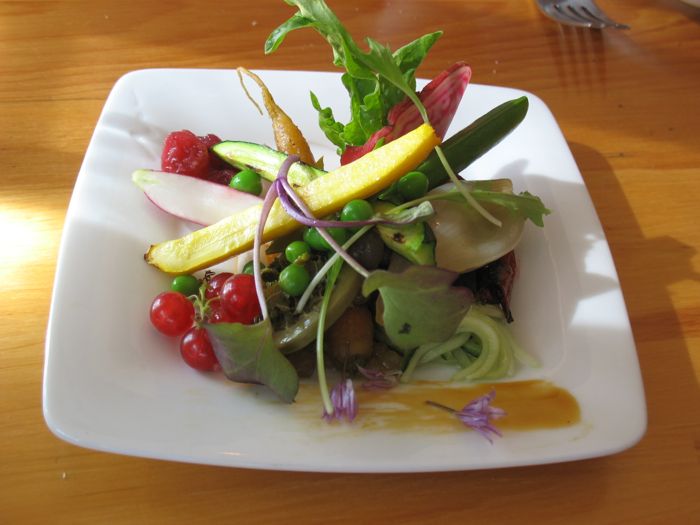 Once, when we were in Halifax, Nova Scotia, we ate at a restaurant that had "quickles" as part of their salad course (above).  Quickles?  Vegetables that are quickly pickled, came the answer.
And then last summer Smitten Kitchen ran a post about making pickled vegetables, which I tried, and which we loved.  We would mound them up on summer sandwiches, changing the sandwich from ho-hum to wow! this is great!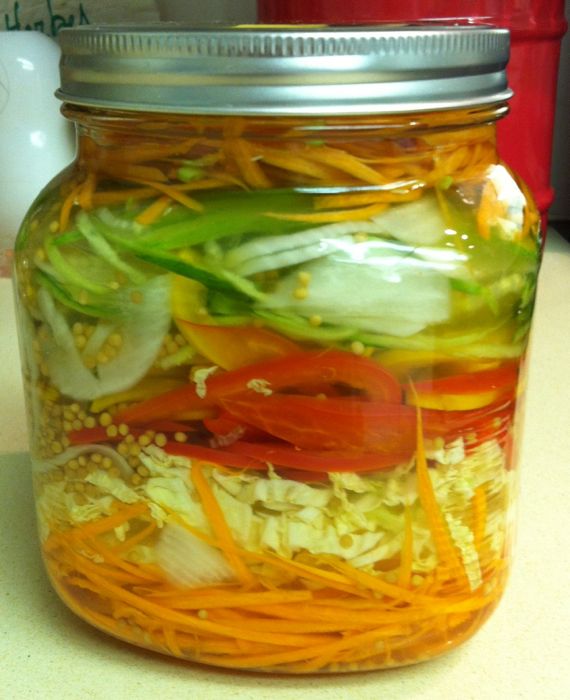 Here's my first jar of quickled vegetables.  I have since bought fancier jars at the local Container Store, with nifty snap-on lids.  I love how these look, all layered up with color.
Pickled Vegetable Sandwich Slaw with Mustard Seeds
 Pickling Mixture
1 cup distilled white vinegar
4 tablespoons sugar
2 tablespoons Kosher salt
2 tablespoons yellow mustard seeds
1 cup cold water
Slaw mixture: 4 to 5 cups mixed slivered or julienned* firm, raw vegetables (see above for vegetable suggestions, below for slicing tips)
Heat vinegar, sugar, salt and mustard seeds to a simmer in a small, non-reactive pot over moderate heat, stirring only until sugar and salt dissolve. Stir in water, which should bring the mixture's temperature down significantly. Let cool to lukewarm.
Divide vegetables between jars. (I used two 3/4 liter jars.) Pour vinegar mixture over vegetables and refrigerate until needed. You'll find the vegetables to be lightly pickled within an hour, and deliciously pickled within a day. They will get slightly more pickled as they sit, but the change shouldn't be too dramatic from the 24 hour level.  Keep the vegetables submerged in the brine for a longer shelf life (about 3-4 weeks).
*Smitten Kitchen used a mixture of radishes, red, orange and yellow bell peppers, carrots, fresh sugar snaps, ruffly cabbage and kirby cucumbers, but you can use any firm, crunchy vegetable you think would pickle well here. She noted that the red radishes changed everything to pink, so you may want to try a Japanese Daikon radish (it's white).
This pickling idea must be the "new" thing, as now Sur La Table has a class in pickling.  Their display looks like more traditional pickling, with a soaking time and a canner/processesing time.  The recipe above is quick, easy and delicious.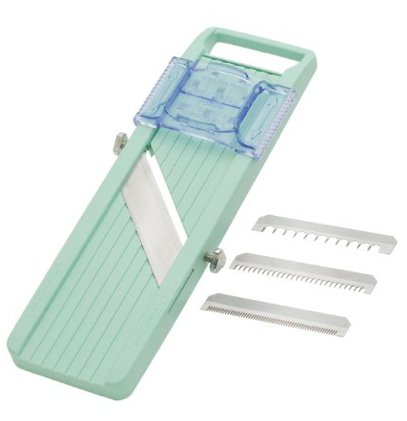 I did use a mandoline to help cut my vegetables as well as this tool, which looks like a reverse slotted vegetable peeler (shown below). Protect your fingers at all times!