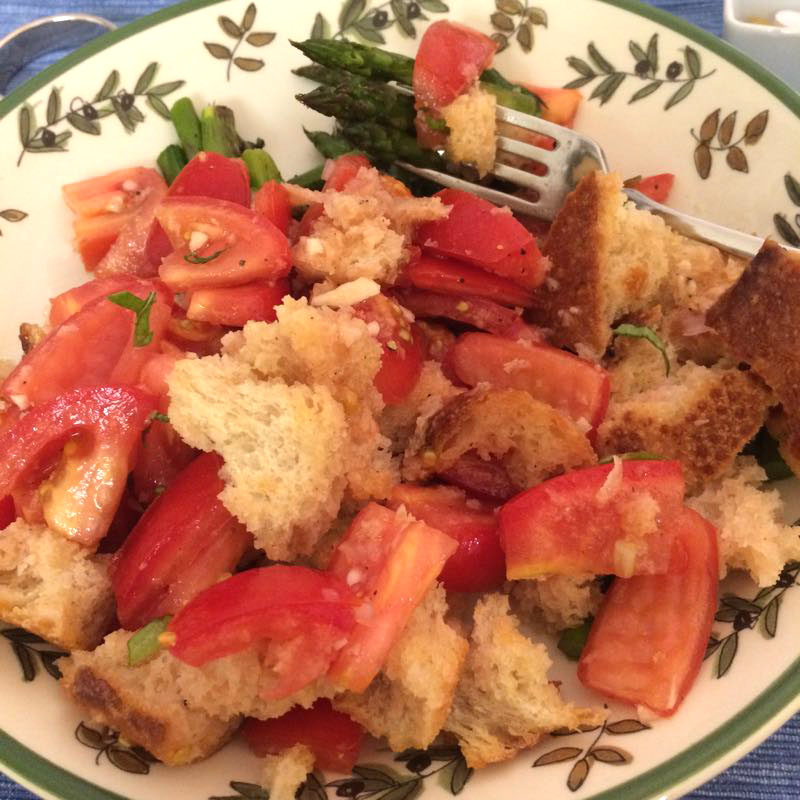 I've made all types of panzanella, but I think this recipe is really fabulous.  I was traveling in Scandinavia, where the travel author Rick Steves says their favorite vegetable is a potato, and began thinking of my garden back home, wondering how many tomatoes would be ready to pick when I returned.  In scanning the news one morning, The Washington Post published this recipe and I couldn't wait to try it.  So the first thing I did when we climbed out of our car after our long trip was to check the garden for tomatoes.  But to my horror, the irrigation systems had been shut off while we gone, and my garden experienced the full force of 100+ degree temperatures: it was crispy and no tomatoes.  So I used some high-quality tomatoes from Costco for this dish and it was still good.  I can only imagine what it would have been with my own.
I purchased a sour dough loaf from Trader Joe's for the bread, cutting off nearly half of to keep to the 8-ounce requirement.
Recipe adapted from recipes by chef-restaurateur Fabio Trabocchi of Fiola, and from J. Kenji Lopez-Alt, culinary director of SeriousEats.com.
Ingredients
3 cups packed, torn pieces sourdough bread (including crusts; from an 8-ounce loaf)
1/4 cup olive oil
2 1/4 pounds ripe heirloom tomatoes, hulled and cut into bite-size wedges
1 teaspoon kosher or sea salt, plus more as needed
1 teaspoon minced garlic
1 tablespoon minced shallot
1 tablespoon white wine vinegar
Freshly cracked black pepper
10 fresh basil leaves, stacked, rolled and cut into very thin slices (chiffonade)
Preheat the oven to 350 degrees.
Arrange the bread pieces on a rimmed baking sheet, then drizzle half of the oil over them and toss to coat. Bake for 15 minutes, until the bread is dried and fragrant but not browned. Let cool.
Meanwhile, place the tomatoes in a colander set over a mixing bowl. Sprinkle the tomatoes with the teaspoon of salt; let them drain for about 20 minutes (no more), gently tossing them every few minutes. Transfer the tomatoes to a serving bowl along with the cooled bread pieces; toss to incorporate. Reserve the tomato juices in their bowl; there should be a scant half-cup. [Note: I had more, and used it all.]
Add the garlic, shallot and vinegar to those juices, then gradually whisk in the remaining 2 tablespoons of oil to form an emulsified vinaigrette. Season lightly with salt and pepper. Pour over the tomato-bread mixture; use your clean hands to gently toss and coat.
Scatter the basil over the salad; serve right away.