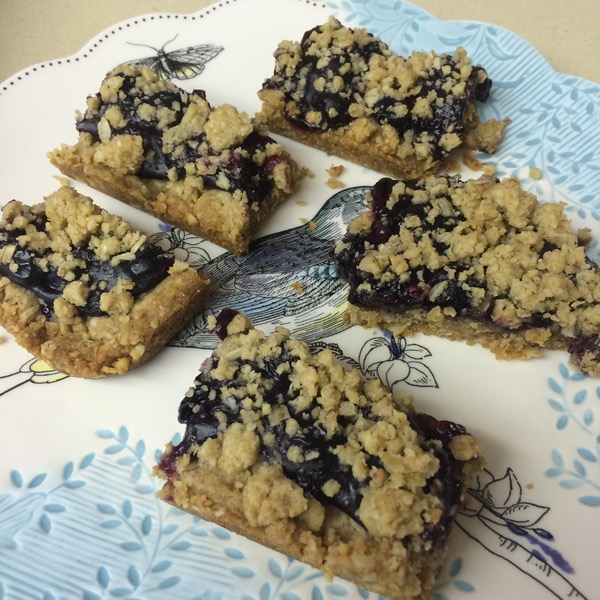 I first ate these at Quilt Night, an evening where a lot of quilters gather to stitch, trade tales and have a treat.  And what a treat this was: Laurel outdid herself. She called them "Blueberry Oat Bars" but we have since renamed them, since they remind us of eating blueberry crumble. I've since made them for my husband and I, a daughter and her family, a couple moving out of the area, a son and his family, and it gets rave reviews from everyone.
To begin, heat oven to 350 F; grease 9 x 13 baking pan.
Topping
1 ¾ cup old-fashioned Quaker oats, uncooked
1 ½ cup all-purpose flour
¾ cup brown sugar, firmly packed
½ cup chopped walnuts
½ t. baking soda
½ t. salt
¾ cup butter, melted
Combine oats, flour, brown sugar, nuts, baking soda and salt. Add butter, mixing until crumbly. Reserve ¾ cup mixture; press remaining mixture onto bottom of prepared dish.  Bake this bottom layer for 10 minutes.
Filling
2 cups fresh or frozen blueberries
½ cup granulated sugar
3 T. water, divided
2 T. cornstarch
2 t. lemon juice
While bottom layer bakes, combine blueberries, granulated sugar and 2 T. water in medium saucepan.
Bring to a boil, simmer 2 minutes, uncovered, stirring occasionally. Combine remaining 1 T. water, cornstarch, and lemon juice; mix well. Gradually stir into blueberry mixture; cook and stir about 30 seconds or until thickened.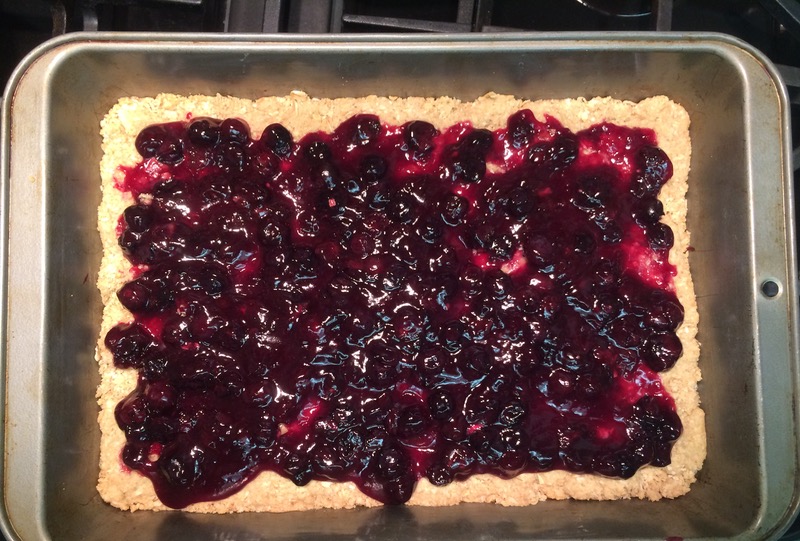 Spread over partially baked base to within ¼ inch of edge; sprinkle with reserved oat mixture.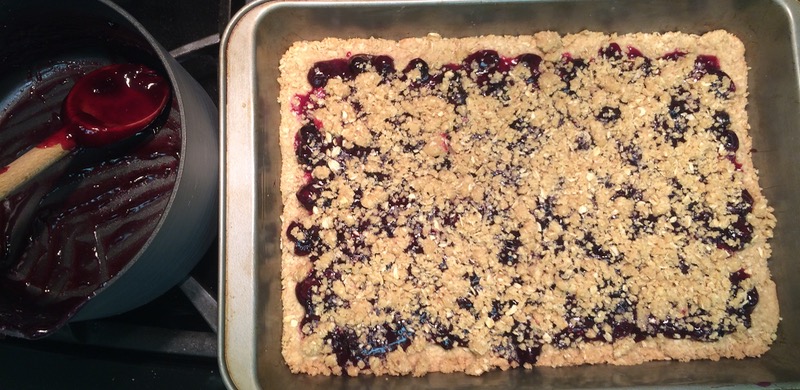 Press topping down into blueberries slightly.
Bake 18 to 20 minutes or until topping is golden brown.  Cool on wire rack; cut into bars. Store tightly covered, or freeze.
NOTE: I doubled this, and used a rimmed baker's half-sheet to bake it in.  All times are the same; ingredients are doubled.
SaveSave
SaveSave
SaveSaveSaveSave