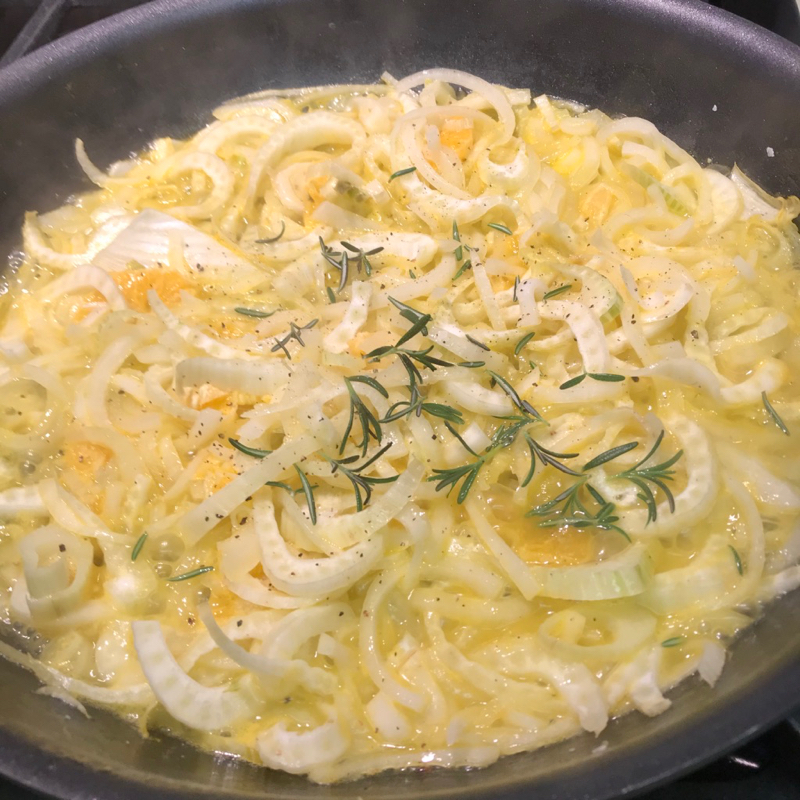 I want to make this every day.  Just kidding.  We served it with some stuffed pork chops, but tonight we are having it with grilled chicken-apple brats.  It's been modified from where I found it: the last (yellow) Gourmet cookbook.
3 tablespoons extra virgin olive oil
1 Tablespoon butter (can omit if vegetarian)
Juice of one lemon, about 3 Tablespoons
1 large fennel bulb (one pound or more), thinly sliced, fronds cut off (but save a few for garnish)
1 navel orange, peeled and chopped in large chunks
1 medium onion, peeled, and sliced thinly
1 cup freshly squeezed orange juice
1 tablespoon fresh rosemary, plus a few bits for garnish
salt and freshly ground pepper, to taste
shake of sugar (if needed)
Place oil in a large skillet.  Add fennel, oranges, onion and rosemary.  Sprinkle with salt and pepper, and stir, briefly sauteeing.  Then pour in the orange juice and lemon juice.
Continue to stir to let the vegetables cook until tender, another 10 or 15 minutes or so.  Add in more orange juice if it starts to dry out.  You want them slightly saucey, but not liquidy (hope that makes sense).  Test for taste and if too tart, sprinkle some sugar over the top and stir in.  Garnish with chopped fennel fronds and rosemary bits.