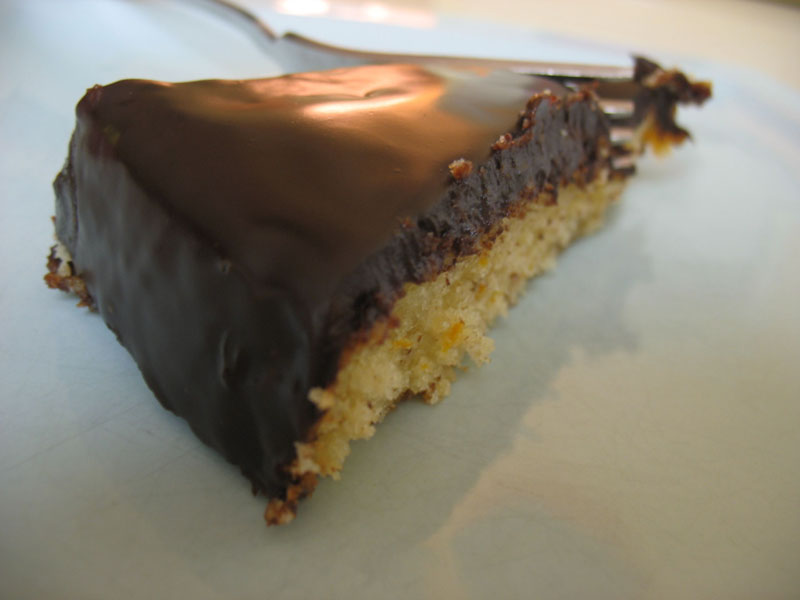 Yield: Makes about 4 cups, published by Bon Appétit, March 1999 (with some changes).  Originally made to go with Orange-Almond Cake.
Ingredients
1 3/4 cups whipping cream
3/4 cup unsalted butter
6 tablespoons unsweetened cocoa powder (I used Dutch cocoa)
4 1/2 tablespoons light corn syrup
8 ounces bittersweet (not unsweetened) chocolate chips (I used Guittard)
8 ounces semisweet chocolate chips
1 1/2 teaspoons vanilla extract
1/2 teaspoon (scant) almond extract
Preparation
Whisk first 4 ingredients in medium saucepan over medium heat until butter melts and mixture comes to simmer. Remove saucepan from heat. Add chocolate and both extracts. Whisk until chocolate is melted and smooth.  I glazed my single layer cakes while it was still warm, but if doing the triple-layer cake, refrigerate frosting until slightly thickened but still spreadable, stirring occasionally, about 45 minutes.
Note: the original recipe called for 16 ounces bittersweet, but in reading the comments from the reviewers, they all said to go with a mixture.  I did.  Yummy!  You'll be fighting over who gets to lick the pan.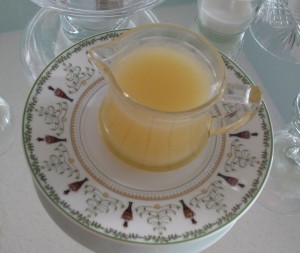 This is the kind of cake sauce that people will attempt to drink right out of the pan, it's that good.  For many years I taught a monthly lesson in our Women's Church Auxiliary and invariably, every December, my lesson would fall on the Sunday before Christmas.  That first time, I organized a program of stories, songs, and singing, and then brought out Gingerbread Cake with Lemon-Butter Sauce for the finale.  All of us women would sit around for the last few minutes of our meeting, eating the delicious treat and just visiting.  I would play Christmas music on a tape recorder (those were the days) while the women who had spent the better part of the last month shopping, planning, cleaning, wrapping, feeling frenzied and overwhelmed, could just sit.  Sit and enjoy each other's company, the carols of Christmas and some warm gingerbread.  It was always one of my favorite moments of the season.
1/2 cup REAL butter
1 cup sugar
1/2 cup light cream
4 teaspoons freshly-squeezed lemon juice
1 teaspoon vanilla
1/4 teaspoon rum extract
a shake of ground nutmeg
Blend together and stir constantly while heating so it doesn't scorch.  Cook until slightly thick.  Add the freshly-squeezed lemon juice, the rum and vanilla extracts.  Add a dash of nutmeg.  Serve warm over cake.  Try not to lick the spoon.
Note: I also serve this with the Old-fashioned Gingerbread Cake, Gingerbread Cake, Baked Cranberry Pudding, and the Apple Cake.