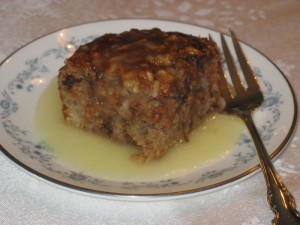 Who knows where I got this recipe, but it's been a favorite of mine to serve at Christmas for just about forever.  For Thanksgiving it was always pumpkin and mincemeat pie, and for Christmas, it's Gingerbread Cake and this.  It's a moist cake with strands of fresh apple, crunchy walnuts and an old-fashioned English-cake-pudding texture.  It's best served with Elizabeth's Lemon Butter Sauce.
(Double the quantity for 9 x 13 pan)
1 cup sifted flour
1 teaspoon baking soda
1 teaspoon cinnamon
3/4 teaspoon nutmeg
1/4 teaspoon salt
1/4 cup butter
1 cup sugar
1 egg
3 large apples, peeled, cored and grated
1/2 to 3/4 cup chopped nuts
Sift together flour, cinnamon, salt, baking soda and nutmeg in one bowl.  In another bowl, whip together thoroughly: butter, sugar and egg until light and fluffy.
Add the grated apples to the egg mixture then blend in flour mixture.  Lastly add nuts and stir until blended.  Bake in greased 9 x 9 pan at 400 degrees F for 20-30 minutes.  Do Not Overbake!