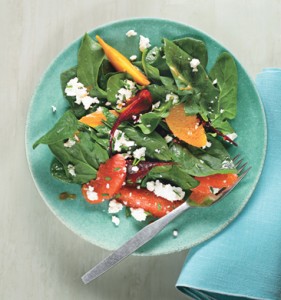 This recipe, originally from Bon Appétit (February 2011, by Myra Goodman and Sarah LaCasse; their photo is being used) was the salad I chose to use for our Valentine's Day Dinner this year.  I don't know why we didn't go out.  We both seemed to be moving at glacial pace at home, with job and church responsibilites sapping all our energy to look up a restaurant, make the reservation, change our clothes, pay 60 bucks a person for a Valentine's Day meal of some significance.  We could have paid only 20 bucks a person at Chili's or something, but just try and have an intimate conversation in THAT place.
Yield: 4 servings   —  Active Time: 20 minutes, with Total Time: 1 hour 50 minutes (includes roasting and cooling time) We found that this filled us up quite a bit–if I were to use this as a first course again, I'd eliminate the feta cheese.
Ingredients
Vinaigrette:
3 tablespoons balsamic vinegar
2 teaspoons Dijon mustard
2 teaspoons finely grated orange peel
2 teaspoons finely grated grapefruit peel
1 teaspoon honey
1/3 cup extra-virgin olive oil
To make: whisk vinegar, mustard, citrus peels, and honey in small bowl. gradually whisk in oil. Season vinaigrette with salt and freshly ground black pepper.
Salad:
4 2 1/2-inch-diameter unpeeled beets, tops trimmed
1 tablespoon olive oil
1 6-ounce bag baby spinach
2 small pink or ruby grapefruits, all peel and pith cut away, segments cut from between membranes
2 oranges, all peel and pith cut away, segments cut from between membranes
3/4 cup crumbled feta cheese (4 ounces)
1/4 cup chopped fresh chives
Preheat oven to 400°F. Toss beets and oil in large bowl; sprinkle with salt and pepper. Wrap each beet in foil. place directly on oven rack; roast until tender, 60 to 70 minutes. I ended up roasting mine about 90 minutes; somewhere I read that the more the merrier as it carmelizes the sugars in the beets and makes it incredibly delicious.  Agreed!  Open foil; cool 30 minutes. Rub skins off beets; cut each into 8 wedges. Sprinkle with salt and pepper. If your beets are big, you may want to cut them in half.
Place spinach in large bowl; toss with 2 tablespoons vinaigrette. Divide among plates. Add beets and citrus segments to same bowl. Add 2 tablespoons vinaigrette; toss to coat. Arrange beet mixture atop spinach; sprinkle with cheese and chives. Serve, passing any remaining vinaigrette.