Recently my sister came to visit and while I was more than happy to go out for dinner every night (my husband was gone and I like doing that), there came a time when we were both ready to stay in.  What to cook?  I'd just been reading Dorie Greenspan's blog, where she gave the recipe for her Beggar's Linguini, from her new book Around My French Table.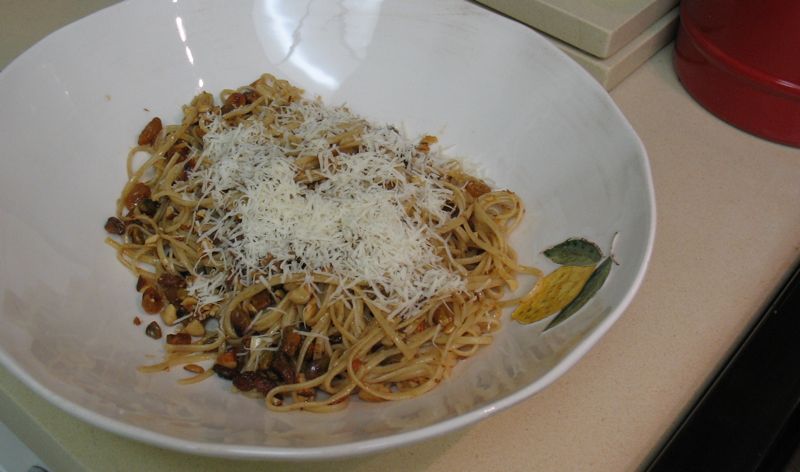 This sounded great to both of us, and I already had most of the ingredients.  Basically it's a sauce made from browned butter, golden raisins, pistachios and chopped almonds, tossed with some Parmesan and some grated orange rind.  It has a rich, yet not overly heavy, taste.  I made it again the next week for Dave and we were both angling to have the leftovers for lunch the next day.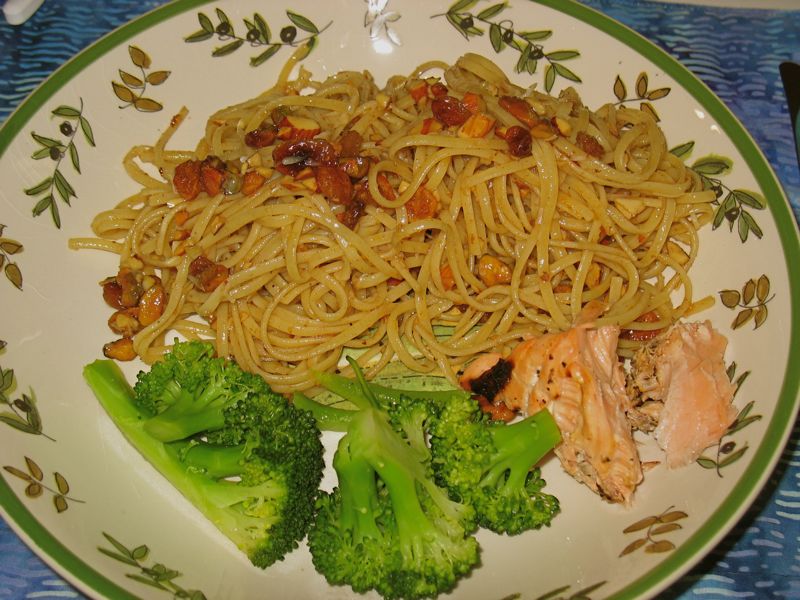 Cynthia and I served it with fresh broccoli, lightly marinated salmon, grilled on the barbeque.  One last note: even though she says it doesn't reheat well–I liked it fine the next day for lunch.
1 box (1 lb.) linguine
1 1/2 stick butter (salted or unsalted)
1/3 cup shelled pistachios, coarsely chopped
1/3 cup almonds, coarsely chopped
8 plump dried Mission figs (or 3 dried Kadota figs), finely chopped (confession: I didn't have any, so I used dried apricots–about 1/3 cup, chopped)
1/4 cup moist golden raisins
salt and pepper
1/2 cup freshly grated Parmesan cheese
grated zest of 1/2 orange (or more to taste)
Minced fresh chives and/or parsley, for serving (opt.)
Cook the linguine according to the package directions; drain well.
Meanwhile, about 5 minutes before the pasta is ready, melt the butter in a large high-sided skillet or casserole over medium heat, as you'll be adding the pasta to this (so make sure it is large enough).  Whe the butter is melted and golden, stir in the nuts, figs (or dried apricots) and raisins.  Allow the butter to bubble and boil, as you want it to cook to a lovely light brown, or to turn into a beurre noisette, butter with the color and fragrance of hazelnuts.
When the butter has reached just the color you want, add the pasta and stir it around in the butter to coat it evenly and make sure the fruits and nuts are well incorporated, then season with salt and a generous amount of ground pepper.
Place in serving bowl, and add the grated cheese, tossing to blend, then dust with the orange zest, chives and/or parsley.  Taste, and add more zest/cheese if you like.  Serve immediately, but give it one more toss to blend in the zest and herbs.