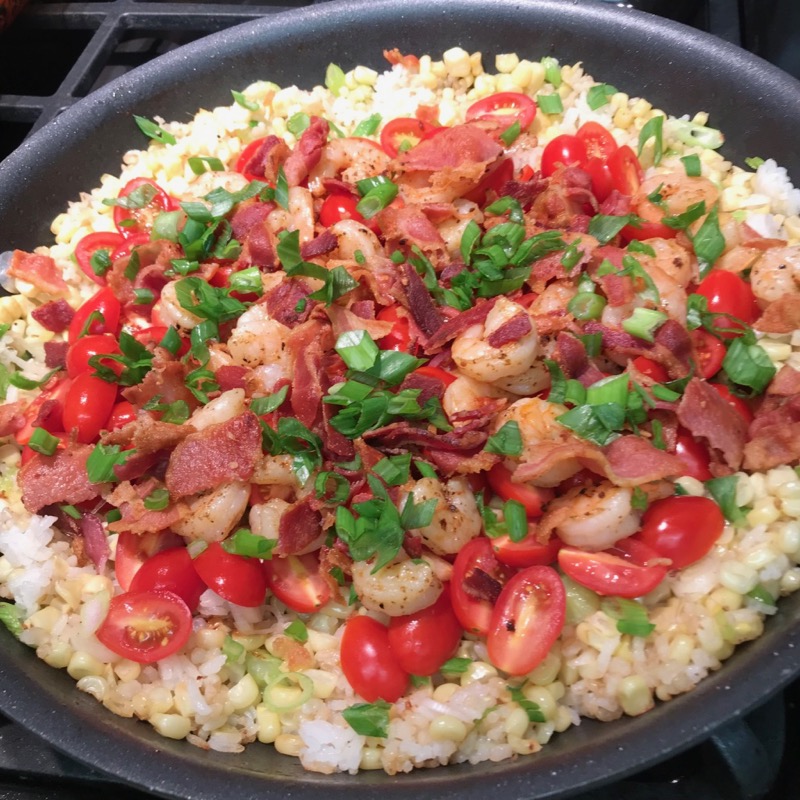 When I posted this to Instagram, with an invitation to come to dinner, I had quite a few people accept my invitation; some even wanted the recipe.  It came from the New York Times, and was written by Genevieve Ko; however, I have modified it slightly as I'm making it for two.  Modifications are in the recipe below.  Serves 4 amply, especially if served with fresh ciabatta bread (or take-n-bake, whatever works for you).
INGREDIENTS
1/2  pound peeled and deveined shrimp, patted very dry
Kosher salt and ground black pepper
4-5  strips bacon
2  ears uncooked corn
6  scallions
pinch of red pepper flakes
1  pint grape tomatoes, cut in half
2-3  cups cooked rice — I used a mixture of brown rice and white rice
PREPARATION:
Prepare the shrimp by rinsing in cool water, and removing any shells.  Lay out on paper towels to dry; blot with another paper towel.  Grind salt and pepper over one side of the shrimp.  Set it aside for now.
Cut tomatoes in half; set aside.  Trim off ends of scallions (green onions), then slicely thinly on an angle, using nearly all of the green tops.  Reserve a healthy handful of green tops for garnish, and set the sliced scallions aside.  Slice the kernels off the cobs of corn; reserve.
Lay bacon strips out in heavy skillet over med-high heat, and cook until nearly crispy, turning as needed.  Remove strips to a plate covered with paper towels to cool.  Layer more paper towels on top.
Sprinkle a pinch of red pepper flakes in the hot bacon grease, then add the shrimp, stirring for one to two minutes per side, or until just cooked.  Using a slotted spoon, remove from grease and lay atop the paper towels that are on top of the bacon.
Keeping the heat on medium-high, add the corn, most of the scallions, and a pinch of salt to the skillet. Cook, stirring, until the scallions just wilt, about 1 minute.
Add the rice and stir until well-mixed and heated through, about 3 minutes. Press the rice evenly across the bottom and up the sides of the pan. Let cook, without stirring, as the rice and corn begin to crackle, until you smell a toasty scent and the rice browns, about 5 minutes. You can lift up a section of rice to peek and see if a golden brown crust has developed.
Layer on the bed of rice/corn, in this order:
•  halved tomatoes
•  cooked shrimp
•  crumbled bacon
•  handful of green scallion tops for garnish
With heat off, cover with a lid for about 2-3 minutes, letting the steam from the rice/corn soften the tomatoes.  Remove the lid to serve.
Note: While I realize that putting the lid on for too long might soften your "crust," in our case, it did not.  We could still taste the crunch.  We stored the leftovers in the refrigerator and had them four days later; it was still amazing.