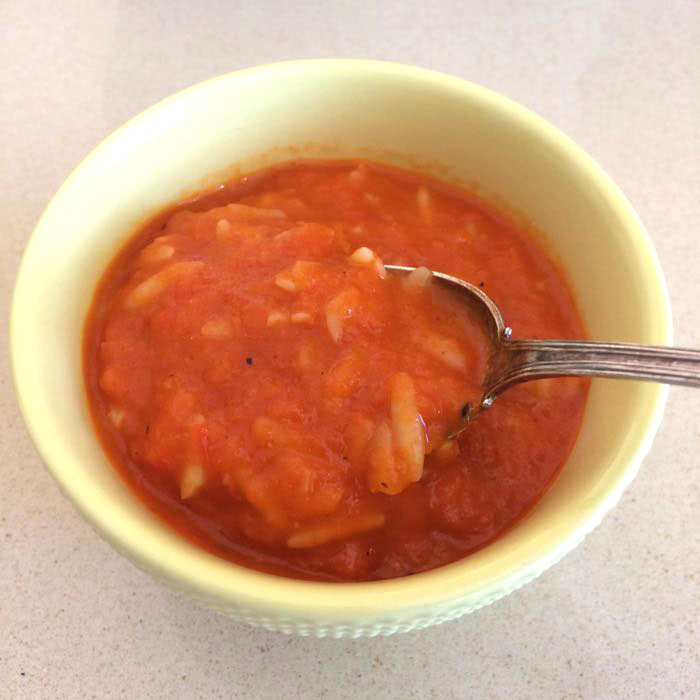 Think of this as a snappier version of tomato rice soup; the amount of pasta used here is just enough to temper the peppers' bite.  I have modified this recipe from one I found in the Washington Post.
Serve with a loaf of Mary's Retreat Bread.
Servings: Tested size: 3-4 servings; makes 3 1/2 to 4 cups
Ingredients
1 medium shallot
1 clove garlic
5-6 red roasted peppers (directions below) ***
2 teaspoons olive oil, plus more for optional garnish
3-1/2 to 4 cups chicken broth (you get to determine the texture: soupy or thick)
1/2 cup dried orzo pasta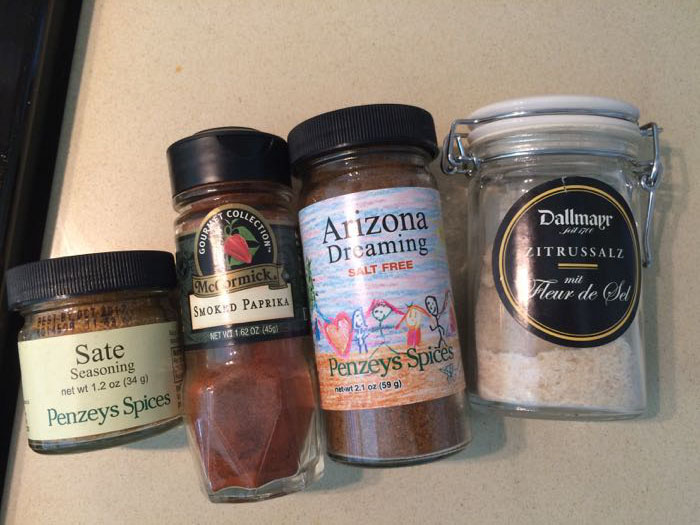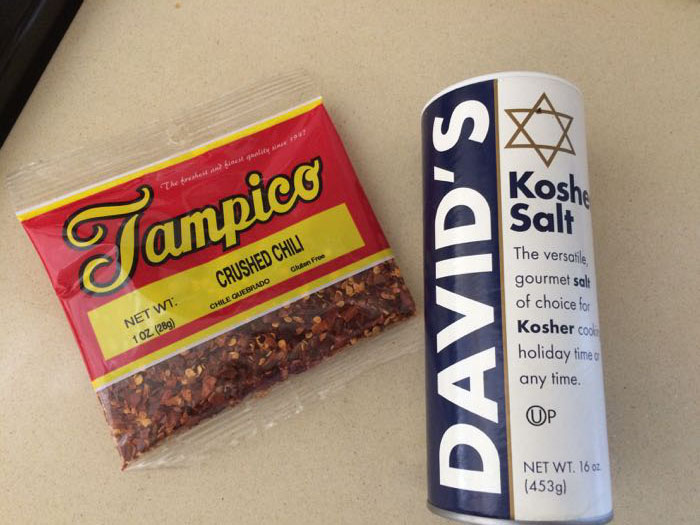 Spices to Taste:
wave of Arizona Dreaming, Sate, Smoked Paprika and [optional] a pinch of lemon-salt (use a shake of Kosher salt and 1 tsp. lemon rind, as substitute)
pinch of crushed red pepper flakes (also called "chili" flakes)
NOTE: Arizona Dreaming is my new go-to spice.  Get yourself a jar.
Directions
Peel and coarsely chop the shallot and garlic. Prepare the red peppers by broiling the seeded, washed halves for 15 minutes under high broiler heat on a prepared pan (line with tin foil).  Wrap the whole pan in foil, and let the peppers cool while they continue to steam and melt into goodness, about 30 minutes. Alternatively, you could put them into a covered bowl, and go that route.  Peel off the blackened skins and discard.
Heat half of the oil in a medium saucepan over medium heat. Once the oil shimmers, stir in the shallot and garlic. Cook for 3 or 4 minutes, until just softened.
Add the red peppers and broth; if your peppers weren't soft after the broiling stage, let them cook a bit more in the hot broth until tender.  Using a stick blender, puree the peppers/broth until smooth. Add the spices listed above.
Bring to a boil over medium-high heat, then stir in the orzo. Cook for 7 to 9 minutes or until the orzo is tender and more visible in the pot, stirring often to keep it from sticking to the bottom. Add more broth, if needed. Taste, and adjust seasonings as needed, using spices listed above.  You can also add a Tablespoon of lemon juice to pop things up, if needed.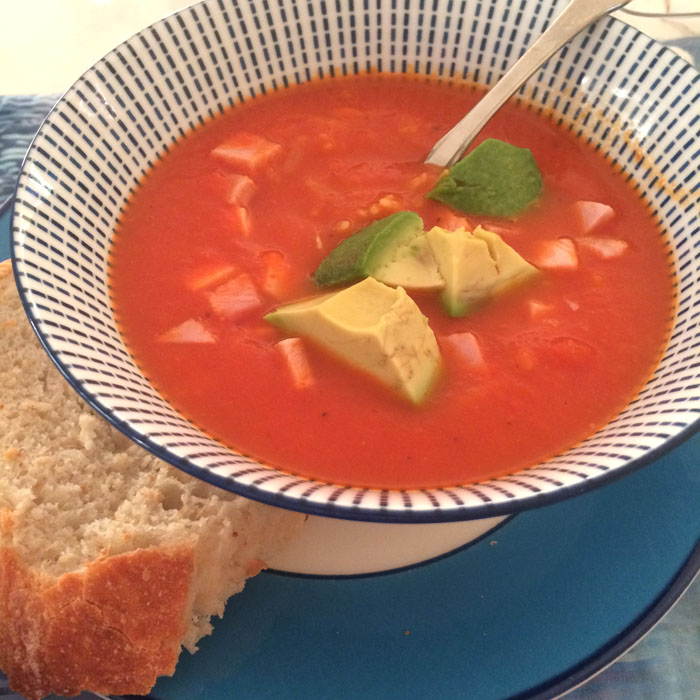 Also good with slices of avocado, if you like that sort of thing, or a really good sandwich.  We also added cubes of cooked ham, a carryover from another meal.
Other garnishes possible:
2 tablespoons pine nuts, for garnish
1 tablespoon grated pecorino Romano cheese
1 cup baby spinach
few leaves fresh basil
***COOK'S NOTE: To make this quickly, use two jars of roasted red peppers from Trader Joe's instead of roasting up your own peppers.  Drain, then use in the recipe instead of the home-done peppers.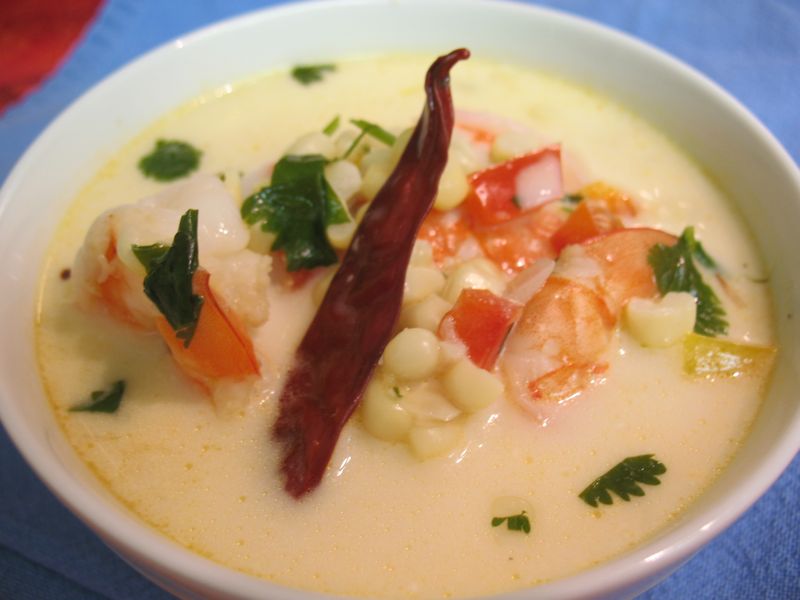 After doing lesson prep for my classes for so long that my eyes hurt, I wandered downstairs to figure out dinner.  It was a colder day, the first not-hot day we've had this fall and some rain was falling here and there all afternoon.  I wanted something warm for dinner, but not heavy.  Something traditional but with a bit of kick.  The soup cookbook fell out and after looking through it I chose a recipe to start in on.  But I took a huge turn off their recipe highway onto something wholly my own.  We enjoyed it and I hope you will too.  Oh, that red pepper?  It's for looks.  You leave it in, but to add some heat, use Sriracha sauce at the table.
Although this looks complicated, get everything ready at the beginning as it goes together quickly.
1 Tablespoon olive oil
1 Tablespoon butter
1 1/2 sweet bell peppers (I used 1 red and 1/2 yellow), chopped
1 shallot, peeled and chopped
2 cloves garlic, minced (or put through a garlic press)
2 stalks lemon grass
2 dried red pepper pods (more if you want more heat)
2 knuckle-sized chunks of fresh ginger
about 2 cups white frozen corn (can add more at the end if you like your soup with more "stuff")
1 lb. uncooked shrimp, peeled, deveined, rinsed and drained
2 cans chicken broth (14 oz each)
1 can coconut milk (about 14 oz.)
1 Tablespoon sugar
juice of 1 lime (about 2 Tablespoons)
pinch or two of red pepper flakes
1/3 cup chopped fresh cilantro
1 teaspoon salt (or to taste)
Melt butter and oil together in heavy soup-sized pan, saute peppers, shallot and garlic for 2-3 minutes.  Add chicken stock, broken-in-half lemon grass stalks, dried red peppers and the pieces of ginger.  Let simmer for 10 minutes.
Add in the shrimp and corn.  Let simmer for 2-3 minutes.
Fish out lemon grass and ginger.  Add sugar, lime juice, pinch of red pepper flakes, and cilantro.
Add coconut milk.  Adjust seasonings (add more salt?) and serve with Sriracha (Rooster) sauce at the table.
Note: I keep lemon grass stalks in my freezer.  I simply smacked them over the edge of the counter to break them in half, then threw them in.  Ditto the ginger (for keeping it in the freezer), but tonight I set it on a cutting board, and lopped off one of its chunks to throw in.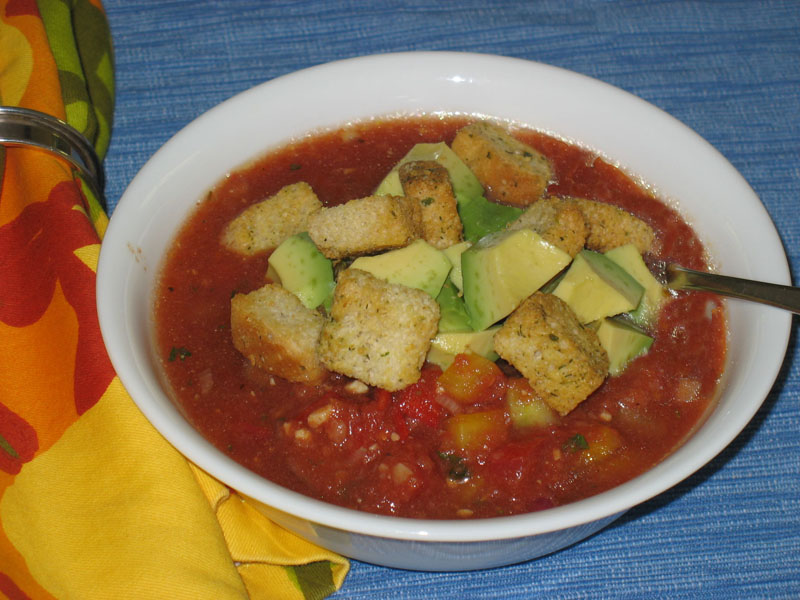 Maybe it was because Dave brought home another sack of beautifully ripe tomatoes when I already had a sack of beautifully ripe tomatoes in the fridge.  Maybe it was because we finally got a warm spring day, after a long string of cool spring days. (I'm not complaining about this–just stating a fact.)  I don't know–but I know I wanted some gazpacho.  I found this recipe on Epicurious.  Not content with that, I perused my existing recipes, checked out Pioneer Woman, and in the end went with the Epicurious recipe.  I've tried many over the years–but I think I've found a winner.  This is a thicker version of gazpacho (apparently the ones from Spain are thinner), but I quite like this one.  It is best made the day before but refrigerating for 4 hours is a minimum.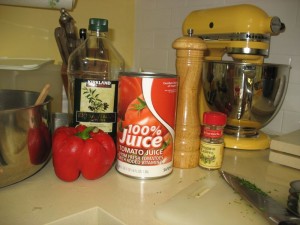 I used Safeway store brand of juice and it was just fine.  I also used a red and yellow bell pepper–upping the quantity to one total pepper.
Mom's Gazpacho • Epicurious | May 2001 • by Elizabeth Shepard
Yield: Makes 8 servings
Ingredients:
1 egg
2 cloves garlic, finely chopped
Salt
2 cups chopped fresh plum tomatoes
1/2 cup chopped green or yellow pepper
1 cup chopped cucumber, seeds removed
1/2 cup finely chopped red onion
1/4 cup finely minced parsley
2/3 cup olive oil
Juice of 1/2 lemon (approximately 2 tablespoons)
1 can (14 ounce)  beef broth
1/4 cup red wine vinegar
1 teaspoon dried oregano
2 tablespoons Worcestershire
Pepper, coarsely ground
1 46-ounce can tomato juice
1/2 cup plain bread crumbs (I made some on the spot by whirling a couple of slices of good-quality  bread in my food processor.)
Tabasco and salt/pepper to taste
Garnish (optional): croutons and chunks of avocado
To Prepare:
Place egg in small pot of cold water, bring to boil, and let simmer for 10 minutes–don't overcook. While this cooks, chop garlic finely–really really fine.  I even used the side of the blade of my knife to smash it some more.  Place this in a small bowl, add a pinch of salt (or a shake, if you are using Kosher salt).

When egg is finished cooking, run under cold water, remove shell, add to garlic and salt mixture, and mash together with fork.  Set aside until for later.
In a large bowl, combine tomatoes, pepper, cucumber, red onion, olive oil, lemon juice, beef broth (optional), red wine vinegar, parsley, oregano, Worcestershire, and coarsely ground black pepper to taste. Stir.
Pour tomato juice over the vegetables, and add garlic, egg, and salt mixture. Add bread crumbs and stir so that they dissolve into liquid.
Taste for seasoning and add salt, pepper, and Tabasco to taste. Chill for at least 4 hours and serve. Garnish with chunks of avocado and croutons.  Pass extra croutons.
At the end, the cook had included some of her notes:
· My recipe serves eight, and it's a lot of trouble to prepare this soup for one (I disagree). But like homemade tomato sauce, its flavor improves with age—you can store it in the refrigerator and eat it for about a week.
· Why mash the garlic with egg and salt? To make a garlic-infused paste that adds body and substance to the tomato broth.
· Use kosher salt to bring out the flavors of the vegetables.
· Try to chop the vegetables so that they're small but not minced or pulverized, and don't worry if the sizes aren't uniform. The pieces should be small enough to chew but big enough to recognize.
· If you prefer a more elegant presentation, emulsify the chilled mixture before serving. Seasoning is a very personal matter. I tend to like my gazpacho pungent and sharp, with salt, lemon, and onion flavors lingering on the palate. If you prefer milder soup, reduce the onion, garlic, and vinegar quantities by half. If you want a spicier soup, add 2 teaspoons of minced jalepeño peppers. To make vegetarian gazpacho, substitute vegetable broth for beef broth.