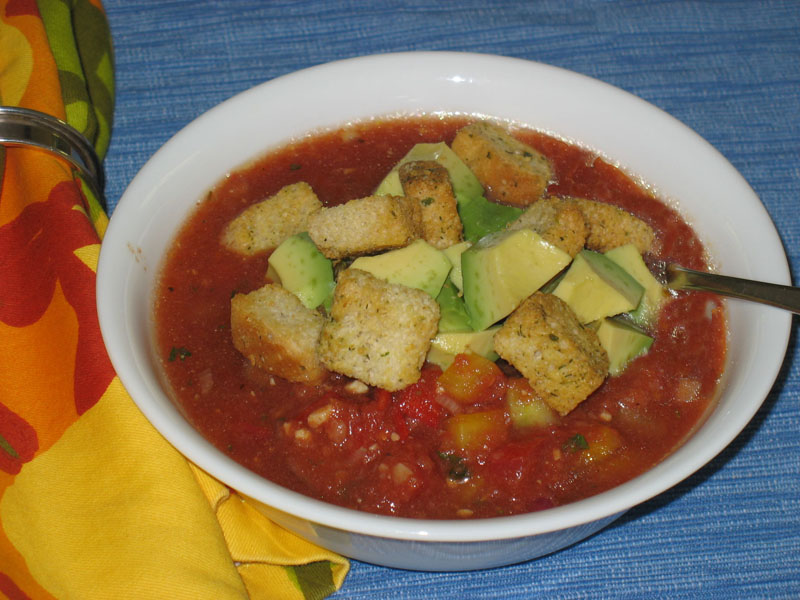 Maybe it was because Dave brought home another sack of beautifully ripe tomatoes when I already had a sack of beautifully ripe tomatoes in the fridge.  Maybe it was because we finally got a warm spring day, after a long string of cool spring days. (I'm not complaining about this–just stating a fact.)  I don't know–but I know I wanted some gazpacho.  I found this recipe on Epicurious.  Not content with that, I perused my existing recipes, checked out Pioneer Woman, and in the end went with the Epicurious recipe.  I've tried many over the years–but I think I've found a winner.  This is a thicker version of gazpacho (apparently the ones from Spain are thinner), but I quite like this one.  It is best made the day before but refrigerating for 4 hours is a minimum.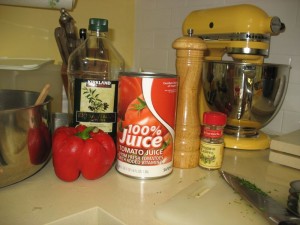 I used Safeway store brand of juice and it was just fine.  I also used a red and yellow bell pepper–upping the quantity to one total pepper.
Mom's Gazpacho • Epicurious | May 2001 • by Elizabeth Shepard
Yield: Makes 8 servings
Ingredients:
1 egg
2 cloves garlic, finely chopped
Salt
2 cups chopped fresh plum tomatoes
1/2 cup chopped green or yellow pepper
1 cup chopped cucumber, seeds removed
1/2 cup finely chopped red onion
1/4 cup finely minced parsley
2/3 cup olive oil
Juice of 1/2 lemon (approximately 2 tablespoons)
1 can (14 ounce)  beef broth
1/4 cup red wine vinegar
1 teaspoon dried oregano
2 tablespoons Worcestershire
Pepper, coarsely ground
1 46-ounce can tomato juice
1/2 cup plain bread crumbs (I made some on the spot by whirling a couple of slices of good-quality  bread in my food processor.)
Tabasco and salt/pepper to taste
Garnish (optional): croutons and chunks of avocado
To Prepare:
Place egg in small pot of cold water, bring to boil, and let simmer for 10 minutes–don't overcook. While this cooks, chop garlic finely–really really fine.  I even used the side of the blade of my knife to smash it some more.  Place this in a small bowl, add a pinch of salt (or a shake, if you are using Kosher salt).

When egg is finished cooking, run under cold water, remove shell, add to garlic and salt mixture, and mash together with fork.  Set aside until for later.
In a large bowl, combine tomatoes, pepper, cucumber, red onion, olive oil, lemon juice, beef broth (optional), red wine vinegar, parsley, oregano, Worcestershire, and coarsely ground black pepper to taste. Stir.
Pour tomato juice over the vegetables, and add garlic, egg, and salt mixture. Add bread crumbs and stir so that they dissolve into liquid.
Taste for seasoning and add salt, pepper, and Tabasco to taste. Chill for at least 4 hours and serve. Garnish with chunks of avocado and croutons.  Pass extra croutons.
At the end, the cook had included some of her notes:
· My recipe serves eight, and it's a lot of trouble to prepare this soup for one (I disagree). But like homemade tomato sauce, its flavor improves with age—you can store it in the refrigerator and eat it for about a week.
· Why mash the garlic with egg and salt? To make a garlic-infused paste that adds body and substance to the tomato broth.
· Use kosher salt to bring out the flavors of the vegetables.
· Try to chop the vegetables so that they're small but not minced or pulverized, and don't worry if the sizes aren't uniform. The pieces should be small enough to chew but big enough to recognize.
· If you prefer a more elegant presentation, emulsify the chilled mixture before serving. Seasoning is a very personal matter. I tend to like my gazpacho pungent and sharp, with salt, lemon, and onion flavors lingering on the palate. If you prefer milder soup, reduce the onion, garlic, and vinegar quantities by half. If you want a spicier soup, add 2 teaspoons of minced jalepeño peppers. To make vegetarian gazpacho, substitute vegetable broth for beef broth.