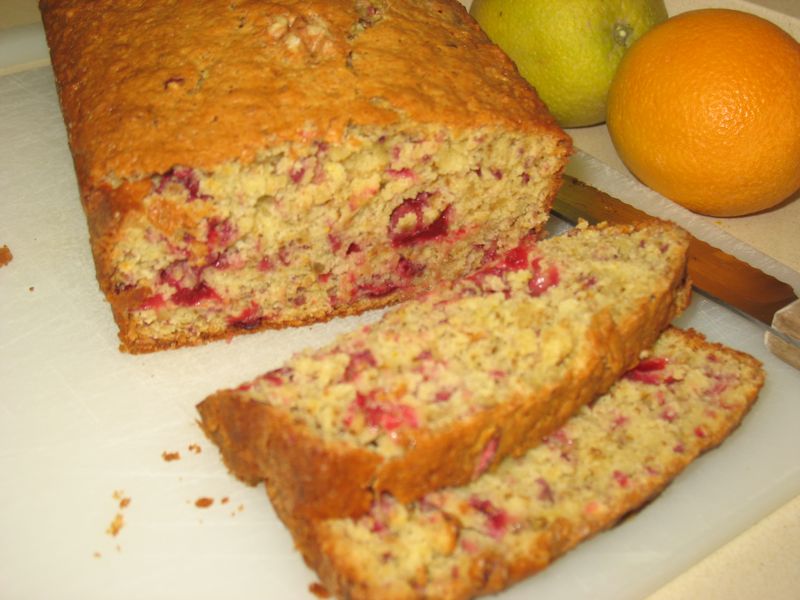 This is another of my mother's great recipes, a moist bread so fresh-tasting with cranberries and orange flavor that you'll find your day just won't start quite right during cranberry season if you haven't had a slice of this for breakfast.  But it's also good for snacks, and a fairly guilt-free snack at that: with only one egg and two pats of butter, it's low-fat, but with flavor.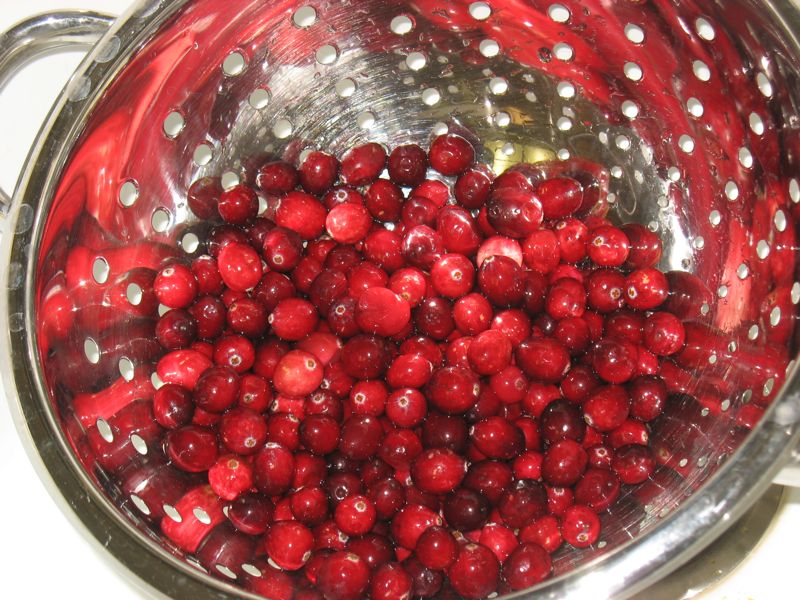 Although the recipe makes one loaf, why stop there?  All the photos below show me making up two loaves.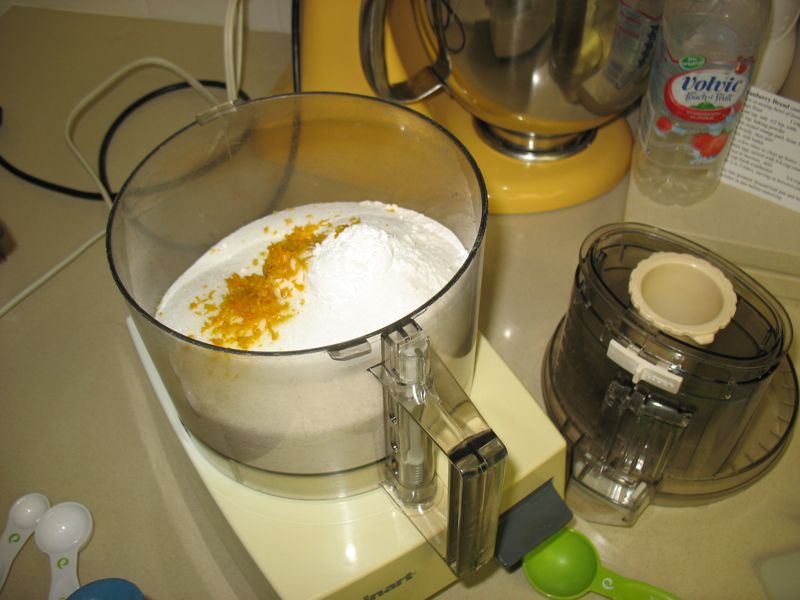 To make two, I first mix up the dry ingredients for one batch in the food processor…
…then transfer it to a bowl and start the second batch.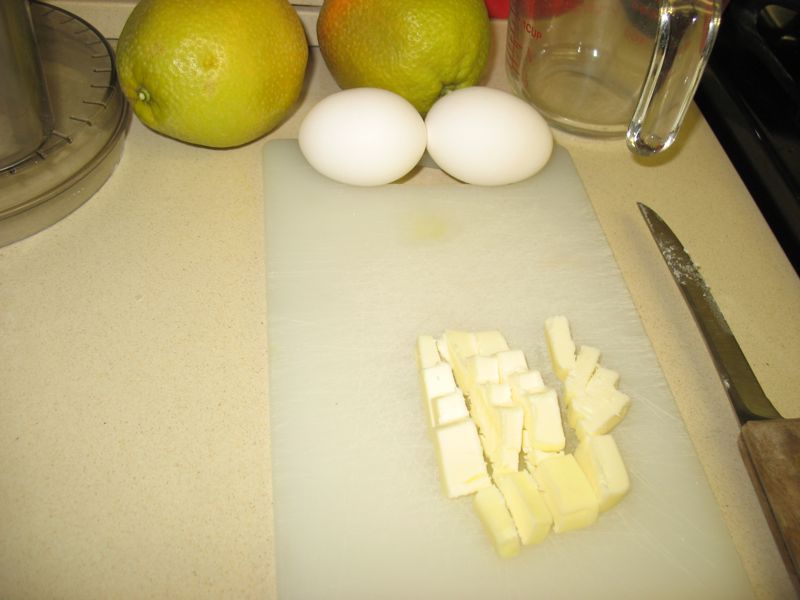 I cut up, then. . .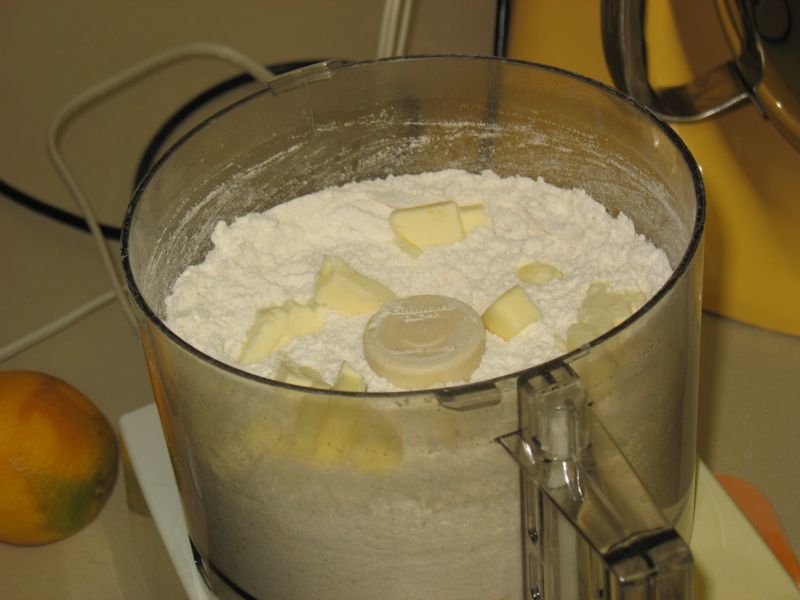 …pulse in the butter, then follow the recipe as written.
When you finish with one batch, scrape out the bowl well, then pour in the reserved dry ingredients and start again.  No need to wash up in between.
Cranberry Bread (makes 1 loaf)
Place in mixing bowl of food processor:
2 cups flour
1 cup sugar
1 scant tsp. salt
1/2 tsp. soda
1 and 1/2 tsp. baking powder
1 Tbls. zested orange peel, from 1 large orange
Mix briefly, then add:
2 Tbls. real butter.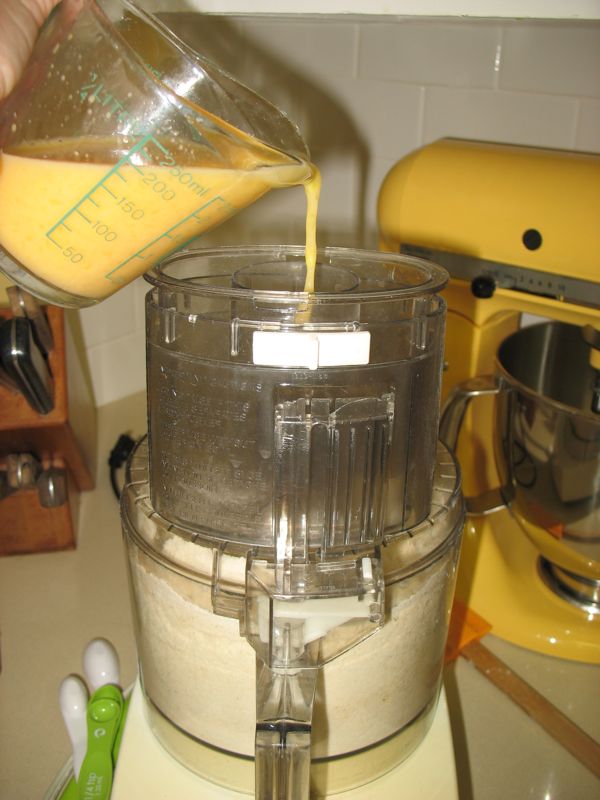 Pulse a few times to chop up butter, then add:
1 beaten egg, mixed with 3/4 cup orange juice.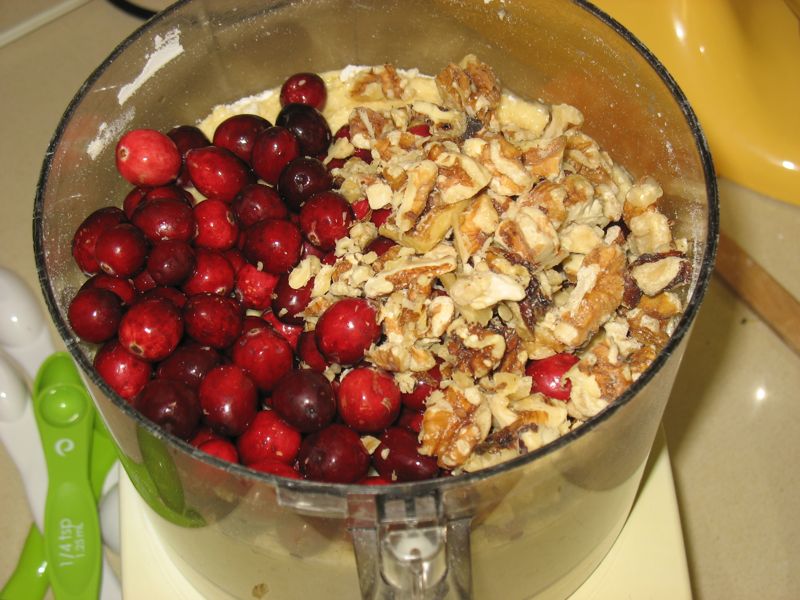 Mix just to moisten.  Add:
1 and 1/2 cups fresh cranberries
3/4 cup chopped walnuts.
Pulse 2 or 3 times, stirring in between pulses with spatula, if necessary.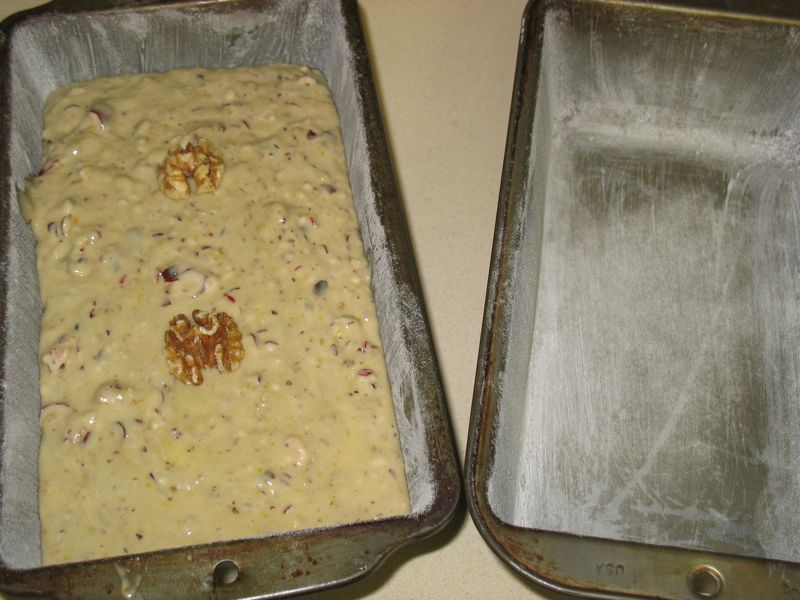 Spoon into greased, floured loaf pan and bake at 350°F for 60 minutes.  Cool 15 minutes in pan before removing.  Then it should pop right out.  Slice, wrap up for the freezer, or to share with a friend, and enjoy!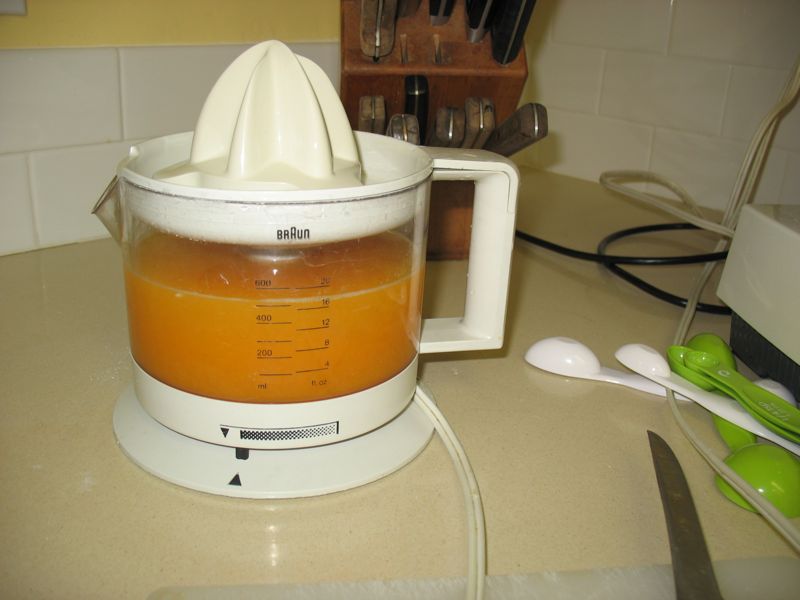 I used freshly squeezed orange juice.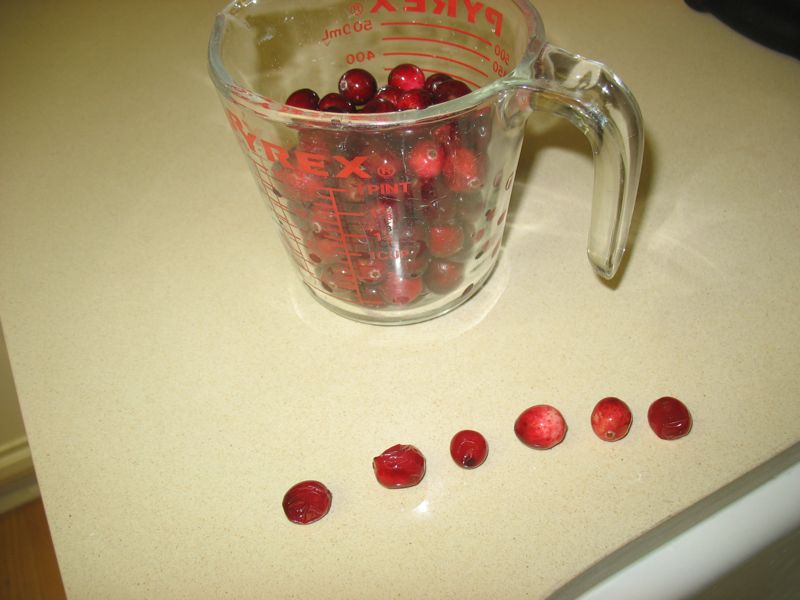 In front are the reject berries: soft, underripe, or nearly goners.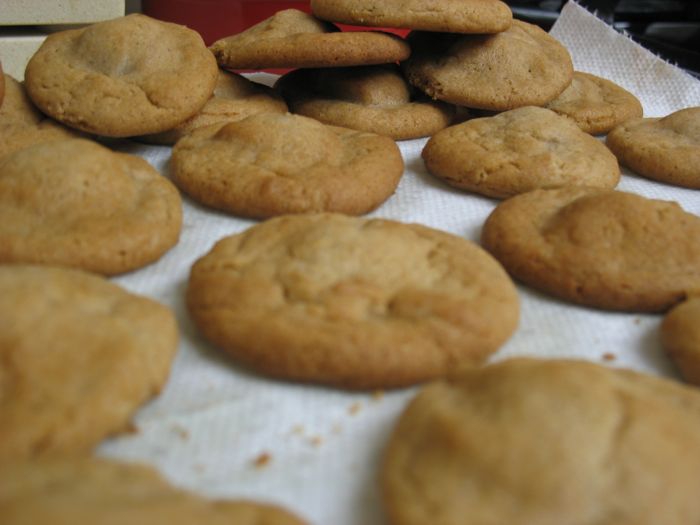 I don't know where my mother got this recipe, or if she invented it herself, but it's a cookie I always associate with her and with holiday baking. When I baked up a batch and brought them as a gift to each child at her 75th birthday party, all of us children nodding a knowing smile.
As a child I loved them warm, right out of the oven, or set in the sun on cooler day to warm the mint chocolate surprise waiting inside the spiced cookie.  I liked nibbling the edges of the cookie, freeing me to separate the two halves like those sandwich cookies, and lick off the chocolatey goodness before finishing up the cookie.  However you choose to eat them, they are a winner.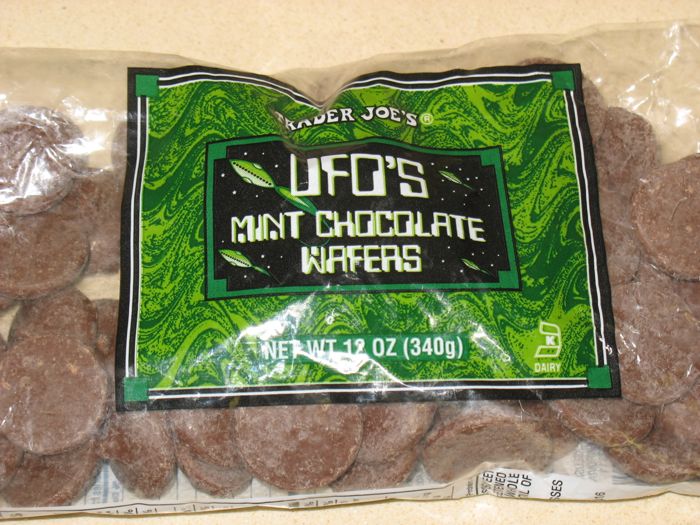 You'll need these: Trader Joe's UFO's Mint Chocolate Wafers.  Better get two bags because the wafers seem to disappear quickly.
UPDATE: I went in to Trader Joe's yesterday (December 2013), and they no longer make, nor carry these.  I'm leaving this post up anyway, as it is a good childhood recipe, and maybe someone, somewhere, will make these again!
UPDATE, APRIL 2014: I found some Dark Chocolate Mint Wafers at Kitchen Krafts.  I'll try them out and see if they work okay.
Barbara Sessions' Mint Surprise Cookies
2/3 cup shortening
2/3 cup butter
1 cup brown sugar
1 cup white sugar
1/4 cup honey
2 eggs
1/2 cup whole wheat flour
3  1/2 to 4 cups white flour
2 tsp. each: salt, soda, cinnamon, cloves, ginger
12 oz. bag Trader Joe's UFO's Mint Chocolate Wafers
Cream shortening, butter, sugars and honey.  Add eggs, beating well after addition.  Mix together whole wheat flour, 1/2 cup white flour and spices.  Blend and add to creamy mixture.  Add the rest of the flour, depening on the size of eggs you used. Chill.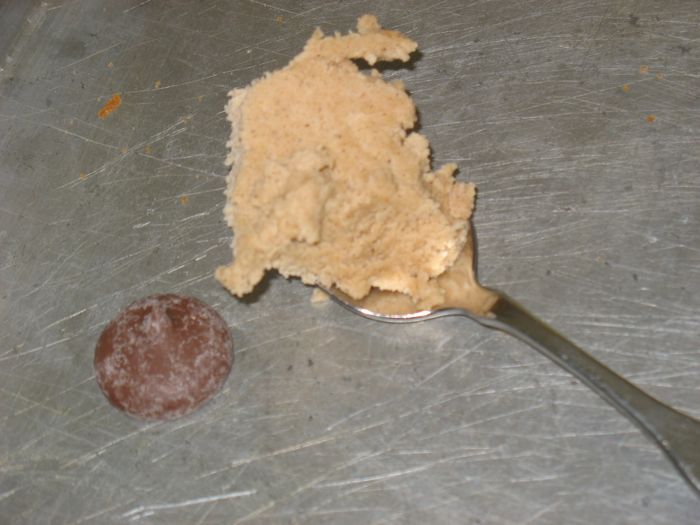 Wrap one Tablspoon dough around one chocolate mint wafer.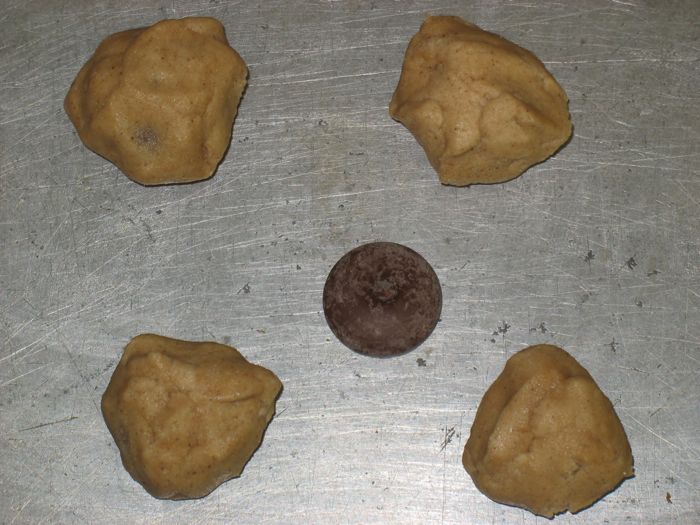 Bake 375 degrees F for 10-12 minutes.  Let cool on rack, if you can stand to wait.  They freeze well.