Translated, this means tortellini in broth.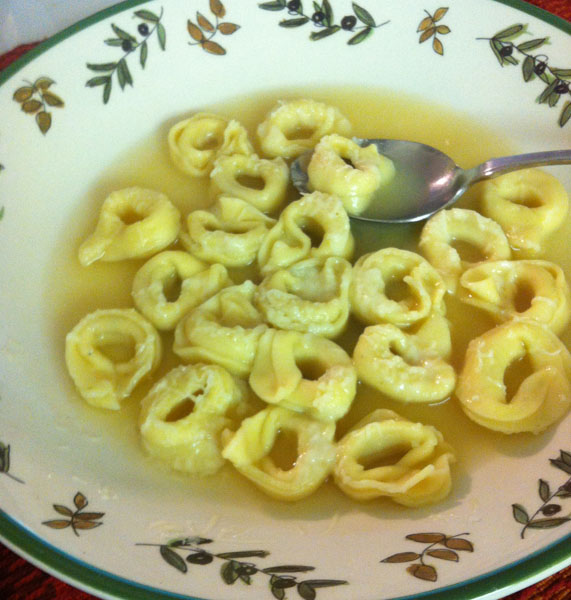 We arrived in Bologna on a rainy October night, and asked the hotel desk for a dinner recommendation.  Da Nello, he said.  A restaurant just off the main square.  And then he said, "Tortellini en Brodo is very good.  My favorite this time of year."  Apparently this soup is served when the weather turns cold, and since Bologna is the birthplace of the tortellini, I thought I should try it.
This is a photo of the soup that night.  They brought me this steaming bowl of tortellini and a jar of grated Parmesan cheese, which the server indicated that I should sprinkle over the top.  The tortellini were very small–about the size of my thumbnail and chewy rather than soft.  I doubted this serving would fill me up, but by the end, I was happy, warm and in possession of a new traditional recipe.
We found the food in the Emilia-Romaga region to be simple, yet incredibly flavorful.  I think it is because they use very high quality ingredients.  So when you prepare this ready-in-ten-minutes soup and because there are only three elements, be sure to use high quality ingredients.
Ingredients
1 quart low-salt chicken broth, good quality. [Note: I use Swanson's and have good results.]
1 8 oz. package fresh tortellini from the grocer's, often found near the deli section
Preparation
Heat the broth to a low bubbling boil, then slide in the tortellini.  Cook for 5-8 minutes until pasta is tender (but don't overcook).  Serve with freshly grated parmesan cheese (not the stuff in the green bottle–use high quality, please).