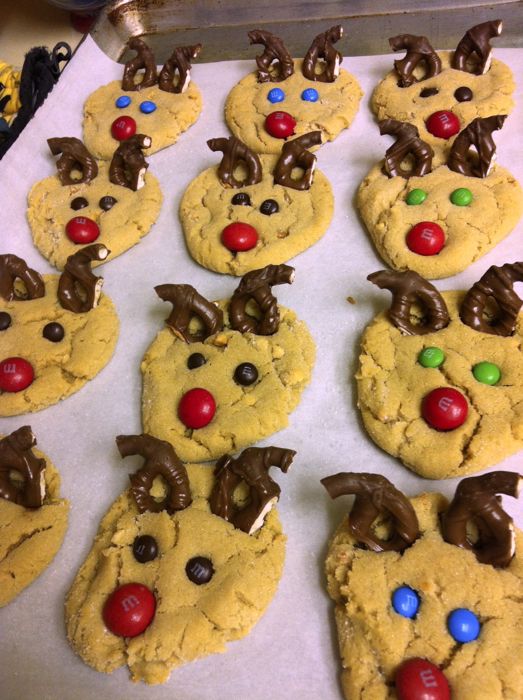 My daughter informed me that these are all over Pinterest, but I found them by following a series of links to *this* page, where I swear this cook has photoshopped her cookies to look that good.  Or maybe she's just a better baker than I am, or maybe it's because I substituted a cube of butter for some of that shortening — thinking it would taste better — but forgot how soft it makes cookies.  So note to self: don't swap out the shortening.  Now, prep your stuff.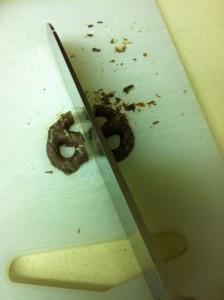 I couldn't find baby chocolate-dipped pretzels, so if you think I was going to dip them all, you don't know me very well.  Spend your time where it counts, and improvise the rest.  So I cut all my sort-of-mini pretzels in half.  Antlers are kind of hoary looking, aren't they?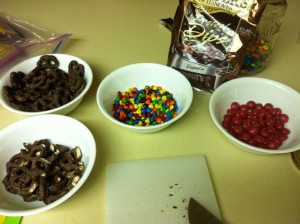 I purchased minty white chocolate M&Ms for the nose.  They come in a package with red and white.  We ate all the white ones, while saving the red ones for this project.  I had also purchased mini M&Ms for the eyes.  We decided we liked brown and blue, and that the reindeer with the green eyes looked like Zombie Reindeer (so that would be for a different holiday).
Make up a double batch of the dough in the Christmas Kiss cookies. Roll them into 1-inch balls, but I have to admit that I used my cookie scooper, which I think is 1 and 1/2 inches. Place a couple of scoops of sugar in a large plastic baggie, drop in the balls of cookie dough, and shake lightly to coat them with sugar (so much easier than rolling them around in a dish).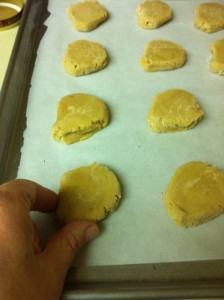 Flatten them slightly with the bottom of a glass, then pinch their "nose" slightly, to get that elongated shape.  Bake for 8 to 10 minutes, then remove from the oven.  QUICKLY set in a matching pair of antlers, then do the nose, then the eyes last.  Or get someone to help you: my husband did all the antlers while I was throwing on noses and eyeballs.
Let cool on the cookie sheet.  When mostly cool, transfer to a rack.
NOTE: you can see I used parchment paper on this batch.  You can buy it in rolls from the grocery store or (now) from Costco.  If you don't use parchment paper, the world won't end.  However, you may want to transfer your cookies to the cooling rack when they are still sort of warm, instead waiting until they are really cool.