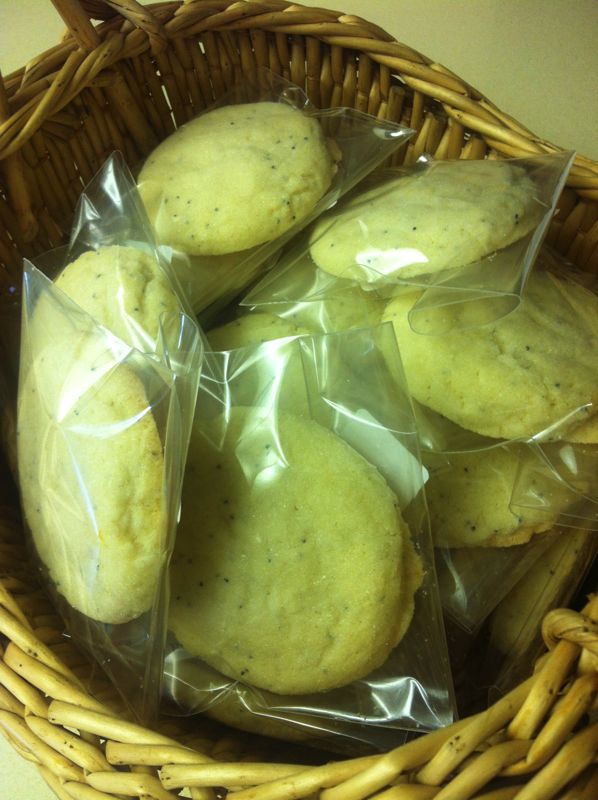 It's baking time again, not only because I'm completely thrashed from grading papers and need a break, but also because this Sunday I teach the women in my church.  The lesson is on Faith and we have a saying that Faith is like a seed (that needs to be nourished and fed).  And there's also that connection between faith and mustard seed which we all know about, but I wasn't going to make mustard.  So poppyseed it had to be.  I got the base recipe from a Cooks Illustrated book, but sometimes they can over-analyze a recipe, so I tried to be easy with this one, and just enjoy the making of it. My changes are incorporated into the recipe below.
How much flour you use may be a bit of a guesstimate.  The dough should be soft, but not sticky. The overall yield was about 54 cookies, but those first warm ones go fast.  This is a light, delicately flavored cookie.
1 pound butter, or 4 sticks, softened by sitting them out on the counter (resist the temptation to use margarine!) If you microwave the butter, it may get too runny, so be careful.
2 cups white sugar
2 Tablespoons light brown sugar
2 large eggs
2 teaspoons vanilla extract
1 teaspoon freshly squeezed lemon juice
1 Tablespoon lemon rind (one medium lemon)
4-5 cups flour (I used all five)
1 teaspoon baking powder
1/2 teaspoon salt
1 Tablespoon poppy seeds
1/2 cup sugar for outside of cookies
Prepare your oven by adjusting the oven racks to the upper- and lower-middle positions, then preheating your oven to 375 degrees.  Prepare the sheets by lining them with parchment paper (now sold at Costco!).
Cream the butter and sugars together on medium speed, scraping as needed, until light and fluffy, about 3 minutes.
Add the eggs, extract, lemon juice, lemon rind.  Beat at medium speed until well combined, less than a minute.
Stir together the 4 cups flour, salt, baking powder and poppyseeds.  Add to creamed mixture and mix until just blended together.  A light hand will yield a tender cookie. Test for stickiness.  I ended up adding about another 3/4-1 cup flour.  You don't want them so stiff they turn out to be cardboard, but you do have to shape them for baking.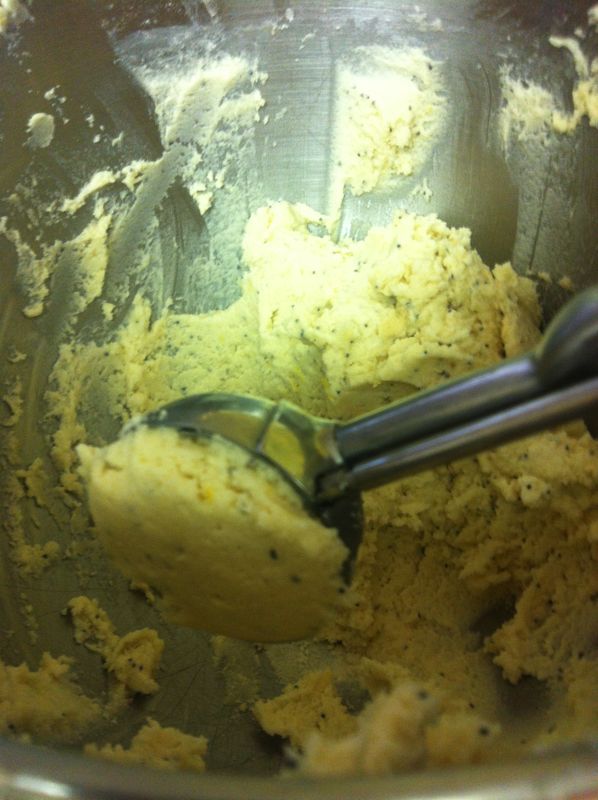 Place the 1/2 cup sugar in a large bag.  Using a 1 1/2″ cookie scoop, scrape them out of the bowl and dump into the bag of sugar.  Shake gently, then reach in and with your hand, shake the extra sugar off and put the rounded mounds onto the parchment-covered cookie sheet.  (They say that if you don't have parchment, you can use a nonstick cooking spray, but be aware that the bottoms of your cookies will be darker.)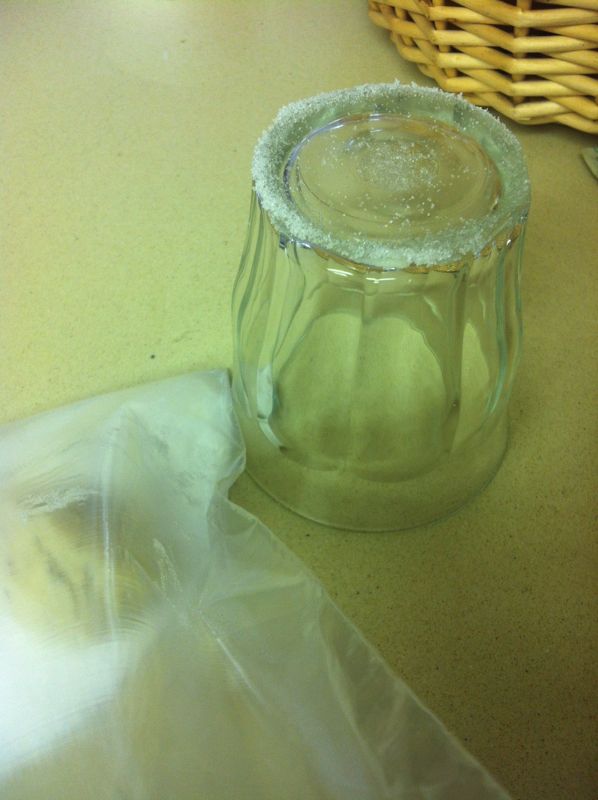 Using one of those papers from your butter cube, butter up the bottom of a drinking glass that's about 2″ across, then dip the glass into the sugar.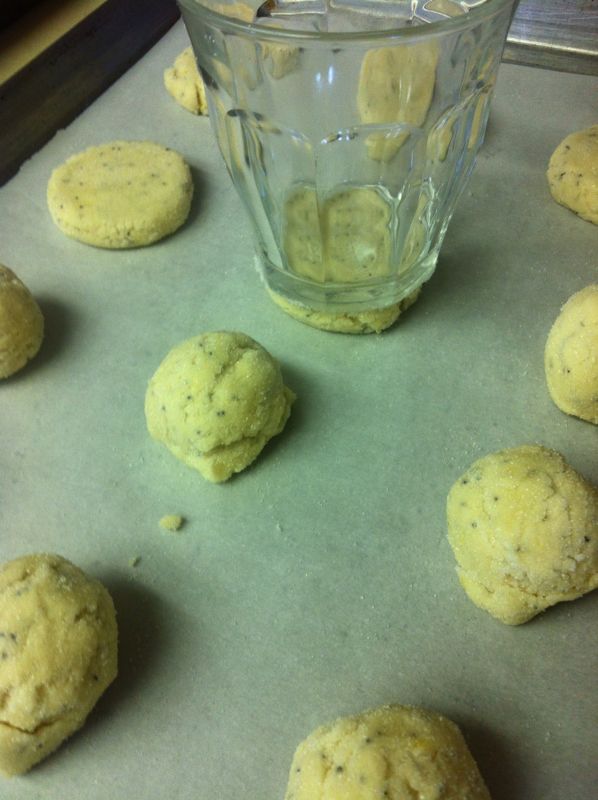 Flatten the cookies just until they reach the edge of the glass. (They will be about 5/8″ thick.)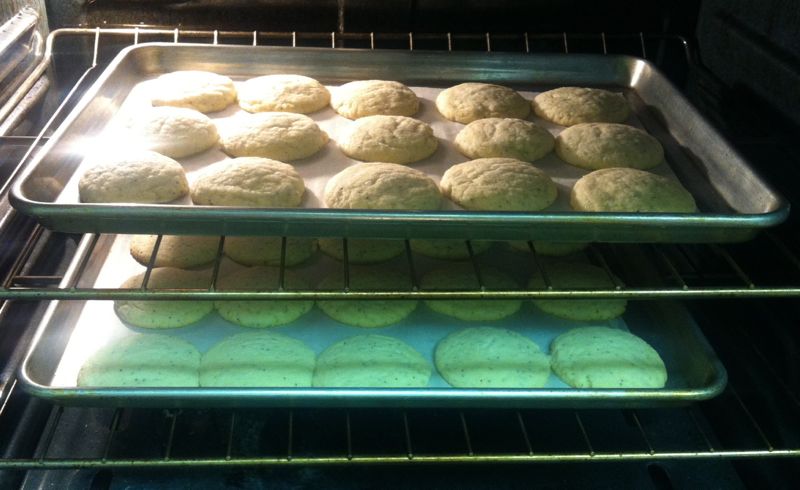 Bake for 16 minutes, switching the cookie sheets mid-way through baking, as well as turning them around, so the cookies bake evenly.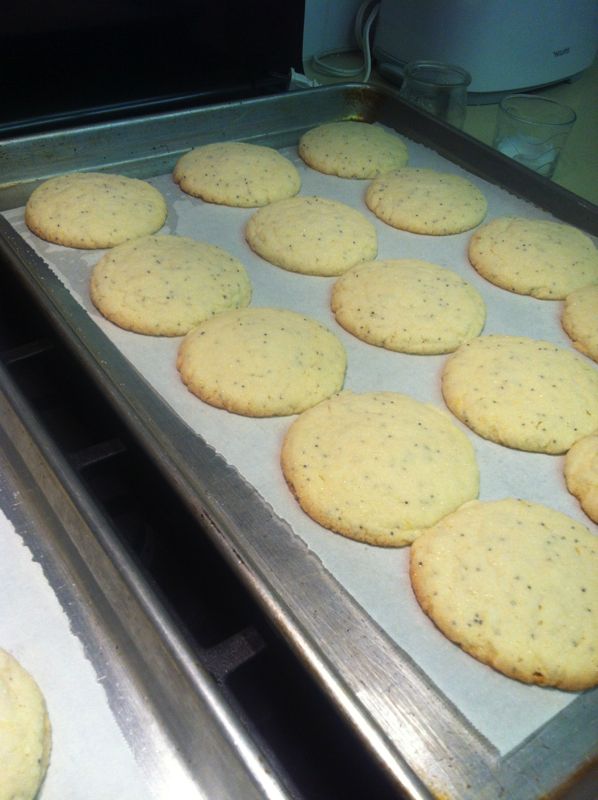 Bake until the edges are golden brown and the middles are just set and very lightly colored.  The range the book gave was 15-18 minutes, but 16 was about right for us.
If you are using parchment paper, slide the entire sheet — cookies and all — onto a wire rack for cooking.  If you are not using parchment paper, let them cool on the sheets for about 3 minutes, then move them to the wire rack.
Note: the original recipe called for 2 Tablespoons poppyseed, so if you really like it, you can add some more.  I was happy with the amount we had.