When I saw the movie Julie/Julia, I really wanted that recipe for the bruschetta Julie and her husband eat in the first scenes.  Of course, he was acting, but the way he went over the moon for the crisp slices of baguette topped with fresh tomato made it all the more appealing.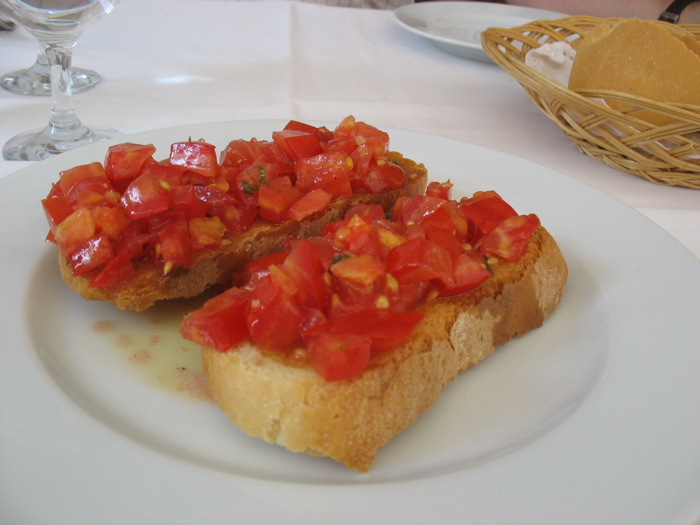 We'd had some "bruschetta pomodora" together, Dave and I, on our last trip to Italy in Montepulciano–a little town in the hills (above).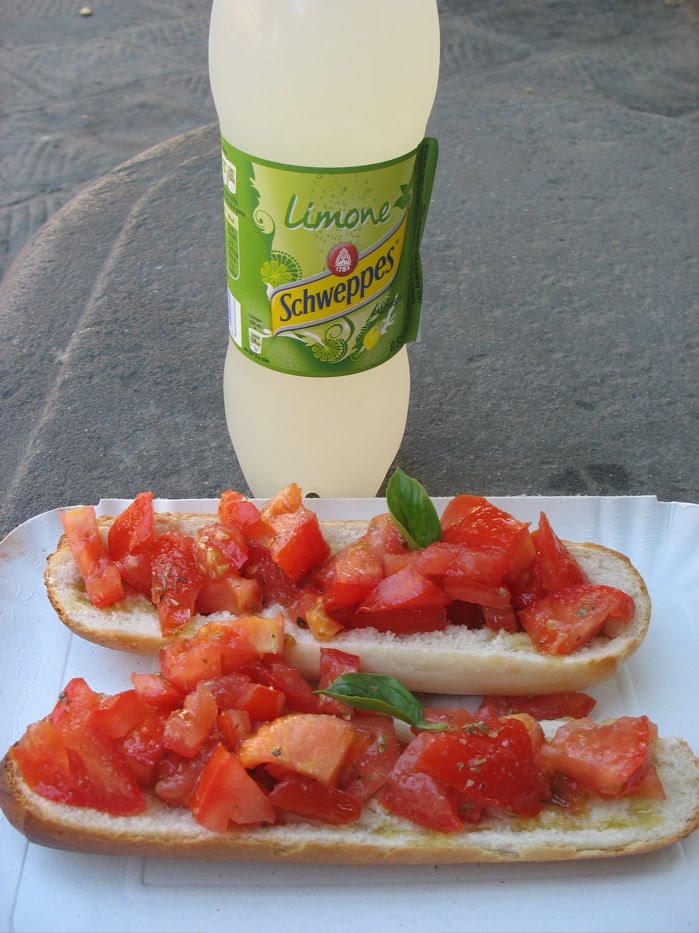 I'd also had a wonderful version earlier, while lunching in Florence (above). All of those appeared to depend on fresh tomatoes (not grocery store), good quality bread, and high-grade olive oil, and not much else.
Fast forward to today.  A perfect trio of happenings all conspired to deliver to our dinner plates the same meal.  First, some ciabatta bread from Kneaders Bakery in Orem, Utah had survived the trip home, and after a sojourn in the freezer, Dave pulled it out trying to decide what to do with it.  Second, our neighbor, Julie, had too many tomatoes and brought over two large red toms along with a handful of little yellow pears tomatoes.  Third, a version of this recipe appeared in the Sunday Magazine and I ripped it out immediately.
Ingredients:
2 large red tomatoes, handful of golden pear tomatoes, or 2 lbs. assorted heirloom/garden tomatoes, diced
2 cloves garlic, chopped or pressed through a press (if you do that, scrape what's left behind, and press it through again)
1/4 to 1/2 cup basil leaves, thinly sliced (adjust as needed–we used about 10 leaves from our garden plant)
3 Tbsp red-wine vinegar (or several splashes)
1/4 cup olive oil
salt and fresh pepper
Place the tomatoes, garlic, vinegar, 1/4 cup olive oil and the basil into a medium bowl and stir to combine.  Season with salt and pepper and let sit at room temperature for 30 minutes to allow the flavors to meld.
Prepare the crostini. You can either follow the directions in the linked recipe (it's on this site), or grill it on the outside barbeque grill, or do what Dave did: lay out the thinly sliced bread (about 3/8″ thick) on a cookie sheet.  Brush with olive oil, and broil under high heat until golden brown and crisp.  He took out the center crostini that were done first and redistributed the others more evenly under the heat.
Build your bruschetta: mound the tomatoes, including some of their juices, up onto the bread and eat immediately.  We made each delicious serving at the time of eating, as the bread quickly soaks up the juices and would get soggy if it sat at all.
Optional: add in about 1/2 thinly sliced red onion.  We decided that our servings in Italy didn't have onion, so we left it out.
Another Optional: place a slice of fresh mozzerella cheese (the kind that's sold with liquid around it–a soggy looking thing) on top of the crostini before you place the tomatoes over it.  We had that, and the meal was amazing.  And we weren't even acting!
History of the Terms (from Wikipedia):
Bruschetta (Italian pronunciation: [brusˈketta]) is an appetizer from central Italy whose origin dates to at least the 15th century. It consists of grilled bread rubbed with garlic and topped with extra-virgin olive oil, salt and pepper. Variations may include toppings of spicy red pepper, tomato, vegetables, beans, cured meat, and/or cheese; the most popular recipe outside of Italy involves basil, fresh tomato, garlic and onion or mozzarella. Bruschetta is usually served as a snack or appetizer.
And this interesting note: Following a semantic shift, some Americans use the word "bruschetta" to refer to the topping instead of the dish. Many grocery store chains in the United States sell bottled "bruschetta," which is typically tomatoes, onion, garlic, and herbs.
Definitely not as good as the one we enjoyed tonight.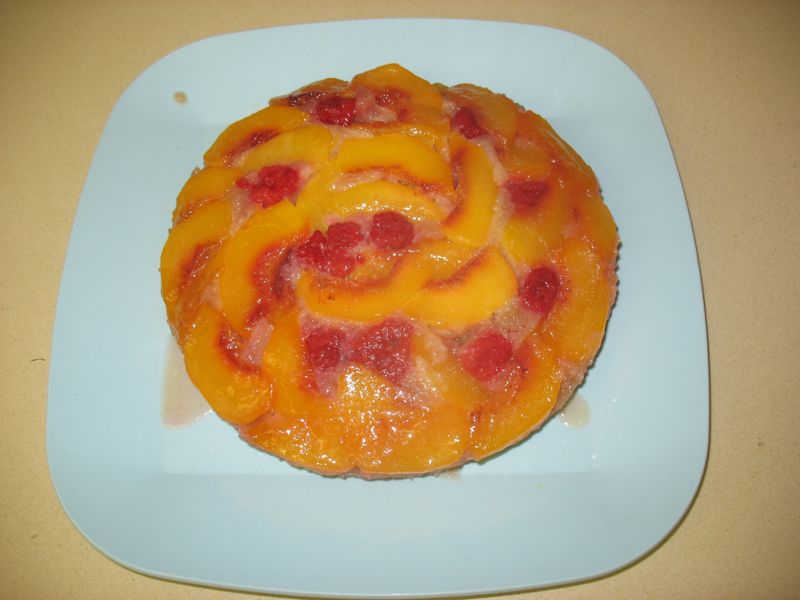 Once again, Dorie Greenspan writes a winner recipe.  This time it is a recipe for a peach upside-down cake, but it's lighter than usual, and uses a granulated sugar mix for the fruit, rather than a brown-sugar mixture.  We had a few extra peaches (okay–confession–I bought extra just so I could make this), a few raspberries and when it came out of the pan, Dave and I couldn't resist taking a small slice.  (Okay.  Confession.  We each had one more right then, promising to save the rest for later on tonight.)  I like the lightness of this–not so gooey, sicky sweet like that old pineapple standby.  (But I confess I liked that too, in its day.)
Ingredients:
1 cup all-purpose flour
1 teaspoon baking powder
1 teaspoon ground cinnamon
1/4 teaspoon salt
1 3/4 sticks (14 Tablespoons) unsalted butter, at room temperature (mine was neither unsalted nor room temperature)
granulated sugar, divided into 6 Tablespoons (part I) and 1/2 cup (part II)
2 large eggs
1/4 teaspoon almond extract
3/4 teaspoon vanilla extract
1/3 cup whole milk (we only have skim milk around here, so I poured in about 1 Tablespoon cream into a measuring cup and filled up the rest with skim milk)
3 large peeled and pitted peaches, sliced
a few raspberries for color (optional)
Center a rack in the oven and preheat the oven to 350 degrees F.  Put an 8×2-inch pan on a baking sheet.  Warning!  This is taller than the usual pan we have in our cupboards.  I bought mine at Michaels last time they included a coupon in the newspaper.
Whisk together dry ingredients.
Melt 6 TBLS of the butter in a small saucepan.  Sprinkle in 6 TBlS of the sugar and cook, stirring, until the mixture comes to a boil.  Pour this evenly over the bottom of the cake pan, then scatter the raspberries over the butter mixture.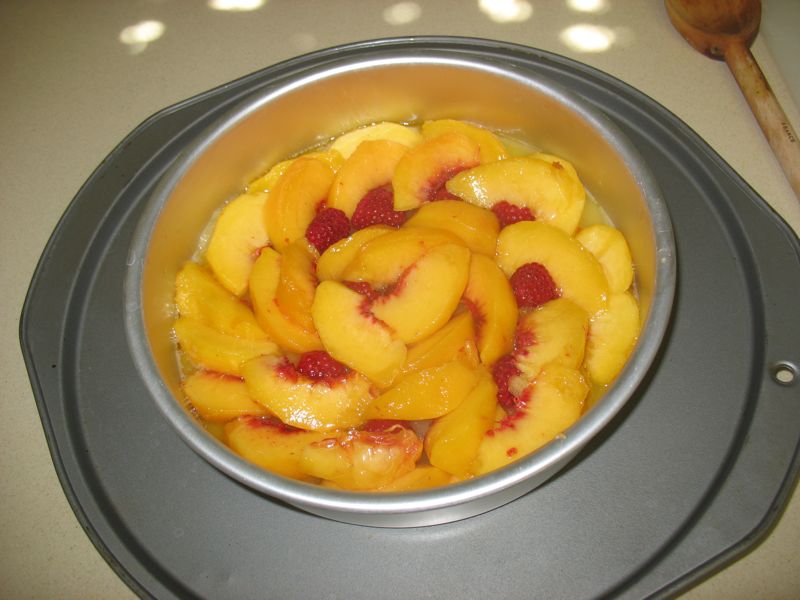 Beginning at the outer edge, ring the pan with the peach slices, ending at the center, fitting the raspberries in and around as you go.  (I had to take a picture of this step–it looks very pretty just sitting there.)  Set aside.
Working with a stand mixture, fitted with a paddle attachment (or with a hand mixer in a large bowl), beat the remaining stick (8TBLS) of butter on medium speed until smooth.  Add in the remaining 1/2 cup of sugar and continue to beat until pale and creamy, about 3 minutes.  (Don't fret if yours doesn't do this–mine didn't either, but I think it was because the butter was cold.)  Add the eggs one at a time, beating for 1 minute after each addition and scraping down the bowl as needed.  Pour in the vanilla/almond extract.
Reduce the mixer speed to low and half of the dry ingredients, mixing only until they disappear into the batter. Mix in the milk, then the rest of the dry ingredients, scraping the bowl as needed.  Spoon the batter over the fruit, and smooth the top with a rubber spatula.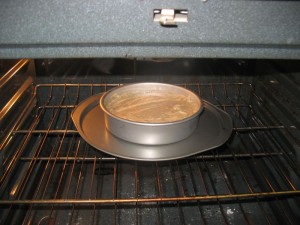 Bake for 40-45 minutes, or until the cake is golden and a thin knife inserted into the center of the cake comes out clean.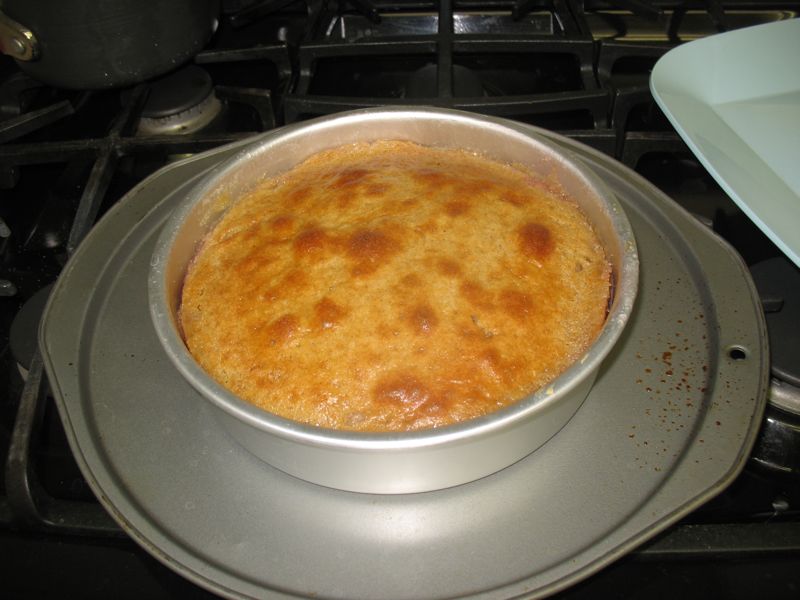 Remove it from the oven and run a blunt knife between the sides of the pan and cake.  Let sit for at least 15 minutes to allow the peach juices to absorb into the cake, then invert on a serving platter.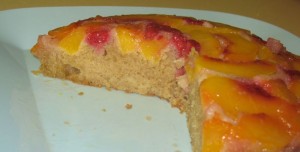 Yum! This is one of those recipes that isn't terribly glamorous, but that will disappear very quickly, as you can see by our photo above.  Very quickly.  Greenspan, who wrote the book from which this recipe was taken (Baking From My Home to Yours), made this first in a cranberry-nut version.  You can bet I'm going to try that come fall, when the cranberries hit the shelves.  Check back for that one, but in the meantime, go buy Dorie Greenspan's book.