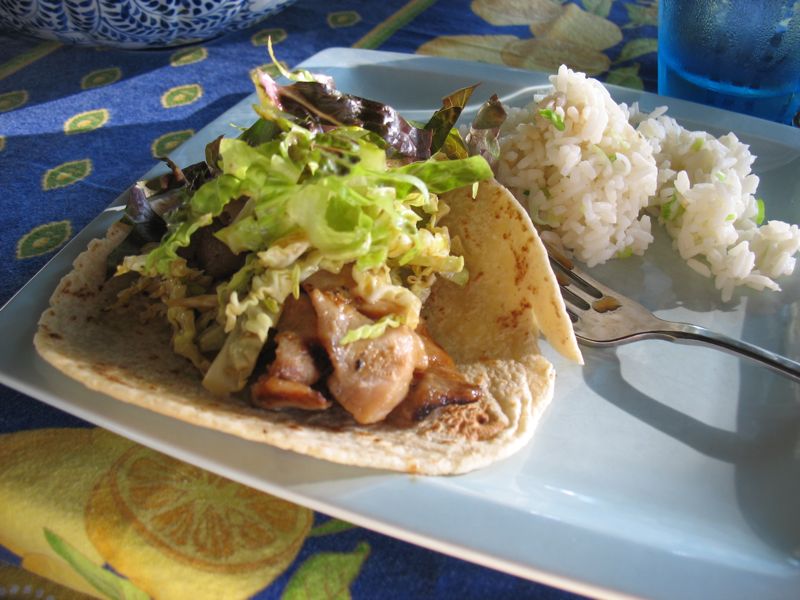 This post is for Lynne, my fabulous mail lady, who takes a personal and friendly interest in all of us on the mail route.  She and her sister are getting together on Fourth of July with their families and she wanted to grill something, rather than order in a pizza.  Couple that impetus with my visit some time ago to the LA County Museum of Art (LACMA) where parked out front along the street, were all kinds of food trucks.

I was delighted because I'd heard about this phenomena, but since I am from a neighboring city we would probably never have such a gourmet delight.  We tried the Korean Tacos–a hybrid of Asian-flavors wrapped up in a tortilla.  Not cheap, so we shared one, and besides we were saving our hunger for Chinese Dumplings.  But I searched for a recipe, finding one that had been printed in the now-defunct Gourmet Magazine.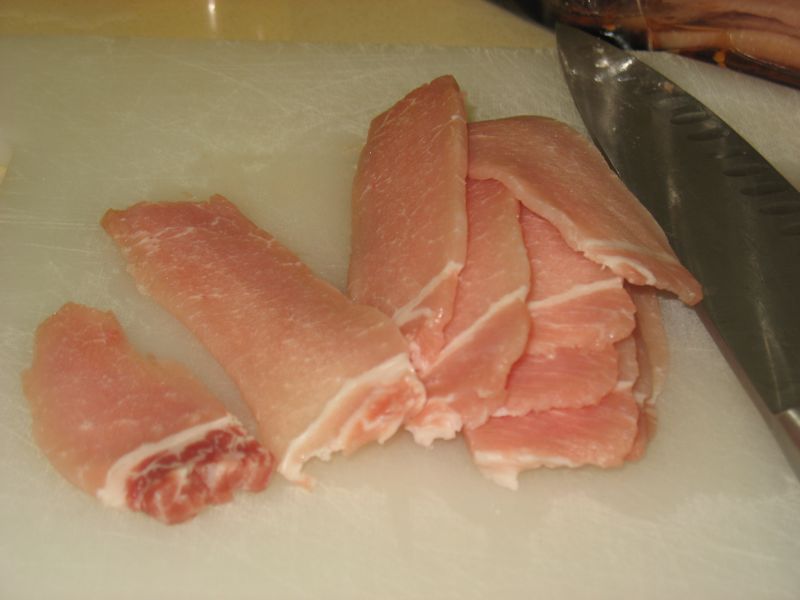 For meat, I had some really thick boneless pork chops (1″ thick) in the freezer.  I let them partially thaw which allowed me to get a really thin slice on the meat.  I used two pork chops,  which served two amply with leftovers for another meal.  Guessing? They probably weighed together about 3/4 pound.  Place them in a zip-lock bag, then add the marinade:
2 tablespoons soy sauce
1/4 cup sugar
1 tablespoon minced garlic
2 teaspoons Asian sesame oil (available at grocery stores–get a smaller bottle if you don't plan to use it a lot, and store it in your fridge)
1 Tablespoon rice vinegar
1 Tablespoon water
1/4 teaspoon dried hot pepper flakes (the kind you get to put on your pizza)
Marinate at least 2 hours or up to 24 hours.  I did this in the morning, then pulled it out of the refrigerator about an hour before grilling.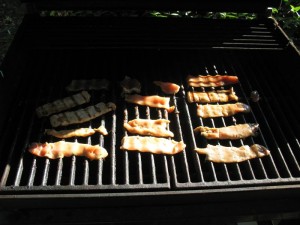 On a fairly hot (but not scorching) grill, lay out the slices of pork a few at a time, then go back and flip them over.  They will cook REALLY quickly since they are so thin.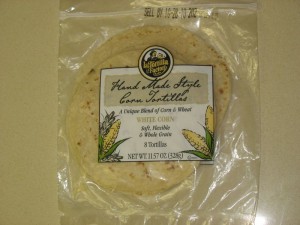 Warm some tortillas, either by wrapping in foil and placing at the back of the grill over indirect heat, or by warming them in a frying pan.  We use the thicker white corn tortillas, which don't fall apart and are more like the Korean tacos we tried. I think we bought these at Von's in the plaza, but I've seen them other places, too.  Place the pork in the tortilla, layer some slaw on top, and if you like a little more heat, pass some siroche red pepper sauce for the top.
Napa-Romaine Slaw
Makes about 6 cups, enough for many tacos, with leftovers
For the dressing:
1 tablespoon soy sauce
1-1/2 teaspoons lime juice
1-1/2 teaspoons toasted sesame oil
1/4 teaspoon sugar
For the salad:
4 cups (5 ounces) shredded romaine lettuce
2 cups (3 ounces) shredded Napa cabbage
1/2 cup (2 ounces) thinly sliced onion
toasted sesame seeds for garnish
Toss the salad in a large bowl with 1 tablespoon of the dressing. Add more dressing to taste and garnish generously with sesame seeds.
We served our tacos with some rice, into which I'd added some sliced green onions, about a teaspoon of sesame oil, and a dash of soy sauce.  You could just make extra of the slaw dressing and toss with that.