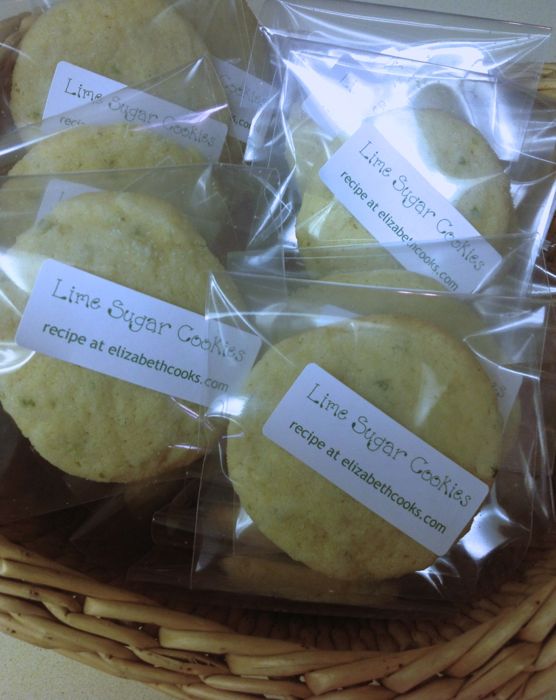 It's been unbearably hot here this past couple of weeks, and it came time to make a treat for the ladies at church and all I could think about was cool things: icy drinks, ice cream, and lime, because for some reason I associate lime with cool summery things.  And I usually make the ladies a cookie, so I went hunting for a recipe.  What I present below is a variation of a recipe found on Epicurious (first published in Gourmet Magazine in July of 2000), incorporating a few of the reviews.

While I don't usually like cookies that take too many steps (I believe you're just supposed to throw stuff into a mixing bowl, then onto the cookie sheet, then pop the resulting warm baked treat into your mouth), this extra step of making lime sugar is a good step to add, for these cookies are pretty tender, and getting the lime-infused sweetness into them and onto them adds to their appeal.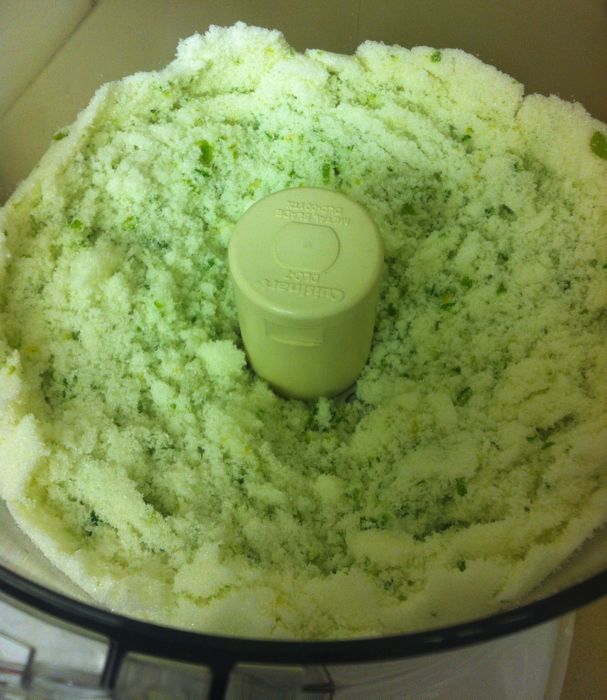 If you don't have a food processor, I suppose you could use a rasp to grate the lime peel, then blend into the sugar WELL, and it will probably work.  This batch made about 55 cookies.  Last caveat: the dough is really soft and must be chilled for easier handling, so while these are easy to whip up, be sure to chill them at least four hours.  As far as shaping goes, I used a small cookie dough scoop to get them uniform; alternatively you could roll the dough into the size of a golf ball with your hands.
First make your Lime Sugar
9 limes
2  1/2 cups sugar
Preparation
Remove zest from limes in strips with a vegetable peeler being careful not to strip off the white pith along with the zest (a little won't matter, but pith imparts a bitter flavor). Unchopped, the zest measures a healthy one cup (see photos above).  Place sugar in the food processor, add lime peels and grind until mixture is pale green with bits of zest still visible. Lime sugar may be made 3 days ahead and kept, chilled, in an airtight container, but could also be frozen for longer storage.  NOTE: The sugar becomes aerated in the food processor; do not pack when measuring.
Now make the Cookies
2 and 1/4 sticks (18 tablespoons) butter, softened
6 tablespoons cold vegetable shortening
3 cups lime sugar
3 large eggs
3 teaspoons vanilla
3 3/4 cups all-purpose flour
3 teaspoons baking powder
1 and 1/2 teaspoons salt
Preparation
Beat together butter, shortening, and lime sugar with an electric mixer until light and fluffy. Beat in eggs and vanilla. Combine flour, baking powder, and salt together then add gradually to the egg mixture; beat on low speed until just combined.
Cover and chill dough until firm, at least 4 hours.
Preheat oven to 375°F.
Mix 1 cup granulated sugar with 1/2 cup lime sugar in a bowl.  Using a small cookie scoop about the size of a golf ball, scoop balls of dough into the sugar mixture, then roll to cover well. (At our house, we put the sugar mixture in a ziploc bag, add the dough balls to that and shake gently to cover them in sugar.)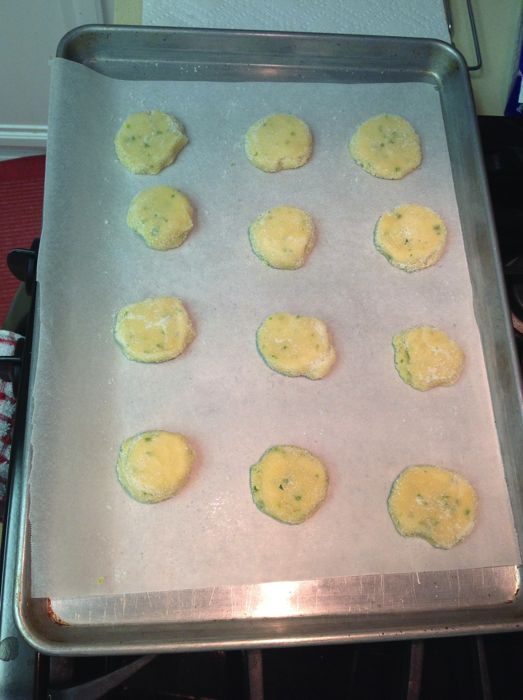 PROPERLY PLACED COOKIES
Shake off excess, then place 2-3 inches apart on parchment-lined cookie sheet.  Press lightly with bottom of a drinking glass to flatten slightly.
Bake cookies in batches in middle of oven 11 to 12 minutes, or until pale golden with slightly dark golden edges. (Don't overbake.)  Immediately transfer with a metal spatula to a rack set. Cool cookies.  Dough can be made 2 days ahead and chilled, wrapped well in plastic wrap.  Cookies keep in an airtight container at cool room temperature 2 days.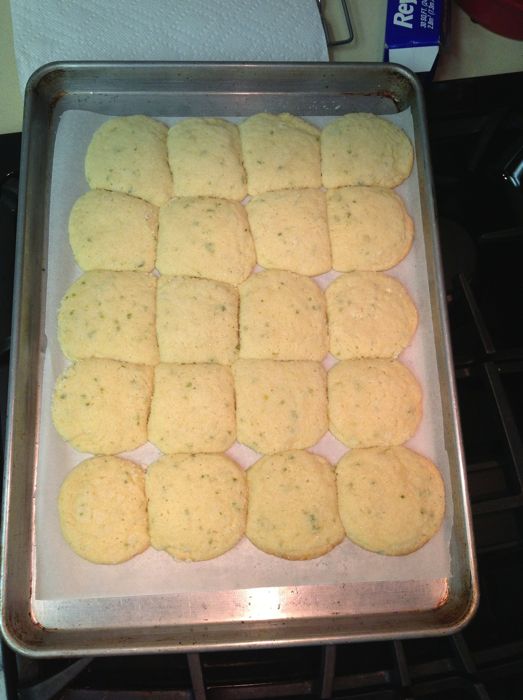 FAIL.
This is why you shouldn't crowd the cookies.  They were still good, but required 13 minutes to cook and were slightly square. Confession: I still packaged them up and gave them out, but put the prettier ones on top.