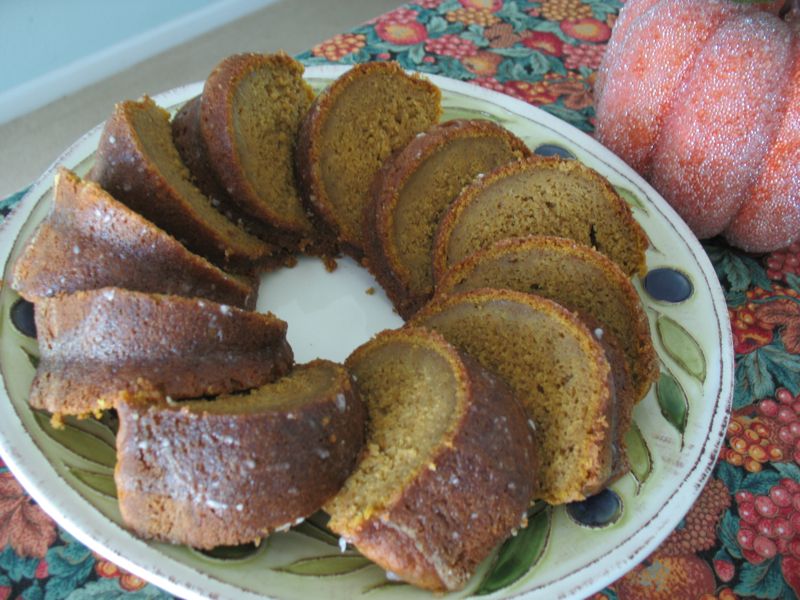 I found this on the web, by a librarian who was having her own personal Bundt Cake Pan challenge: a new cake a day made in her much, un-used bundt pan.  I think I happened on her post right on this day, downloaded the recipe, which originally came from Gourmet Magazine in November 2005.  It is a very moist cake, mild on the spices and it is good for fall baking, leaving a delicous aroma of pumpkin in the air.
For cake
1 1/2 sticks (3/4 cup) unsalted butter, softened, plus additional for greasing bundt pan
2 1/4 – 2 1/2 cups all-purpose flour, plus additional for dusting pan
2 teaspoons baking powder
1 teaspoon baking soda
1 teaspoon cinnamon
3/4 teaspoon ground allspice
1/2 teaspoon salt
1 1/4 cups canned solid-pack pumpkin (from a 15-ounce can; not pie filling)
3/4 cup well-shaken buttermilk
1 teaspoon vanilla
1 1/4 cups granulated sugar
3 large eggs
For icing
2 tablespoons plus 2 teaspoons well-shaken buttermilk
1 1/2 cups confectioners sugar
Special equipment: a 10-inch nonstick bundt pan (3 quart)
Preparation
Make cake:
Put oven rack in middle position and preheat oven to 350°F. Butter bundt pan generously, then dust with flour, knocking out excess.
Whisk together flour (2 1/4 cups), baking powder, baking soda, cinnamon, allspice, and salt in a bowl. Whisk together pumpkin, 3/4 cup buttermilk, and vanilla in another bowl.
Beat butter (1 1/2 sticks) and granulated sugar in a large bowl with an electric mixer at medium-high speed until pale and fluffy, 3 to 5 minutes, then add eggs and beat 1 minute. Reduce speed to low and add flour and pumpkin mixtures alternately in batches, beginning and ending with flour mixture and mixing until batter is just smooth.
Spoon batter into pan, smoothing top, then bake until a wooden pick or skewer inserted in center of cake comes out clean, 45 to 50 minutes. Cool cake in pan on a rack 15 minutes, then invert rack over cake and reinvert cake onto rack. Cool 10 minutes more.
Make icing:
While cake is cooling, whisk together buttermilk and confectioners sugar until smooth. Drizzle icing over warm cake, then cool cake completely. Icing will harden slightly.
Cooks' note: Cake can be made 3 days ahead and kept in an airtight container at room temperature.  I used the 2 1/4 cups flour it called for, but I believe 2 1/2 cups would be better.  I substituted in 3/4 whole wheat flour for a like amount of the white flour.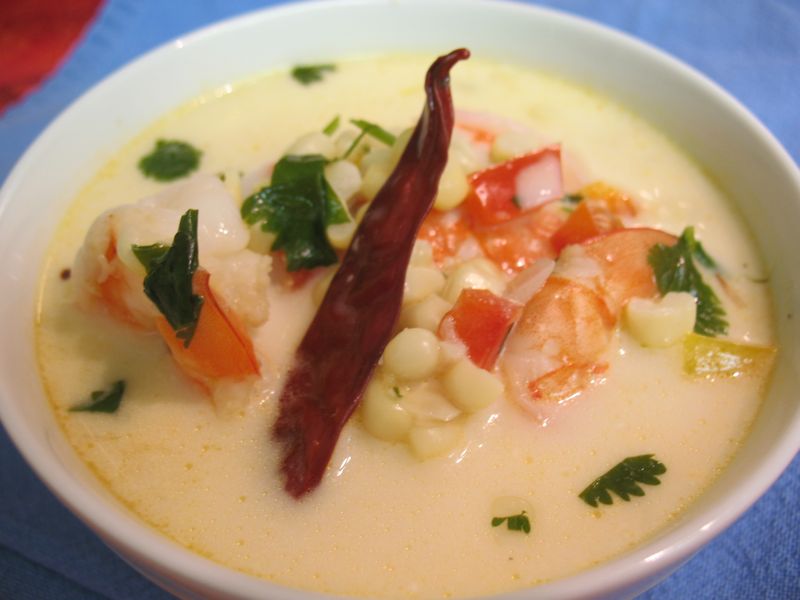 After doing lesson prep for my classes for so long that my eyes hurt, I wandered downstairs to figure out dinner.  It was a colder day, the first not-hot day we've had this fall and some rain was falling here and there all afternoon.  I wanted something warm for dinner, but not heavy.  Something traditional but with a bit of kick.  The soup cookbook fell out and after looking through it I chose a recipe to start in on.  But I took a huge turn off their recipe highway onto something wholly my own.  We enjoyed it and I hope you will too.  Oh, that red pepper?  It's for looks.  You leave it in, but to add some heat, use Sriracha sauce at the table.
Although this looks complicated, get everything ready at the beginning as it goes together quickly.
1 Tablespoon olive oil
1 Tablespoon butter
1 1/2 sweet bell peppers (I used 1 red and 1/2 yellow), chopped
1 shallot, peeled and chopped
2 cloves garlic, minced (or put through a garlic press)
2 stalks lemon grass
2 dried red pepper pods (more if you want more heat)
2 knuckle-sized chunks of fresh ginger
about 2 cups white frozen corn (can add more at the end if you like your soup with more "stuff")
1 lb. uncooked shrimp, peeled, deveined, rinsed and drained
2 cans chicken broth (14 oz each)
1 can coconut milk (about 14 oz.)
1 Tablespoon sugar
juice of 1 lime (about 2 Tablespoons)
pinch or two of red pepper flakes
1/3 cup chopped fresh cilantro
1 teaspoon salt (or to taste)
Melt butter and oil together in heavy soup-sized pan, saute peppers, shallot and garlic for 2-3 minutes.  Add chicken stock, broken-in-half lemon grass stalks, dried red peppers and the pieces of ginger.  Let simmer for 10 minutes.
Add in the shrimp and corn.  Let simmer for 2-3 minutes.
Fish out lemon grass and ginger.  Add sugar, lime juice, pinch of red pepper flakes, and cilantro.
Add coconut milk.  Adjust seasonings (add more salt?) and serve with Sriracha (Rooster) sauce at the table.
Note: I keep lemon grass stalks in my freezer.  I simply smacked them over the edge of the counter to break them in half, then threw them in.  Ditto the ginger (for keeping it in the freezer), but tonight I set it on a cutting board, and lopped off one of its chunks to throw in.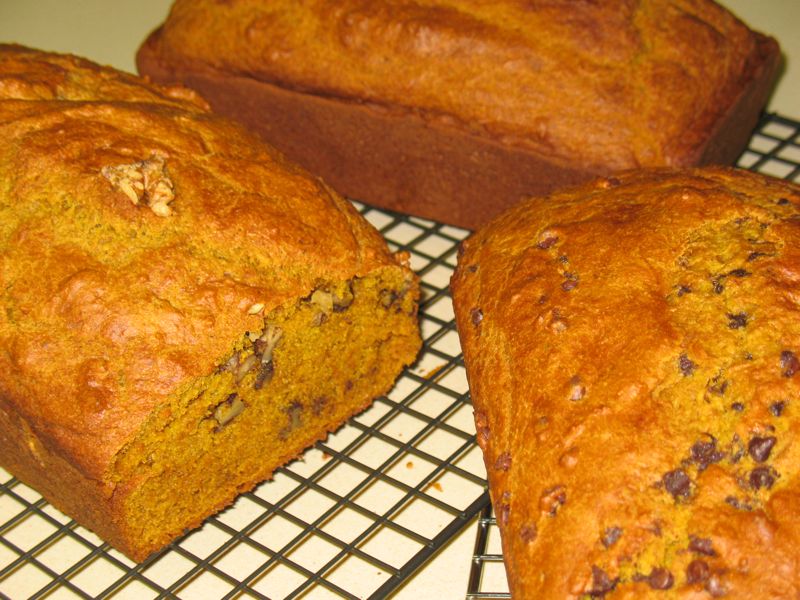 I found this recipe in a (Sunset?)  magazine when I was 17, and since I was a pretty good baker by that time, I decided to make it for my family.  I used up a good amount of nuts, real butter and got to talking on the phone with a friend while I mixed up the rest and put it in the oven.  The smell was really yummy and we were all looking forward to a slice of my newest recipe.  I pulled it out of the oven, and what?  Something was wrong.  It was flat, and hadn't raised at all.  It tasted. . . terrible.  My mother came in and started to try and help me find the source of the problem.  Did you put in the salt?  Salt? I said.  I don't think so.
Okay, then what about the baking powder?  Baking soda?  They need to sugar to help with their chemical and culinary reactions, she said.
Sugar!  I'd forgotten the sugar.  And probably one of the other three ingredients, judging from the height of the loaf.
Since then I have made it many many times. I never talk on the phone while mixing up the ingredients, and it has turned out perfectly every time.  You can increase the batch easily as one large can of pumpkin makes three loaves.  Tonight I made a plain loaf, a nut loaf and a loaf with mini-chocolate chips (add in about 1 cup).  We have family coming and we'll be ready.
Pumpkin Nut Bread
3/4 cup milk
1 cup canned pumpkin
1 egg
1/4 cup melted butter
2 1/2 cups unsifted all-purpose flour (I substituted in 1/2 cup whole wheat flour for part of this)
1 cup sugar
2 teaspoons baking powder
1 teaspoon each soda, cinnamon, and nutmeg
1/2 teaspoon each salt and ground ginger
1 cup chopped pecans or walnuts or filberts or a mix of all three
[for the chocolate chip loaf, substitute 1 cup mini-chocoate chips for the nuts]
In a large mixing bowl, combine milk, pumpkin, egg and melted butter.  Mix to combine.  Add in sugar.
In a separate bowl, combine 1/2 cup flour with spices, soda, salt and baking powder.  Mix well and add to the pumpkin mixture.  Then add in the rest of the flour and blend only until dry ingredients are moistened.
Pour into a lightly greased 5″ x 9″ load pan; bake in a moderate oven (350F) for 1 hour and 15 minutes or until inserted toothpick comes out clean.  Makes 1 loaf.