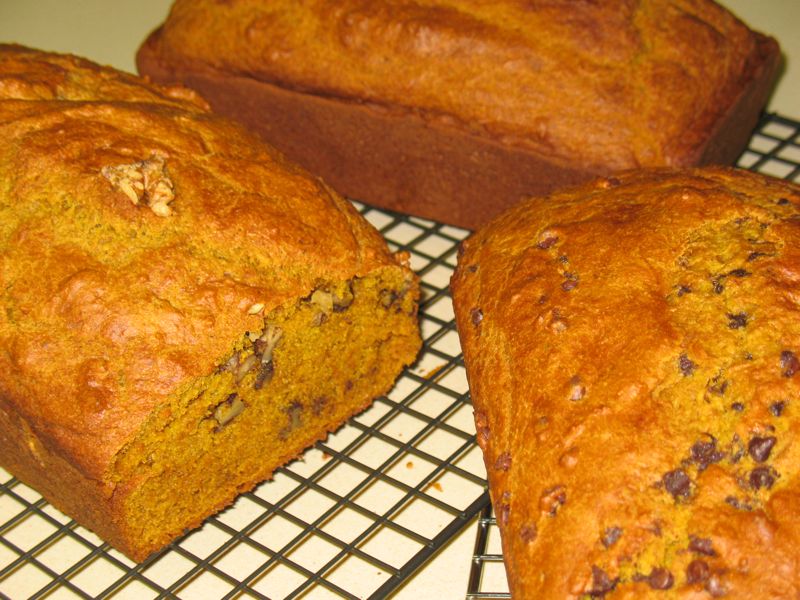 I found this recipe in a (Sunset?)  magazine when I was 17, and since I was a pretty good baker by that time, I decided to make it for my family.  I used up a good amount of nuts, real butter and got to talking on the phone with a friend while I mixed up the rest and put it in the oven.  The smell was really yummy and we were all looking forward to a slice of my newest recipe.  I pulled it out of the oven, and what?  Something was wrong.  It was flat, and hadn't raised at all.  It tasted. . . terrible.  My mother came in and started to try and help me find the source of the problem.  Did you put in the salt?  Salt? I said.  I don't think so.
Okay, then what about the baking powder?  Baking soda?  They need to sugar to help with their chemical and culinary reactions, she said.
Sugar!  I'd forgotten the sugar.  And probably one of the other three ingredients, judging from the height of the loaf.
Since then I have made it many many times. I never talk on the phone while mixing up the ingredients, and it has turned out perfectly every time.  You can increase the batch easily as one large can of pumpkin makes three loaves.  Tonight I made a plain loaf, a nut loaf and a loaf with mini-chocolate chips (add in about 1 cup).  We have family coming and we'll be ready.
Pumpkin Nut Bread
3/4 cup milk
1 cup canned pumpkin
1 egg
1/4 cup melted butter
2 1/2 cups unsifted all-purpose flour (I substituted in 1/2 cup whole wheat flour for part of this)
1 cup sugar
2 teaspoons baking powder
1 teaspoon each soda, cinnamon, and nutmeg
1/2 teaspoon each salt and ground ginger
1 cup chopped pecans or walnuts or filberts or a mix of all three
[for the chocolate chip loaf, substitute 1 cup mini-chocoate chips for the nuts]
In a large mixing bowl, combine milk, pumpkin, egg and melted butter.  Mix to combine.  Add in sugar.
In a separate bowl, combine 1/2 cup flour with spices, soda, salt and baking powder.  Mix well and add to the pumpkin mixture.  Then add in the rest of the flour and blend only until dry ingredients are moistened.
Pour into a lightly greased 5″ x 9″ load pan; bake in a moderate oven (350F) for 1 hour and 15 minutes or until inserted toothpick comes out clean.  Makes 1 loaf.