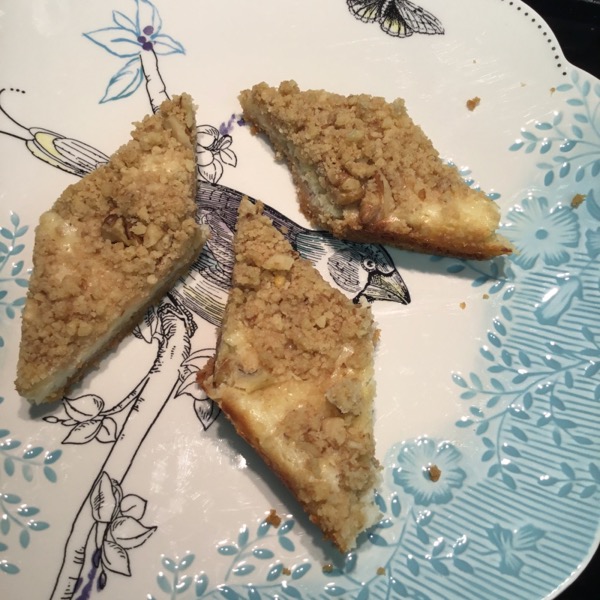 Mom used to make these long ago, and recently I had cause to resurrect them from the recipe graveyard.  Yes, they are really 1980-ish, but yes, they are really good.  I've updated the recipe to our more modern methods.
Cheesecake Diamonds, 9 x 13 pan (quantity can be halved)
Preheat oven to 350 degrees.
In a food processor place:
2/3 cup brown sugar
2 cups flour
1/2 cup walnuts
Process until walnuts are small bits, but still recognizable.  Melt 10 Tablespoons butter, then, with food processor running, pour melted butter into flour mixture, letting it mix about 20 seconds.  Don't overmix–you want it to remain kind of loose.  Pour this out into a 9 x 13 inch pan.
Scoop out 1 full cup of this topping and reserve.  Press the remainder down firmly and evenly into pan.  Bake for 12-15 minutes in hot oven.  [NOTE: if using a glass pan, set oven temperature to 325.]
In a separate bowl, mix together:
2 softened 8-ounce packages cream cheese (I use Trader Joe's), and 1 cup granulated sugar until creamy.
Add:
2 eggs
2 Tablespoons lemon juice
1/4 cup milk (4 Tablespoons)
1 teaspoon vanilla
Beat well. Spread over baked bottom crust (crust doesn't need to cool).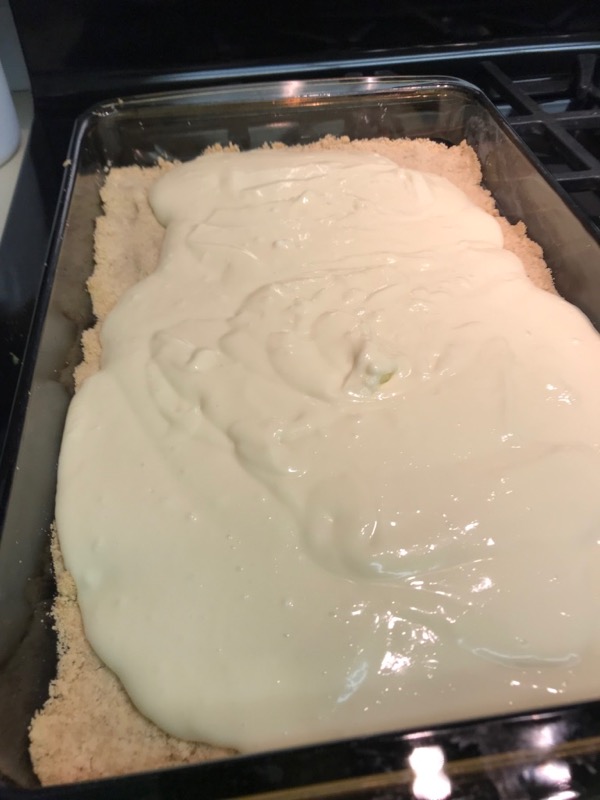 To reserved topping, add 1/4 cup chopped walnuts, mix.  Sprinkle over the filling.  Return to the oven and bake 25 minutes more.  Cool, then cut into diamonds or squares. Keep refridgerated.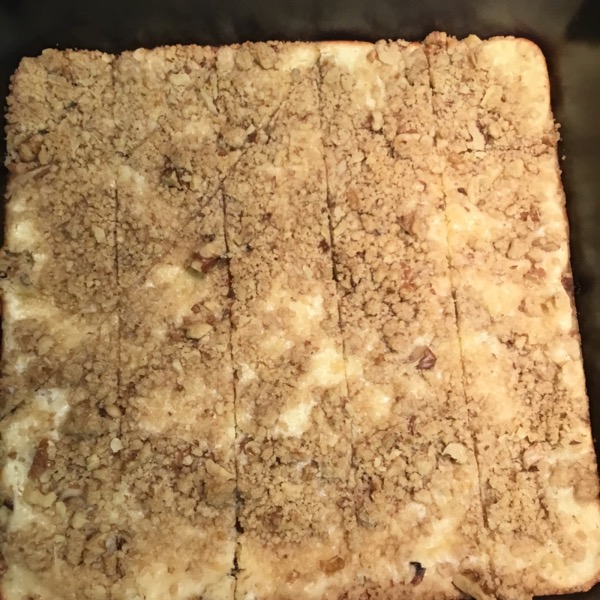 To cut into diamonds, make parallel cuts the length of the pan.  Then cut across them at a 45 degree angle, forming diamonds.  There will be odd-shaped pieces in the corners: Cook's taste!
Store in refridgerator.
(You know how to cut into squares.)