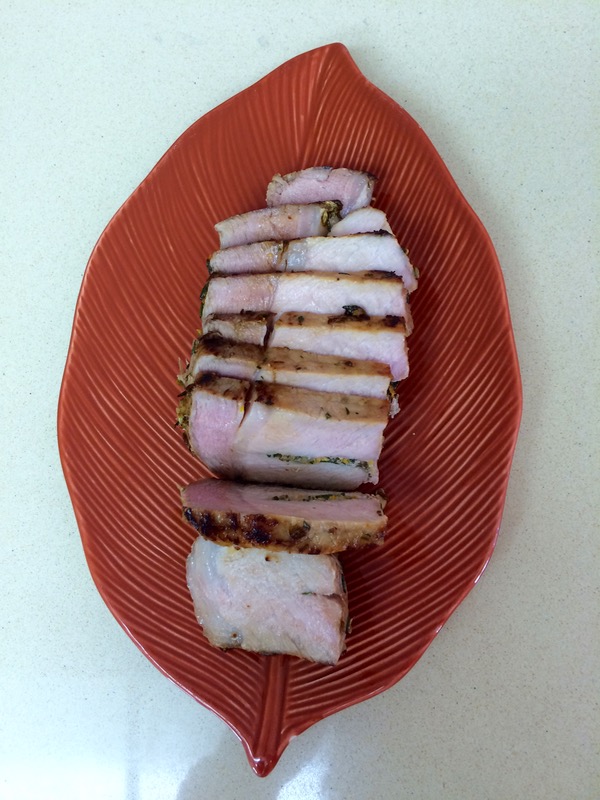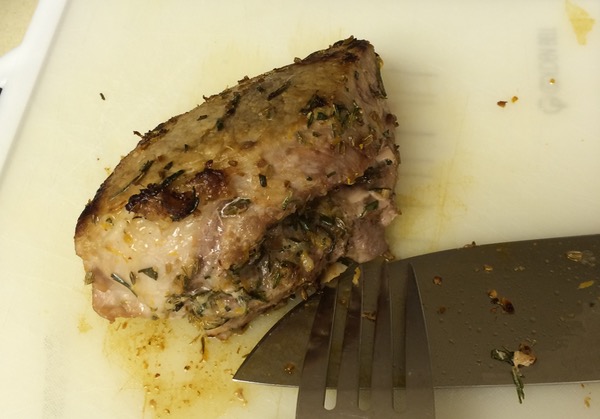 While looking for a recipe for the newly purchased pork chops from the Big Box store, I found this one.  But every caution says to use a pork chop with the bone still in. . . but mine were boneless.  So I compromised by brining them, and they turned out delicious.  The porchetta part is a variation of Melissa Clark's recipe from the New York Times.
2 bone-in pork chops, 1 1/4 to 1 1/2 inches thick
2 teaspoon coarse kosher salt, plus a pinch–divided
1 cup apple juice
1 lemon
2 garlic cloves, minced
2 tablespoons chopped rosemary
Large pinch red pepper flakes
½ teaspoon fennel seeds, lightly crushed
2 tablespoons chopped fennel fronds, more for garnish (nice, if you have them, but the recipe will survive without them)
2 tablespoons olive oil
Preparation
To brine: Put the chops in a quart freezer ziploc bag, or a container that is fits the chops snugly.  Mix together 1 teaspoon kosher salt and the apple juice, and pour over the chops.  Let brine overnight, then discard brine and proceed with recipe.
Heat oven to 350 degrees. Pat pork chops dry and, using a very sharp paring knife, cut a large pocket into the fat-covered edge of each chop. Season chops all over with 1 teaspoon salt, including inside pockets.
Finely grate zest from lemon and put in a small bowl. Cut lemon lengthwise in quarters for serving (opt).
Using the flat side of a knife, mash garlic with a pinch of salt until you get a paste. Add to the bowl with the lemon zest and stir in rosemary, red pepper flakes, fennel seeds, 2 tablespoons fennel fronds and 1 tablespoon olive oil.
Divide filling between pork chops, stuffing some inside pockets and rubbing the rest on the outside.
Heat a large ovenproof skillet over high heat and add 1 tablespoon olive oil. Sear pork chops on one side for 5 minutes, or until golden brown. Gently turn over chops and cook for another minute, then transfer skillet to oven. Cook until meat is just done, about 5 to 10 minutes longer (internal temperature should read 135 degrees on a meat thermometer). Transfer pork chops to a plate, tent with foil, and let rest for 10 minutes before serving. Garnish with fennel fronds and lemon wedges.