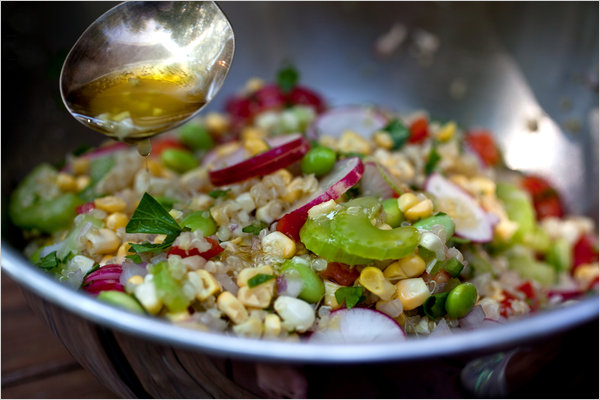 I first read this recipe in the New York Times, in a special article on summer salads with recipes by Martha Rose Shulman.  I subjected Dave, my husband, to a series of these, and he declared this one to be a winner.  It's pretty–green and red–and crunchy, but not a wildly out of control crunch–just pleasant fresh vegetable munching.  While this is a summer salad, I could also see it served as cold side dish at a holiday buffet, as the colors are so beautiful. Regarding the "optional" feta cheese: we tried it both ways–with and without.  Adding the feta cheese brings a creaminess, a certain "mouth" satisfaction to the dish.  I recommend it.
For the salad:
1 cup quinoa, cooked (I made it with chicken broth, but water works as well.  Click **here** for basic quinoa cooking directions.)
1/2  of a 16-ounce bag of WHITE frozen corn
1 small red onion (about 1/3 cup), cut in small dice
1 red bell pepper, cut in small dice
1/2 cup thinly sliced celery, from the tender inner stalks
4 or 5 radishes, sliced
1/2 cup fresh or thawed frozen edamame
2 ounces mild feta, cut in small dice (about 1/2 cup), or crumbled.  I buy the bricks, then crumble it.
1/2  jalapeño chile, seeds and membranes removed, minced finely
1/3 cup chopped cilantro
For the dressing:
2 tablespoons fresh lime juice (about 1 small lime, depending on size)
1 garlic clove, finely minced or pureed
1/4 cup extra virgin olive oil
Salt to taste
Soak the onion in cold water to cover for five minutes. Drain, rinse and drain on paper towels.  **I have no idea why this step is here, but I did it.  Must be some kitchen chemistry.
Combine all the salad ingredients in a large bowl. Whisk together the dressing ingredients and toss with the salad. Serve.
Yield: Serves four main dish, and six side dish servings.
Advance preparation: The quinoa freezes well and the assembled salad will keep for a day in the refrigerator.
Here's our version. I served it with a delicious foccacia from the local bakery, which was topped with tomatoes, potatoes and dill.  We were full after our meal, and our leftovers the next day were even better.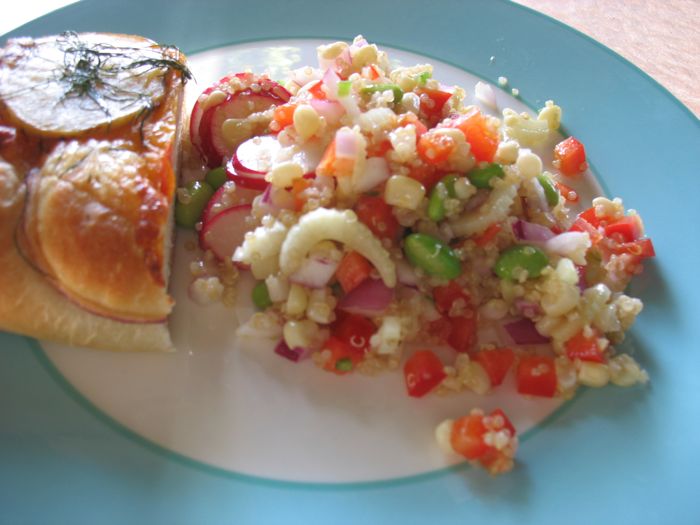 Nutritional information per serving (four servings): 359 calories; 18 grams fat; 2 grams saturated fat; 0 milligrams cholesterol; 43 grams carbohydrates; 6 grams dietary fiber; 25 milligrams sodium (does not include salt added during cooking); 10 grams protein
First off, this is taken from the Los Angeles Times, from an article written about the Immaculate Heart Center and their new cookbook.  That's just to keep the copyright gods squared away.  I think I'd like to buy this cookbook as this recipe was such an intriguing and interesting standout, that I can't wait to try some of their others.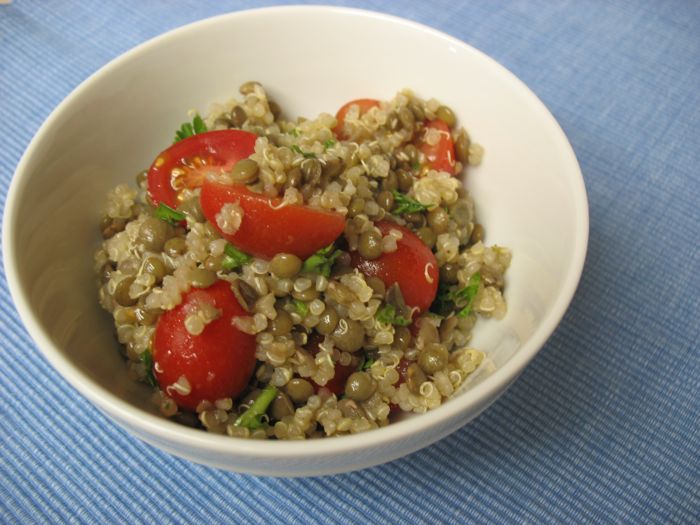 I've cooked so much with the Lemon Vinaigrette recipe on this site, that the shift of the acidic flavor in this one to an apple cider vinegar was very refreshing and I quite liked it. Where to buy Lentils de Puy, the small French lentils called for?  Amazingly, my Ralph's supermarket has been carrying them in the specialty food section.  They cook up quickly and keep their shape.  I've become a fan.  If you want to store this for another day, I'd not add the tomatoes until you serve it.
Total time: 50 minutes, plus cooling and chilling times
Servings: 6
Ingredients:
1 cup French green or brown lentils, sorted and rinsed
Salt and pepper
1/4 cup white wine vinegar or cider vinegar, plus more for drizzling
1 cup quinoa, rinsed and strained
1/2 cup olive oil, plus more for drizzling
1 large garlic clove, minced
1/4 cup chopped fresh mint
1/4 cup fresh parsley
2 cups cherry or other little tomatoes, halved
Place the lentils in a large saucepan and fill with water to cover by 2 inches. Simmer until tender, about 20 minutes, then drain the lentils and transfer them to a medium bowl. Season the lentils with one-fourth teaspoon salt and several grinds of pepper and drizzle over about 1 tablespoon of vinegar. Taste the lentils, and adjust the seasoning or vinegar, or both, if desired. Set aside the lentils to cool, stirring occasionally.
In a large saucepan, combine the rinsed quinoa with 2 cups water and bring to a boil over high heat. Cover the pot and reduce heat to a gentle simmer, cooking until the grain is soft and translucent, about 15 to 20 minutes. The water should be absorbed; if not entirely absorbed, drain any excess. Remove from heat and fluff the quinoa with a fork. Transfer the quinoa to a large bowl, drizzle about 2 tablespoons of oil on the grain and stir gently.
In a small bowl, whisk together the garlic, one-fourth cup vinegar, one-half cup olive oil, one-fourth teaspoon salt and one-eighth teaspoon pepper. Taste and add additional seasoning if desired.
Stir the cooled lentils in with the quinoa in the large bowl. Stir in the dressing, then cover and chill the salad for at least 1 hour.
Just before serving, stir in the mint, parsley and tomatoes and check the seasoning. Drizzle with a bit more vinegar and oil.
Each serving: 387 calories; 13 grams protein; 40 grams carbohydrates; 10 grams fiber; 20 grams fat; 3 grams saturated fat; 0 cholesterol; 3 grams sugar; 202 mg. sodium.
"A Place at the Table" is available for $35 plus shipping at http://www.immaculateheartcenter.org.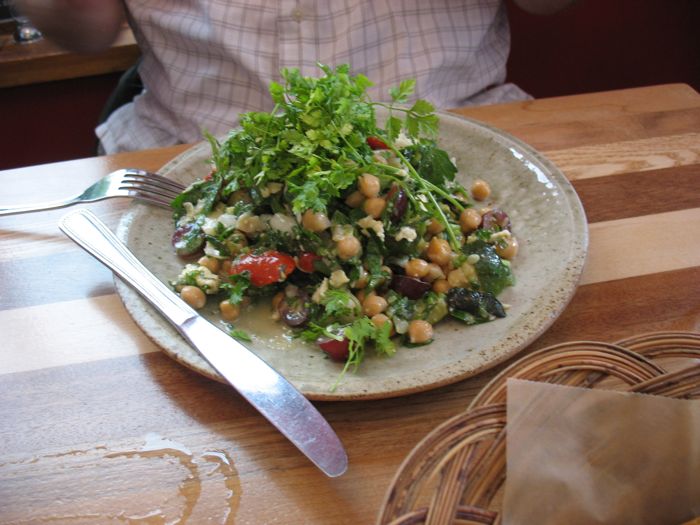 It was about 104 degrees that day in Montreal.  We were pretty weary tourists and it was only one o'clock in the afternoon.  We found Olive et Gourmando (351 rue St-Paul ouest) and stood in line only briefly before being awarded a table.  Then we went up and chose from the menu written above the counter on a blackboard, or looked at the specials lined up in their case.  We both pointed to this salad because it looked so fresh, so refreshing. We handed them our ticket with our table number written on it, and in about 5 minutes they delivered our food.  I took a photo and hoped to recreate it at home.  I think I have a reasonable facsimile.  It goes together in about 10 minutes.  Serve with a good French loaf, or that package of mini-pita pockets from Trader Joe's from the back of the freezer (which we did).
Have on hand:
1 14 oz. can garbanzo beans (also known as chickpeas), rinsed and drained
1 medium zucchini, scrubbed and cut into 1/2″ chunks
thin slices from the end of a washed fennel bulb, about 3/4 of a medium bulb
red grapes, about 15, sliced in half
roasted red peppers in a jar (from Trader Joe's, or equivalent)–about 3-4 pieces, julienned
chopped tomatoes
feta cheese, about one-half of an 8 oz. brick, crumbled and rinsed (about 1 cup's worth)
flat leaf parsley (also called Italian parsley), chopped coarsely
curly leaf parsley, chopped finely
one recipe of Lemon Vinaigrette
extra olive oil for sauteing
As ingredients are assembled, place into medium bowl (in no particular order), although you may want to keep the tomatoes separate and put on top, in case you want to keep this for another day.
In a small skillet, pour 1 Tablespoon olive oil and lightly saute the zucchini until just barely golden.  You want them firm, but with the edge of crispness taken off.  Repeat for the fennel slices, so they are on the verge of soft.  Place into bowl.  Add in all  of the rest of the ingredients; toss with vinaigrette and serve.
This is mine, below.  Theirs is above (and prettier, with all that parsley).