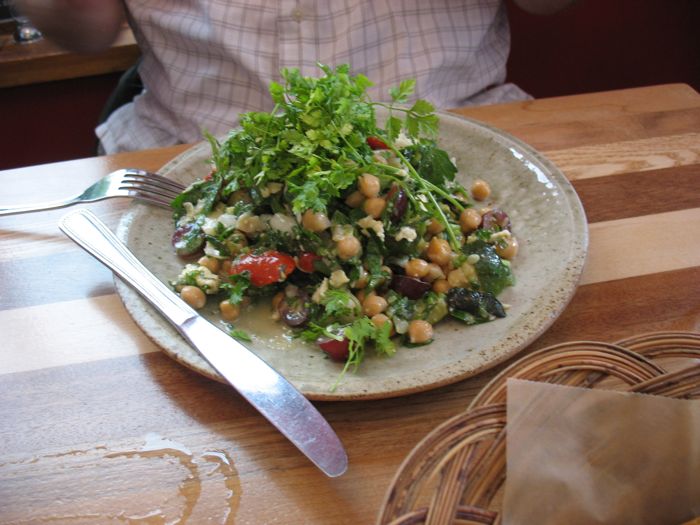 It was about 104 degrees that day in Montreal.  We were pretty weary tourists and it was only one o'clock in the afternoon.  We found Olive et Gourmando (351 rue St-Paul ouest) and stood in line only briefly before being awarded a table.  Then we went up and chose from the menu written above the counter on a blackboard, or looked at the specials lined up in their case.  We both pointed to this salad because it looked so fresh, so refreshing. We handed them our ticket with our table number written on it, and in about 5 minutes they delivered our food.  I took a photo and hoped to recreate it at home.  I think I have a reasonable facsimile.  It goes together in about 10 minutes.  Serve with a good French loaf, or that package of mini-pita pockets from Trader Joe's from the back of the freezer (which we did).
Have on hand:
1 14 oz. can garbanzo beans (also known as chickpeas), rinsed and drained
1 medium zucchini, scrubbed and cut into 1/2″ chunks
thin slices from the end of a washed fennel bulb, about 3/4 of a medium bulb
red grapes, about 15, sliced in half
roasted red peppers in a jar (from Trader Joe's, or equivalent)–about 3-4 pieces, julienned
chopped tomatoes
feta cheese, about one-half of an 8 oz. brick, crumbled and rinsed (about 1 cup's worth)
flat leaf parsley (also called Italian parsley), chopped coarsely
curly leaf parsley, chopped finely
one recipe of Lemon Vinaigrette
extra olive oil for sauteing
As ingredients are assembled, place into medium bowl (in no particular order), although you may want to keep the tomatoes separate and put on top, in case you want to keep this for another day.
In a small skillet, pour 1 Tablespoon olive oil and lightly saute the zucchini until just barely golden.  You want them firm, but with the edge of crispness taken off.  Repeat for the fennel slices, so they are on the verge of soft.  Place into bowl.  Add in all  of the rest of the ingredients; toss with vinaigrette and serve.
This is mine, below.  Theirs is above (and prettier, with all that parsley).