First off, this is taken from the Los Angeles Times, from an article written about the Immaculate Heart Center and their new cookbook.  That's just to keep the copyright gods squared away.  I think I'd like to buy this cookbook as this recipe was such an intriguing and interesting standout, that I can't wait to try some of their others.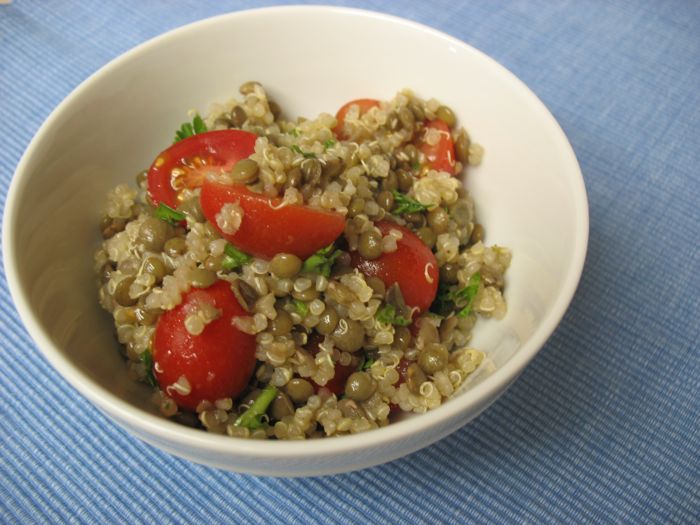 I've cooked so much with the Lemon Vinaigrette recipe on this site, that the shift of the acidic flavor in this one to an apple cider vinegar was very refreshing and I quite liked it. Where to buy Lentils de Puy, the small French lentils called for?  Amazingly, my Ralph's supermarket has been carrying them in the specialty food section.  They cook up quickly and keep their shape.  I've become a fan.  If you want to store this for another day, I'd not add the tomatoes until you serve it.
Total time: 50 minutes, plus cooling and chilling times
Servings: 6
Ingredients:
1 cup French green or brown lentils, sorted and rinsed
Salt and pepper
1/4 cup white wine vinegar or cider vinegar, plus more for drizzling
1 cup quinoa, rinsed and strained
1/2 cup olive oil, plus more for drizzling
1 large garlic clove, minced
1/4 cup chopped fresh mint
1/4 cup fresh parsley
2 cups cherry or other little tomatoes, halved
Place the lentils in a large saucepan and fill with water to cover by 2 inches. Simmer until tender, about 20 minutes, then drain the lentils and transfer them to a medium bowl. Season the lentils with one-fourth teaspoon salt and several grinds of pepper and drizzle over about 1 tablespoon of vinegar. Taste the lentils, and adjust the seasoning or vinegar, or both, if desired. Set aside the lentils to cool, stirring occasionally.
In a large saucepan, combine the rinsed quinoa with 2 cups water and bring to a boil over high heat. Cover the pot and reduce heat to a gentle simmer, cooking until the grain is soft and translucent, about 15 to 20 minutes. The water should be absorbed; if not entirely absorbed, drain any excess. Remove from heat and fluff the quinoa with a fork. Transfer the quinoa to a large bowl, drizzle about 2 tablespoons of oil on the grain and stir gently.
In a small bowl, whisk together the garlic, one-fourth cup vinegar, one-half cup olive oil, one-fourth teaspoon salt and one-eighth teaspoon pepper. Taste and add additional seasoning if desired.
Stir the cooled lentils in with the quinoa in the large bowl. Stir in the dressing, then cover and chill the salad for at least 1 hour.
Just before serving, stir in the mint, parsley and tomatoes and check the seasoning. Drizzle with a bit more vinegar and oil.
Each serving: 387 calories; 13 grams protein; 40 grams carbohydrates; 10 grams fiber; 20 grams fat; 3 grams saturated fat; 0 cholesterol; 3 grams sugar; 202 mg. sodium.
"A Place at the Table" is available for $35 plus shipping at http://www.immaculateheartcenter.org.