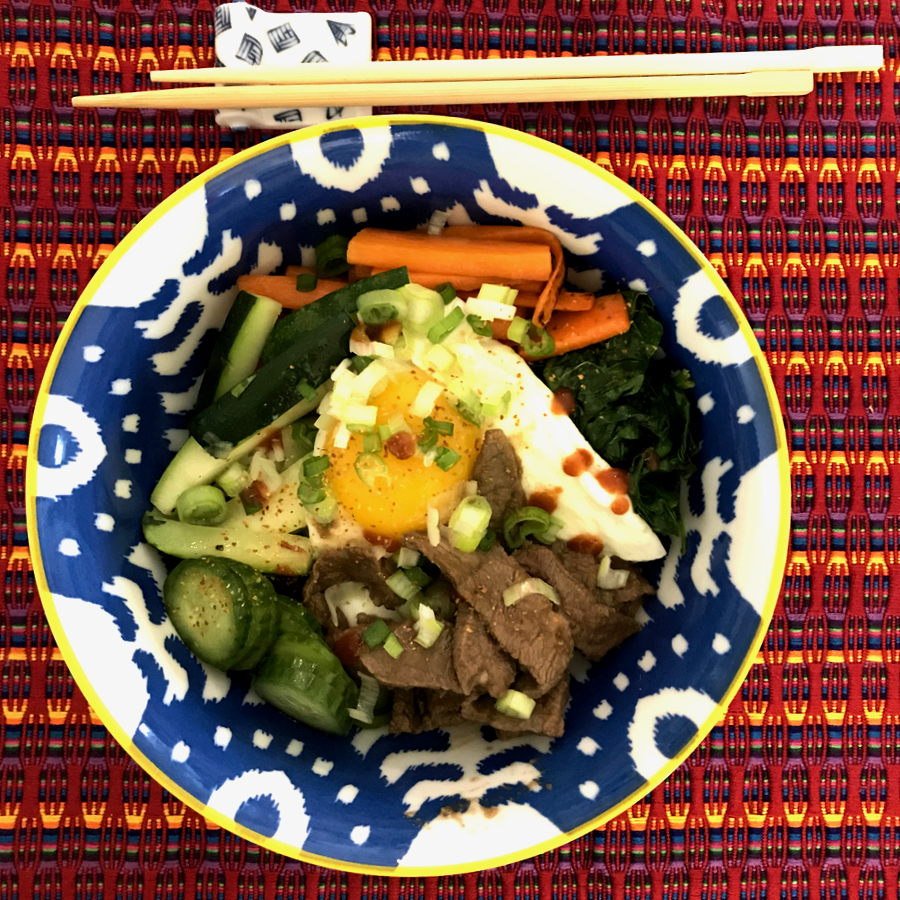 I had a hankering for some of the bimimbap I had while I was in Berlin. I walked up to the free-standing kiosk, in the middle of an empty lot. I had just been to do our laundry, so I was dragging my suitcase of clean clothes, which I parked by a chair, and went to order. It was some of the best I've had, matched only by the bowl in Incheon, South Korea.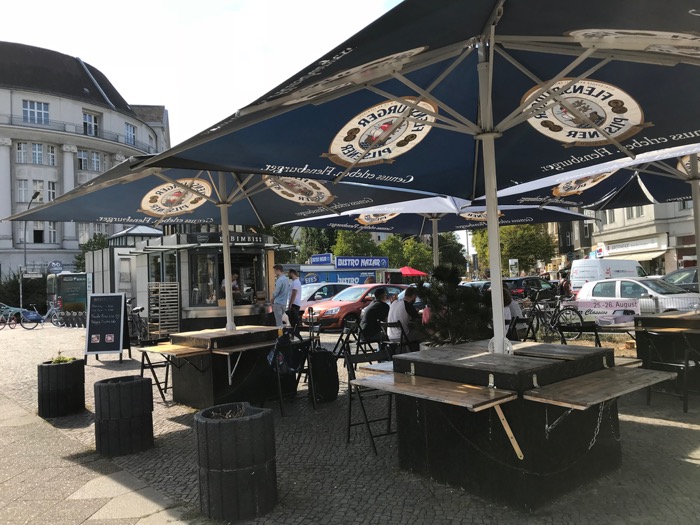 So I found this recipe and went to making. I first froze the steak so it was quite firm (but not solid) so it was easy to slice it thinly. I then made up the marinade, happy to see that it needed pear, which is just what the man at the Berlin booth said he included in his recipe. (He also grated it into the gochujang sauce, too, which made it a touch sweet and a bit milder than usual).
Bulgogi
1/2 cup reduced-sodium soy sauce
1/3 cup finely grated Asian pear with juices
2 scallions, thinly sliced
2 garlic cloves, minced
1 tablespoon raw or brown sugar
2 teaspoons grated peeled ginger
1 pound thinly sliced (1/8-inch) boneless beef rib-eye steak or short ribs
Whisk first 6 ingredients in a medium bowl. Add beef; toss to coat. Cover; chill for 30 minutes or up to 3 hours.
Rice, freshly cooked short grain brown rice, or crisp rice (recipe below)
• 3 tablespoons toasted sesame oil, divided
• 8 cups steamed sushi rice or mixed grain rice (from 2 1/2 cups dry rice)
Bibimbap Mix-Ins:
• bean sprouts
• julienned carrots (can use *this* tool, or just cut in matchstick pieces)
cooked spinach (can sautée the cooked spinach with garlic, if desired)
• sauteéd zucchini
• green onions–ribboned or thinly cross-cut (can be tossed with sesame oil, rice vinegar, salt, pepper)
• sliced cucumbers, (tossed with sesame oil, rice vinegar, salt, pepper)
gochujang sauce
• 8 fried eggs (while fried is traditional, I usually use a poached egg)
While the original recipe called for crisp rice, I didn't do this–we just served it over warm brown rice from the rice cooker. I'm including it here in case it's something you want to do. In addition, I halved the sliced steak and the marinade, freezing one-half. I also cut down on the additions.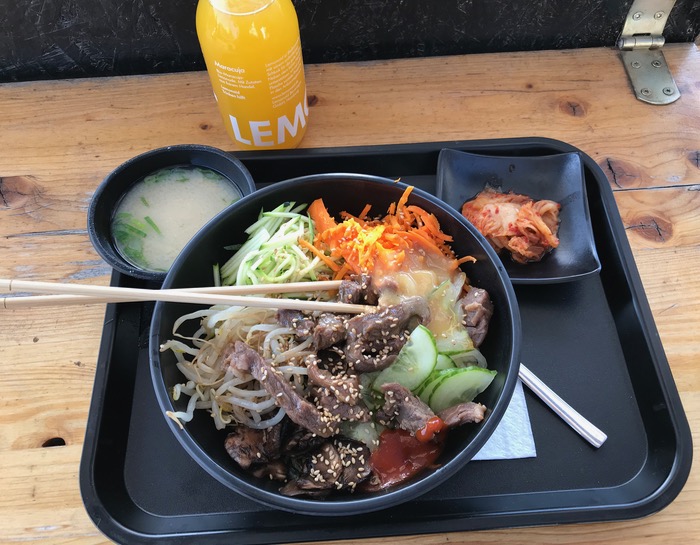 Optional: To Crisp the Rice:
Heat 1 tablespoon oil in a large cast-iron or nonstick skillet over medium heat. Add rice; pat out in an even layer. Cook, rotating skillet for even browning (do not stir), until rice is golden and crisp on bottom, about 15 minutes.
    Meanwhile, heat 1/2 tablespoon oil in a large heavy skillet over medium heat. Add one-quarter of beef and cook, turning once, until cooked through and lightly browned, about 3 minutes. Transfer to a bowl. Repeat in 3 batches with remaining oil and beef.
    Divide rice among bowls. Top with beef, bibimbap mix-ins, and eggs. Serve kimchi alongside.