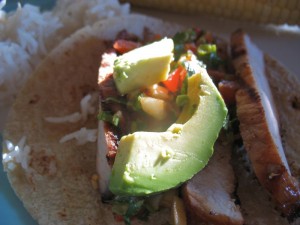 We wanted an interesting meal that we could cook outside on our barbecue for Labor Day.  I told my husband I wanted "to smell" Labor Day–envisioning a day where all the menfolk of the world were outside standing watch over smoking meat, the smells wafting up and over each neighbor's fence so that our series of backyards would all meld together in a glorious burst of Backyard Barbecue. It's the unofficial end of summer, with most of us either already back in school, or heading there soon, so I wanted our meal to be a bit festive.
However, when we chose the recipe from a New York Times grilling article, we were stymied by the ingredient "Ponzu sauce."  We'd never heard of it, but some of the other recipes in the same article called for ingredients that seemed to be stricly East coast fare.  We hit three grocery stores looking for this and didn't find it.  Back at home, we googled Ponzu sauce, and found a recipe and proceeded.  I've switched out the proportions below.
Marinade:
1/2 cup low-sodium soy sauce
1/4 cup fresh orange juice
2 tablespoons fresh lime juice
2 tablespoons fresh lemon juice
1 tablespoon water
1 tablespoon sesame oil
3 tablespoons brown sugar
1 1/2 teaspoons five spice powder
1 large clove garlic, diced or crushed
1 tablespoon honey
1/8 teaspoon crushed red pepper
Pork:
5 half-inch thick, boneless pork chops (about 1.5-2 pounds total)
Combine all marinade ingredients in a medium size bowl. Place the chops in a shallow baking dish or large zip lock bag. Evenly coat the chops with the marinade, place covered in the refrigerator to marinate for 4 to 8 hours.
Preheat grill so it has a steady heat (hot coals, not ravaging flame). Allow pork to come to room temperature (but don't let it spoil, 30 minutes out of the fridge or cooler is perfect). Cook chops on each side until golden brown with a slight char, for about 3 to 5 minutes on each side, flipping only once. Slice and serve with warm corn tortillas, avocado, Sriracha and Ginger Scallion Salsa.
We also threw in some basmati rice that was leftover from another meal, and so we christened these "International Tacos."  We had to go to a dinner party later that week, so we froze the leftovers, and then reheated them–they were still good!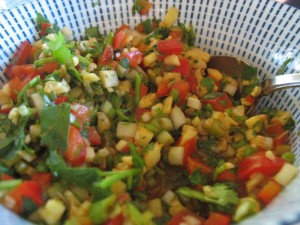 Ginger Scallion Salsa:
1/4 c. fresh ginger diced teensily–really tiny
1/4 c. green onions diced (roots and rough green ends trimmed off)
2 Tbs cilantro finely chopped
1 cloves garlic finely diced
1 Tbs. rice wine vinegar
1/2 tablespoon Sriracha or other Asian hot sauce
dash of salt
Simply dice all ingredients and gently mix together. Cover and refrigerate for an hour or so to allow flavors to meld.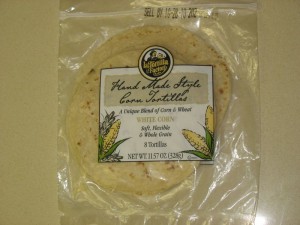 We served these on some thick, hefty corn tortillas from La Tortilla Factory, a new brand our store has been carrying.  They also come in regular corn and they don't fall apart!  Avoid the usual and look for the best.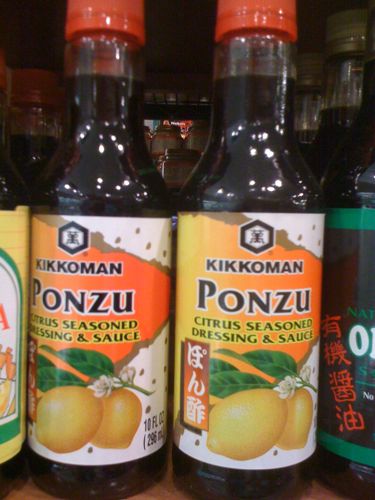 And lastly, when we were visiting Washington DC last month, strolling around Balducci's Grocery Store in Alexandria, VA, look what we found.  Yep, East coast for sure.