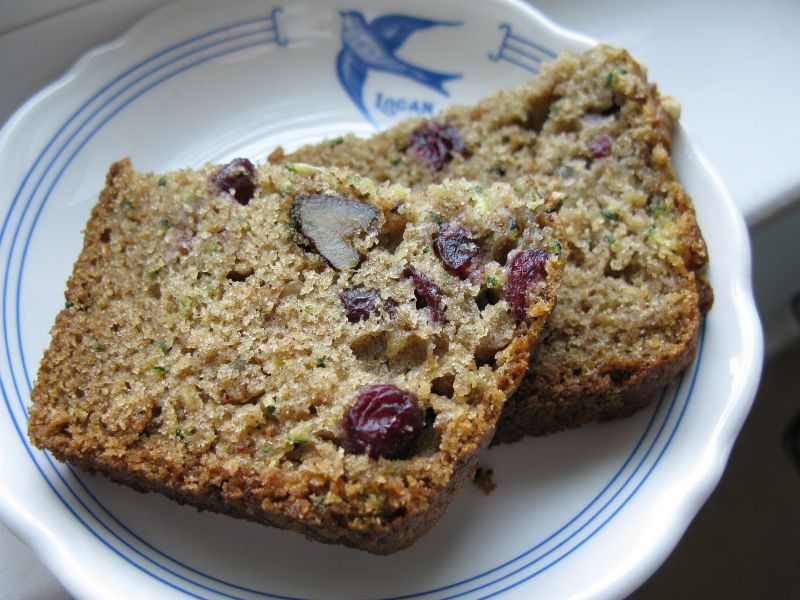 I had been making that same old zucchini bread recipe that we all have: vats of oil, overly sweet, soggy.  I wanted to find a new recipe that used whole wheat flour, so one day I did some internet searching and found five.  I began with one and modified it so much that I now call it my own, rich with nuts and cranberries.  I never moved on to the other four, satisfied with this one.  When I took my friend Judy a slice or two, she gave it a thumb's up.  She never lies, so it must be good.
About the flour: measuring the zucchini is never a science, more of a hit-and-miss.  Because of this, the amount of flour you'll add in is also less of a science.    I have added up to the full 4 cups at some times.  If your bread is too wet, it will be soggy when cooked. If you add too much flour, your bread will be a brick.  I realize this assumes some experience in making fruit breads; just do your best.
Elizabeth's Zucchini-Whole Wheat Bread
Yield: two loaves
3 eggs
2 cups sugar
1 Tablespoon vanilla
approximately 4 1/2 cups shredded zucchini
1 cup butter, melted
1 Tablespoon baking soda
1/4 teaspoon salt
3/4 teaspoon nutmeg
1 Tablespoon cinnamon
1 and 1/2 cups unbleached white whole wheat flour, from King Arthur (can also use whole wheat flour)
2 1/2  to 3 cups white flour (first add in 2 and 1/2 cups, then add more if your bread is too wet)
1 and 1/2 cups chopped walnuts
1 and 1/2 cups dried cranberries
Optional: zest and juice of 1 lemon (about 3 Tbls)
Preheat the oven to 350 and grease two loaf tins.
In a large bowl, mix together the eggs, sugar and vanilla until well-blended.  Mix in the shredded zucchini, then the melted butter, and the lemon juice and zest (if you are using it). Stir together the whole wheat flour, spices, salt and baking soda and add to the zucchini mixture.  Check to see if your bread is too wet.  Depending on the size of my eggs (I use either large or extra-large) or how moist your zucchini is, you may need all of the flour listed.  You don't want it flopping around in the bowl, but you don't want it too dry, either.  (Perhaps it should be the liquidity of a fresh icy milkshake? if you've never made bread before; I'm just guessing here.)  Fold in the nuts and cranberries.  (If yours are in the freezer like mine are, because you bought the giant bag from a Big Box store, then un-glob them before adding.)
Pour into the two loaf pans and bake for 10 minutes.  Then lower the temperature to 325 and bake for 55-60 minutes longer, or until a wooden toothpick inserted into the center comes out clean.  (If you are like me, one may have to cook longer than the other one.)  Cool in pans for 10 minutes, loosen edges with spatula and turn out onto wire racks to cool thoroughly, if you make it that long.
On all my fruit breads, I slice a thin layer off of each end, then cut the rest into slices.  I wrap them 4 slices at a time in waxed paper, then place them in a zipper plastic bag to store.  I also place three walnuts halves on top before baking, not only to indicate that they have nuts in them, but also because we love to eat nuts in our fruit breads.
Updated July 2013