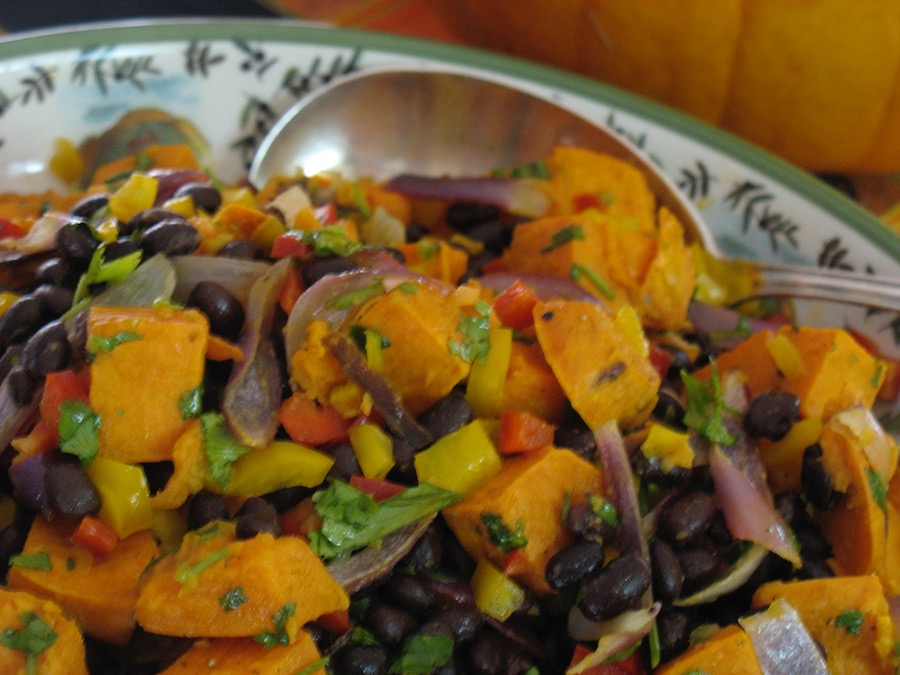 This has to be the most beautiful fall dish I have ever made.  The combination of red onions, black beans, bits of yellow and red sweet peppers and that golden roasted sweet potato is just about the most amazing looking thing you'll ever cook.  And it can also make your tummy rumble.  You've been warned. Even my husband with the cast iron stomach refused to eat it for the third time for that reason.
But boy, is it beautiful and it retains its color, even when you make too much and have to eat it for a third time (or not).
Roasted Sweet Potato Salad with Black Beans and Chili Dressing
by Mark Bittman, published in the New York Times
Time: 45 minutes
4 medium sweet potatoes (about 1 1/2 pounds–that's two large potatoes), peeled and cut into 1-inch chunks
1 large onion, preferably red, chopped
1/2 cup extra virgin olive oil
Salt and freshly ground black pepper
1 to 2 tablespoons minced fresh jalapeño chili
1 clove garlic, peeled
Juice of 2 limes
2 cups cooked black beans, drained (canned are fine)
1 red or yellow bell pepper, seeded and finely diced
1 cup chopped fresh cilantro (opt)
1. Heat oven to 400 degrees. Put sweet potatoes and onions on a large baking sheet, drizzle with 2 tablespoons oil, toss to coat and spread out in a single layer. Sprinkle with salt and pepper. Roast, turning occasionally, until potatoes begin to brown on corners and are just tender inside, 30 to 40 minutes. Remove from oven; keep on pan until ready to mix with dressing.
2. Put chilies in a blender or mini food processor along with garlic, lime juice, remaining olive oil and a sprinkle of salt and pepper. Process until blended.
3. Put warm vegetables in a large bowl with beans and bell pepper; toss with dressing and cilantro. Taste and adjust seasoning if necessary. Serve warm or at room temperature, or refrigerate for up to a day.
Yield: 4 servings.