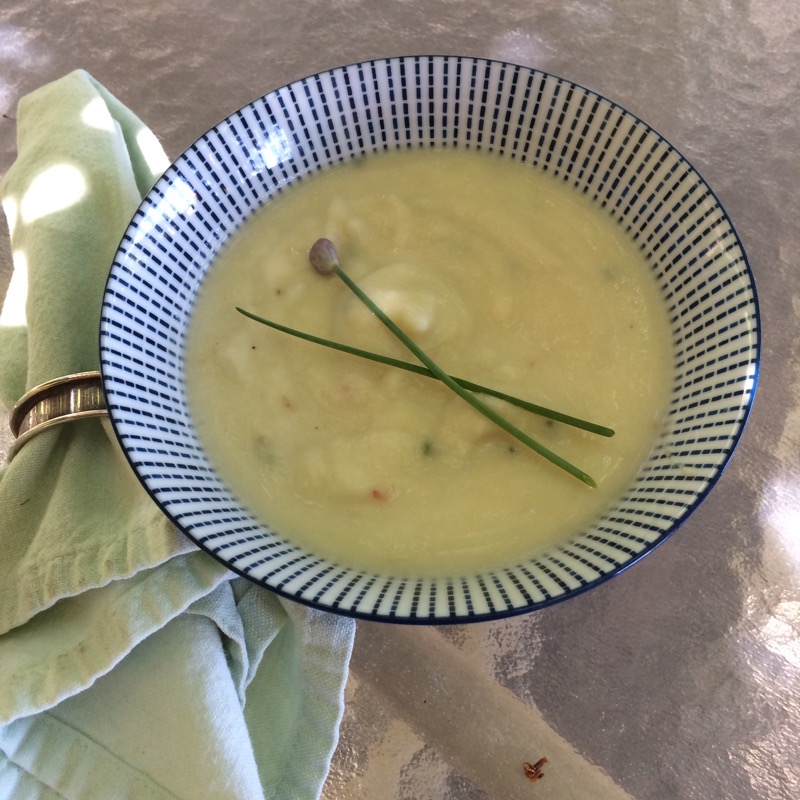 This is a variation of a soup from my cookbook Bowl Food, as I sort just opened the refrigerator and morphed my ingredients into a meal.  The variables you'll need to keep track of (as they relate directly to each other) is the amount of broth you use is in relationship to the amount of cauliflower you use.  I cook the leek and garlic, then add the chopped up cauliflower.  I then add broth so it's just covering the vegetables.  You be the judge.
1 Tablespoon oil
2 leeks, white and light green parts only, chopped
2 cloves garlic
1 potato, chopped (can add a cooked. chopped, potato later in the soup, if that's what you have in your larder: that's what I did)
6 cups chicken stock or canned broth (3 cans)
1/2 cup cream
1 Tablespoon lemon juice
pinch of red pepper flakes
2 Tablespoons chopped fresh chives
1 -1/2 cups sweet white frozen corn
Heat the oil in a large pot, large enough to hold all ingredients.  Add the leek and garlic, and cook over medium heat until the leek is soft, but not brown (about 6-8 minutes).  Increase the heat to high and add cauliflower, potato, chicken stock and bring just to a boil.  Reduce the heat and simmer, covered, for 20 minutes or until the cauliflower and potato have softened.
Turn off heat.  Using a stick blender (or, alternatively, cool the soup and use a blender or food processor), puree the soup until smooth.  Add the cream, lemon, red pepper flakes, chives and frozen corn.  Place over heat until all ingredients are warmed, about 2-3 minutes.  Sometimes the heat of the soup will suffice.
Serve with Mary's Retreat (homemade) Bread, or Oyster crackers, or homemade croutons, or crostini.
Serves 6-8.