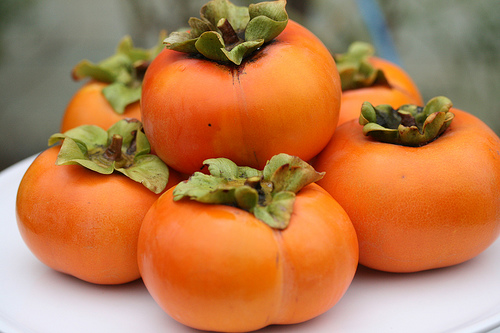 Fuyu persimmons are short and round, shaped just like a large tomato.  They can be eaten raw and somewhat firm, without having a bitter, astringent taste. The Hachiya variety are larger, and teardrop shaped.  Hachiya persimmons need to ripen until they are very soft.  They contain a lot of tannins when they are immature, which make them taste very astringent as well as cause severe stomach problems if a person actually manages to eat one.  As the fruit ripens the tannin level decreases, until the taste becomes very mild.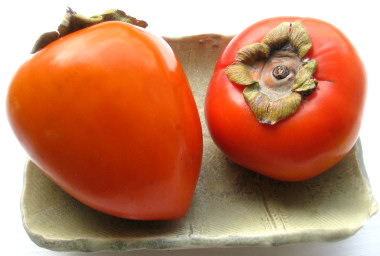 That's why the hachiyas (shown above, with a pointy end) make you pucker up when they are unripe!
That website goes on to note: "Fuyu persimmons can be sliced and eaten raw, when they are soft enough so that they give just a little to the touch, like a ripe tomato.  The skin is very fibrous so you will want to peel them before cutting them up.  After peeling them they will be slippery, so slice in half and put the cut side down so they are laying on the flat edge.  This way you can slice or dice them more easily."
Some say to cook with the hichiya and eat the fuyus in salads, or raw, but one cook found that Fuyus work fine in making her Persimmon Bread.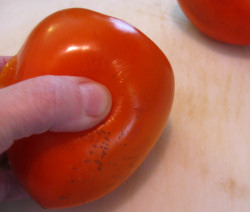 When I made my bread, I waited until my hachiyas were this soft–or as someone said, like pushing in on a water ballon! And I didn't peel them, throwing the cored persimmon whole into my food processor with the ripe pears.  If one hachiya is not as ripe as the other, you can cheat by micowaving it until it is soft.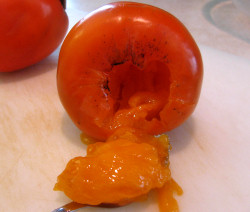 Alternatively, you can core them, then scoop out the jelly-like flesh. When I made my Pear-Persimmon bread, I simply cored them, then whirred the persimmon — skin and all — in the processor.  We sometimes refer to them as "persey-mons:" once when we were staying in Bologna, I asked the hotel breakfast lady what kind of tree was just outside the breakfast room.  "Persey-mon" was her reply, and so it stuck.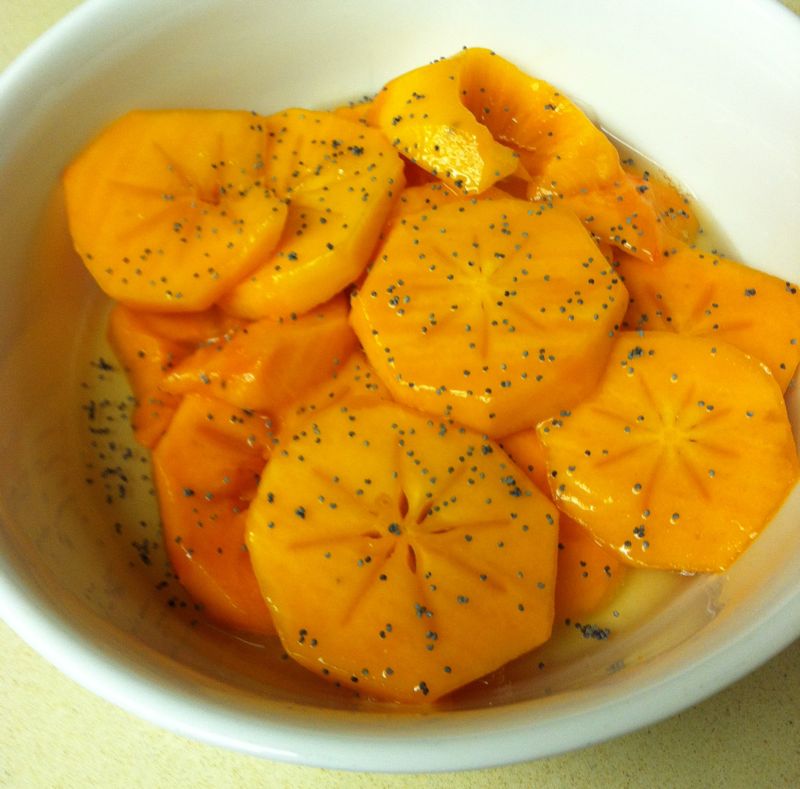 One way to serve the Fuyu persimmons raw is to core and peel them, then slice them across the width. Layer them into a shallow serving bowl.  Whisk together some white vinegar with some honey, about 2 Tablespoons of each, or until the tart-sweet taste is balanced. Test and add more honey to taste, if needed.  Pour this over the persimmons, then sprinkle with poppy seed.  This is an elegant and easy side dish.
Another recipe I found (untested by me) is to make a salad using spinach leaves as a base.  First, start by making a vinaigrette:
1/4 cup rice vinegar
1/4 cup orange juice
4 teaspoons honey
1 teaspoon sesame oil
6 Tablespoons olive oil
Mix the rice vinegar, orange juice, honey and sesame oil in a small bowl.  Whisk in the olive oil in a slow stream, whisking vigorously to emulsify the ingredients.  Lay down some spinach leaves, then the cored and sliced persimmons.  Sprinkle with toasted pecans, and dried cranberries, then pour the vinaigrette over all. (If you use 2 persimmons, it will serve 4 people.)