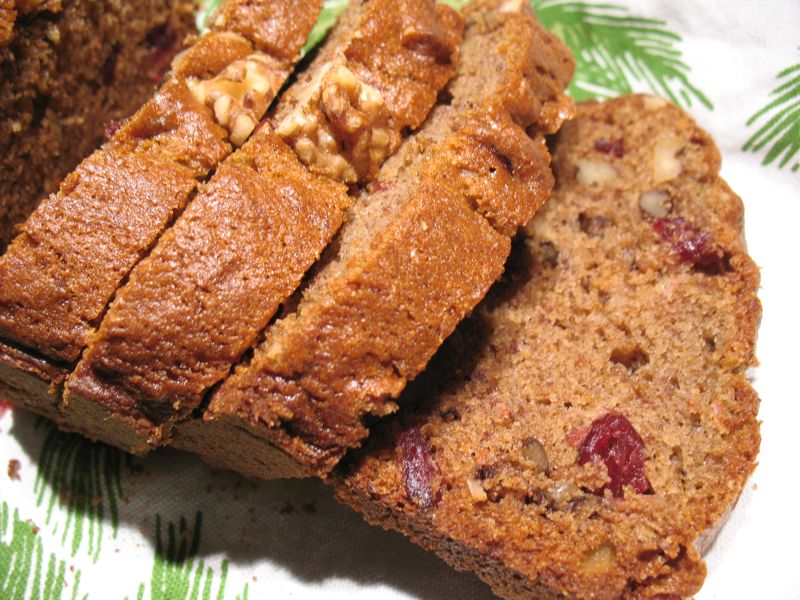 This recipe was prompted by buying four gorgeous persimmons from a neighbor's table, set up on the sidewalk with a box (with a slot) where I could put my dollar.
First step to the bread: thinking the persimmons were the Fuyu variety and trying to serve them for a side dish.  Oh, pucker-up-city! But they were gorgeous.
Next step to the bread: letting them sit out on the counter until they were, as one cook said, the texture of a wobbly water balloon.  Yes, that means the Hachiya (a kind of a wedge-shaped persimmon) is ready.  It also helped that I had two pears that were mush, and didn't want to let them go to waste.  After hunting for a pear-persimmon combination, I used James Beard's Persimmon bread recipe as a starting point, but had to make a few changes.  Like no cognac because I don't do alcohol.  And monkeying with the recipe to accommodate the pears.  But here's mine, which makes two 9-inch loaves of bread.
2½ cups all-purpose flour
1 cup whole wheat flour
1½ teaspoons salt
2 teaspoon baking soda
1/2 teaspoon ground nutmeg
1 teaspoon cinnamon
1/2 teaspoon ginger
2 cups sugar
1 cup melted butter and cooled to room temperature
4 large eggs, at room temperature, lightly beaten
2 cups persimmon/pear puree (from about 2 squishy-soft Hachiya persimmons and 2 very ripe pears)
2 cups walnuts, chopped
1 cup cranberries
Oven 350 degrees F.
Grease and flour 2 loaf pans, tapping out excess flour.
Measure the dry ingredients in a large mixing bowl, mixing them together with the blade attachment.
Prepare the fruit puree: rinse the persimmons, then cut the thick flowery stem out of the top.  Place in a food processor. I don't peel mine at all. [One of my persimmons turned out to be rather hard on one side, so I put it in a small bowl and microwaved it until it was soft and cooked and matched the softness of the other persimmon (desperation measure).]  Peel, core and add the pears to the food processor, then puree the fruits together.
Melt the butter in a small microwave proof bowl (about a 4 cup bowl), add the eggs to this and whisk, then add the pear-persimmon puree and whisk.  Add this mixture to the dry ingredients in the mixing bowl and blend on a low speed for about 1 minute.  Scrape all around the bowl to make sure the dry ingredients are being incorporated, then blend for about another minute.  Add nuts and cranberries.  (The original recipe says you could also add raisins, apricots, dates, or a mixture of these fruits.)
Bake 1 hour or until toothpick inserted into the center comes out clean. (Mine was done at 55 minutes–it is a darker bread, but you don't want to get it too done.)  Turn out of pans and let cool on wire rack.
It must be good because Dave gave it his Second-Helping-Stamp-of-Approval.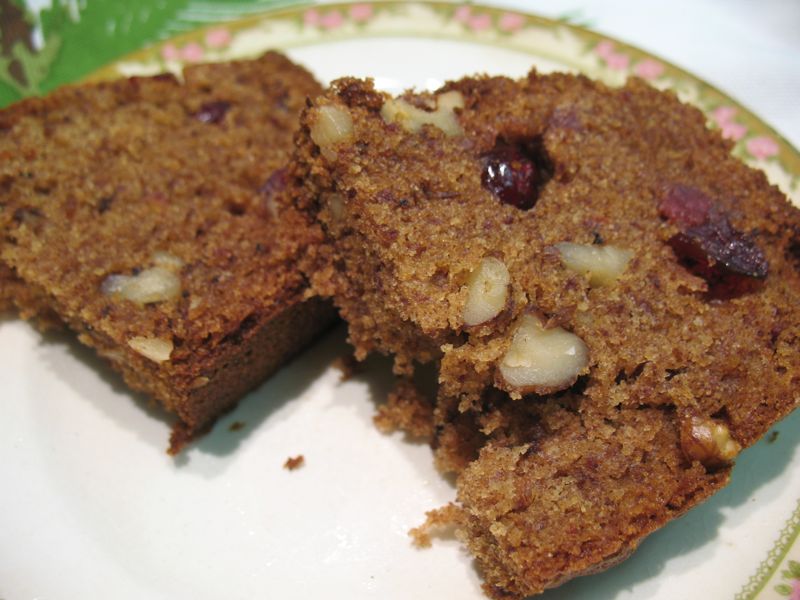 It's pictured here on my Grandmother's china, which I got from my mother this year. The very first recipe I ever tried for persimmon bread was my grandmother's, written out on a 3 x 5 index card. I still have it in my recipe file.  It has canned persimmons and shortening in it, which is why I decided to create a new one.