First, the photos that inspired my search for a decent focaccia (unhappy as I was with the version that used to be on here).
We spent some time recently in Bologna, and most all the focaccia bread we ate was light, moist and spongey. The mortadella, tender and flavorful, was a perfect filling, and at one place, the maker spread fig jam on the sandwich. Divine!
So I've looked at roughly 15 different recipes, and the one that comes closest is the one from Cucina by Elena. She does a great job of explaining everything, and you'll want to linger on her blog to taste all her other recipes.
But, as usual, I started tinkering with it, and now I have the one I want to make, inspired by, and a derivation of hers (which, in turn, was a derivation of another baker's). This is how it works in focaccia land.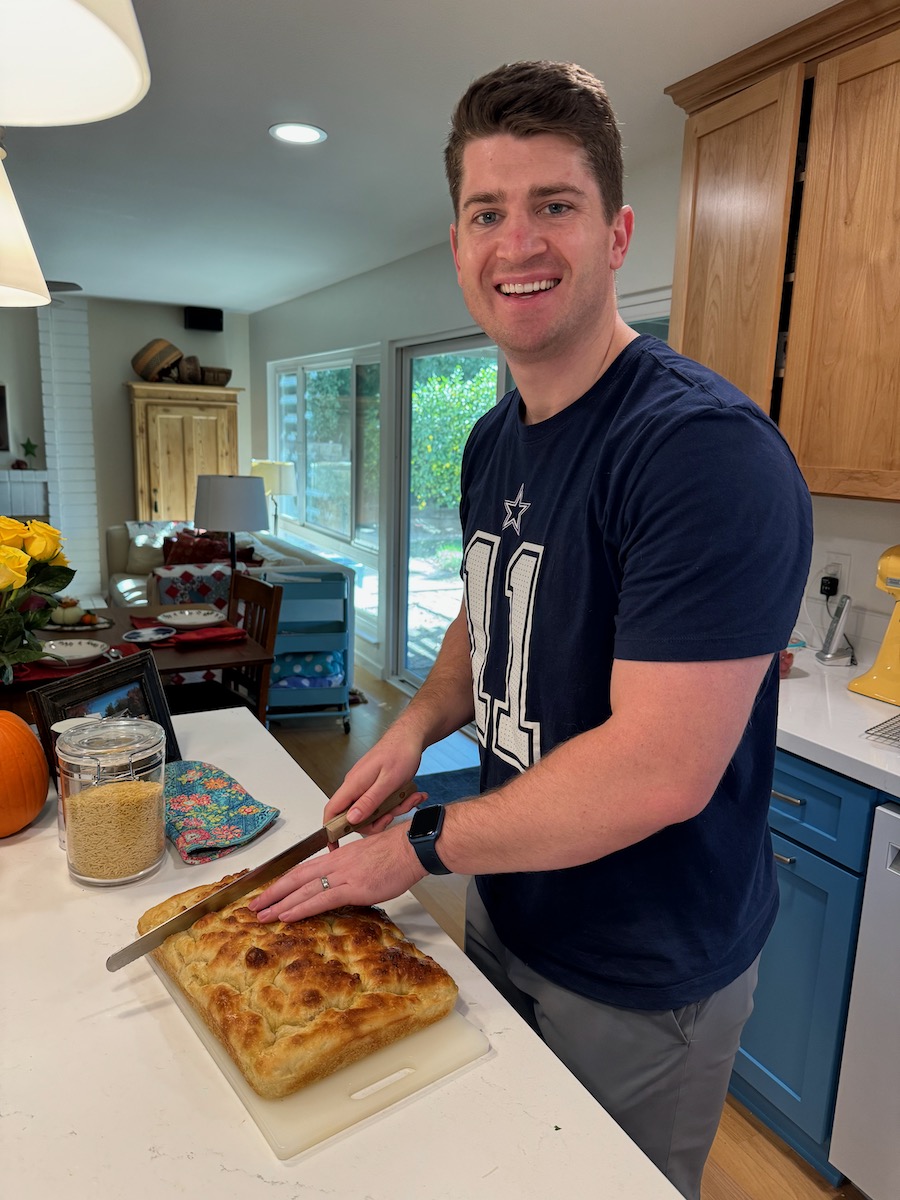 (our friend, Landon)
The timing is this is simple: Stir up the basic ingredients in the afternoon. Cover with plastic wrap and let sit all night in the fridge. In the morning, prepare the pan, plop the dough into it, let rise several hours. You'll be eating focaccia by lunch.
Ingredients
625 grams all-purpose flour (approx 5 cups)
1 scant tablespoon sugar
1 package, or 2 1/4 teaspoons regular dry yeast
1 Tablespoon kosher salt
2 1/4 cups warm water (105- 110 degrees Fahrenheit; no hotter or you will kill the yeast)
6 tablespoons good-quality olive oil
a couple of pinches of flaky salt, about 3/4 teaspoon, for the top after baking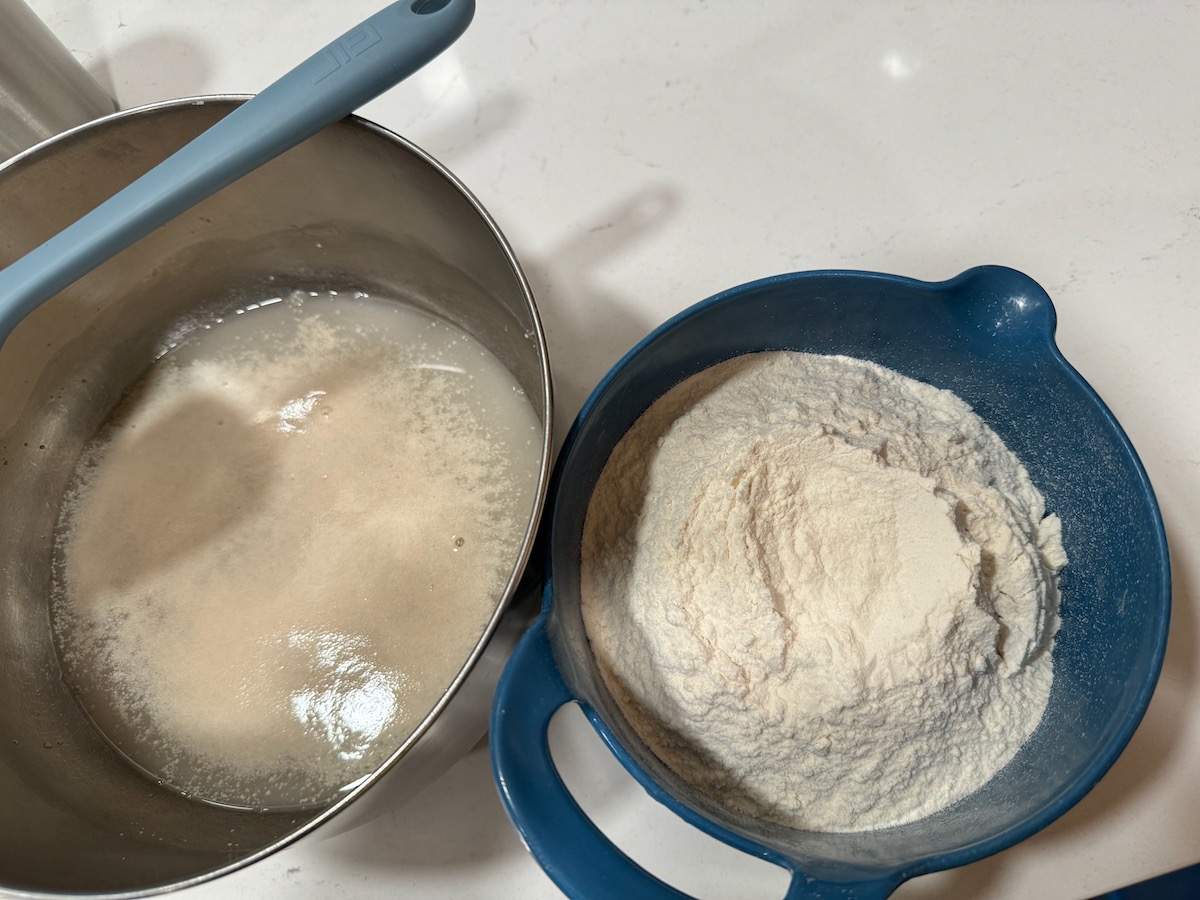 Method
In a medium sized bowl (blue one, shown above), measure out 625 grams of flour, using a scale (approximately 5 cups). Set aside.
In a larger bowl (silver), add 1 scant tablespoon table sugar (12 grams), the 2 1/4 cups of water and 2 1/4 teaspoons yeast (1 package or 7 grams). Give it a small stir. Then let yeast/water/sugar mixture take time to proof. The brew should bubble up, and look cloudy, as in the bowl on the left.
When ready, add 1 Tablespoon kosher salt (if using table salt, cut in half) to the water/yeast mixture, then all of the flour. Mix until all the water is incorporated. If needed, add another tablespoon or two of water. Don't overmix, but make sure there are no dry spots.
In a separate large bowl, pour in about 4 tablespoons good-quality olive oil, and turn to coat all sides. Scrape in your focaccia dough, turning to coat all sides. (This bowl needs to be at least double the size of your dough.)
Cover with plastic wrap and put into refrigerator for at least 8 hours, preferably overnight. When you take out the dough, it looks lively and wet. This is a high hydration bread dough (about 77%); you want that. One focaccia maker that I read uses a folding technique in the early stages of her bread. I skipped that: I'm all about easy.
In the morning (or many hours later), and using real butter, grease a

metal

9 x 13 pan on the bottom and sides. (I peel back the paper on a stick of butter and use that to stroke the pan.) Then add about a tablespoon of good-quality olive oil to the pan and brush on the sides and bottom. (Set brush aside for use at the end.)
Ease dough into prepared pan, and kind of poke and stretch it to fit, but not worrying if it doesn't. Let rise, uncovered, for 2-4 hours. [I took mine out at 8 a.m. and by 11:00 a.m. it was ready to bake.] It will have nearly doubled in size, and the dough will fill the pan and corners. You might see some bubbles, too.
Preheat oven to 450 degrees Farenheit. Pour a little olive oil onto clean fingers, and coat with the oil. Now with all fingers in action, poke the dough, leaving small divots. Cover surface evenly with pokes.
Drizzle 2-3 Tablespoons good-quality olive oil over the top of this surface, but don't drown it. You'll see pools form in the divots; this is normal.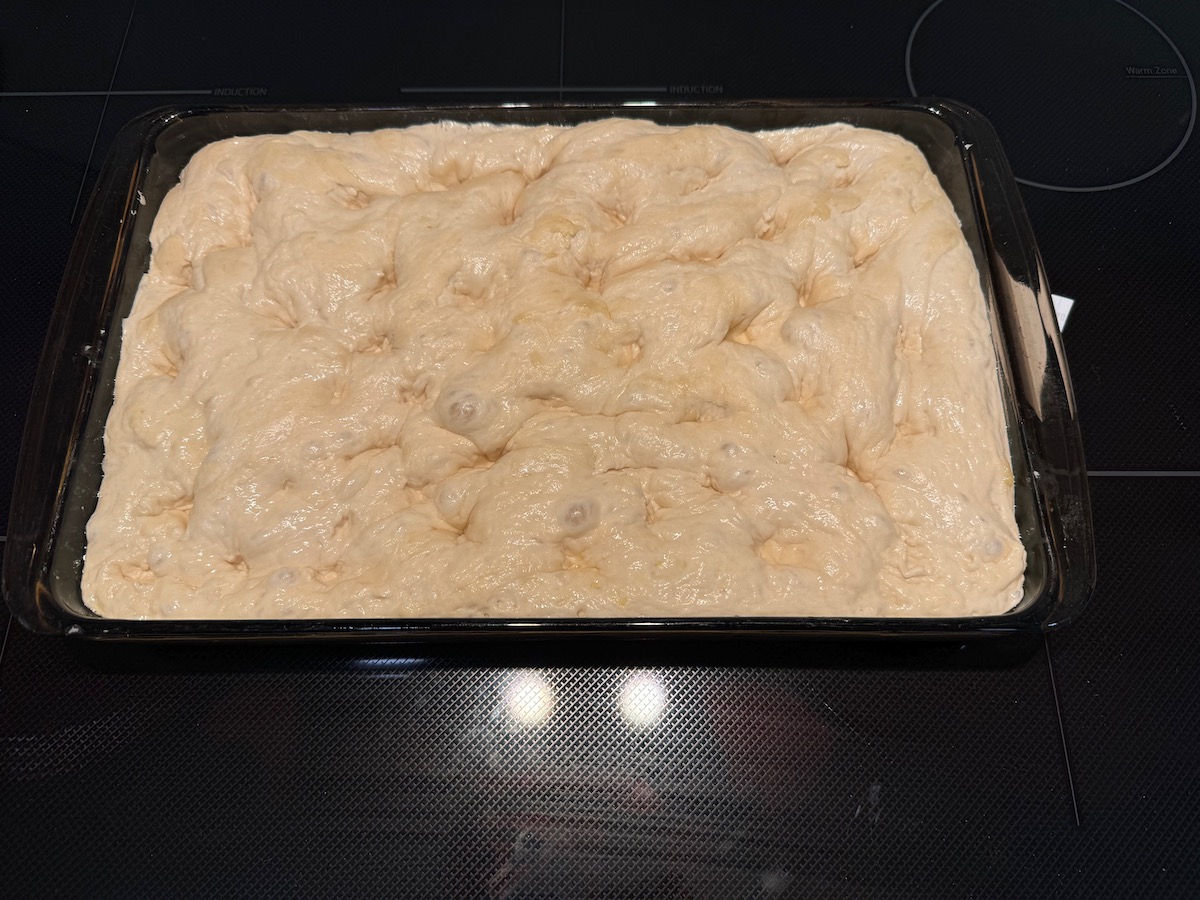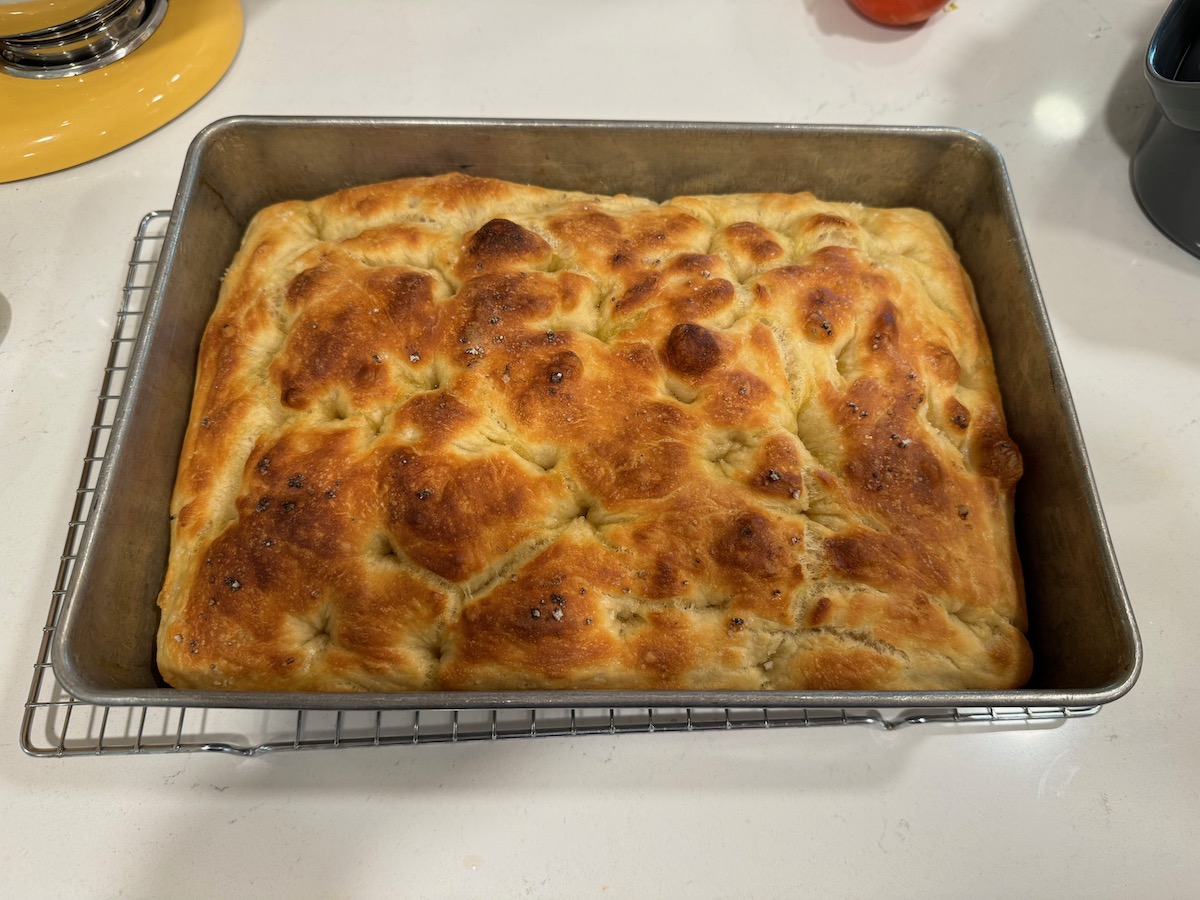 10. Bake for 15 minutes. Check. If not brown enough, bake 1-2 minutes more.
11. Pull from oven, and using the brush from an earlier step, brush olive oil over the surface. Sprinkle with flaky salt. After five minutes, loosen focaccia with a spatula, and transfer to rack for cooling.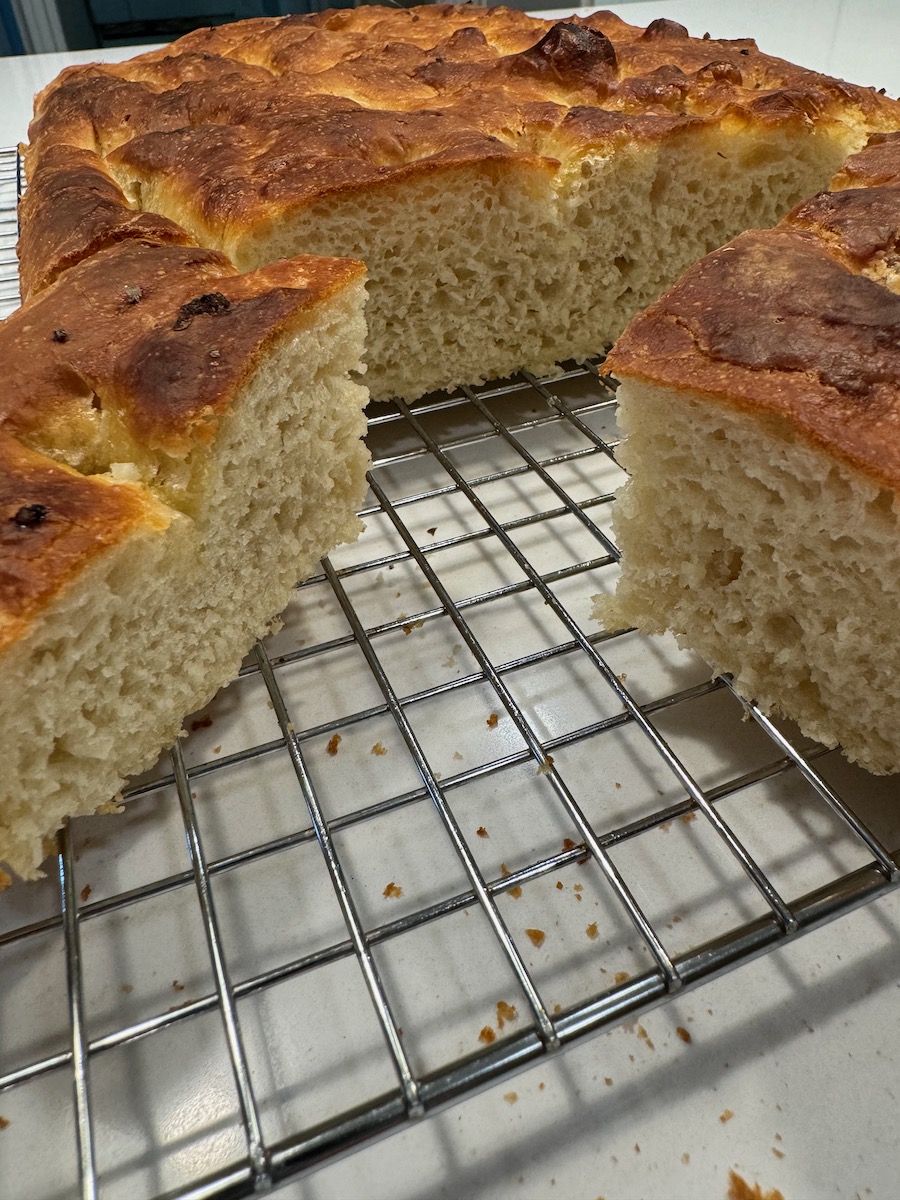 12. Cut into 16 pieces (larger) or 20-25 (smaller).
This freezes very well: place in heavy-duty plastic zipper bag. To rejuvenate, we let sit out for a few minutes (or microwave *very* briefly) then cut in half and toast in a table-top oven for 2-3 minutes, or until warm.
Last Notes: It takes me about 6 minutes to mix it up at the beginning. Add in the 10 minutes the next morning, and you'll find this is very easy. Just let it sleep overnight in the fridge.
These photos were taken from the very first batch I made, where it said to sprinkle the salt over the top before baking. They turned really dark so I changed the recipe to put the salt on afterwards.
I also cheat a little on the mixing: After getting the water incorporated into the dough, I scrape the dough into the small (blue) bowl where the flour was. Then I pour the 4 Tablespoons of oil into the large (silver) mixing bowl, dump the dough back into that, and turn to coat the bread with oil. This way, I only use two bowls for mixing. It doesn't matter if there are bits on the bowl from the mixing. No stress.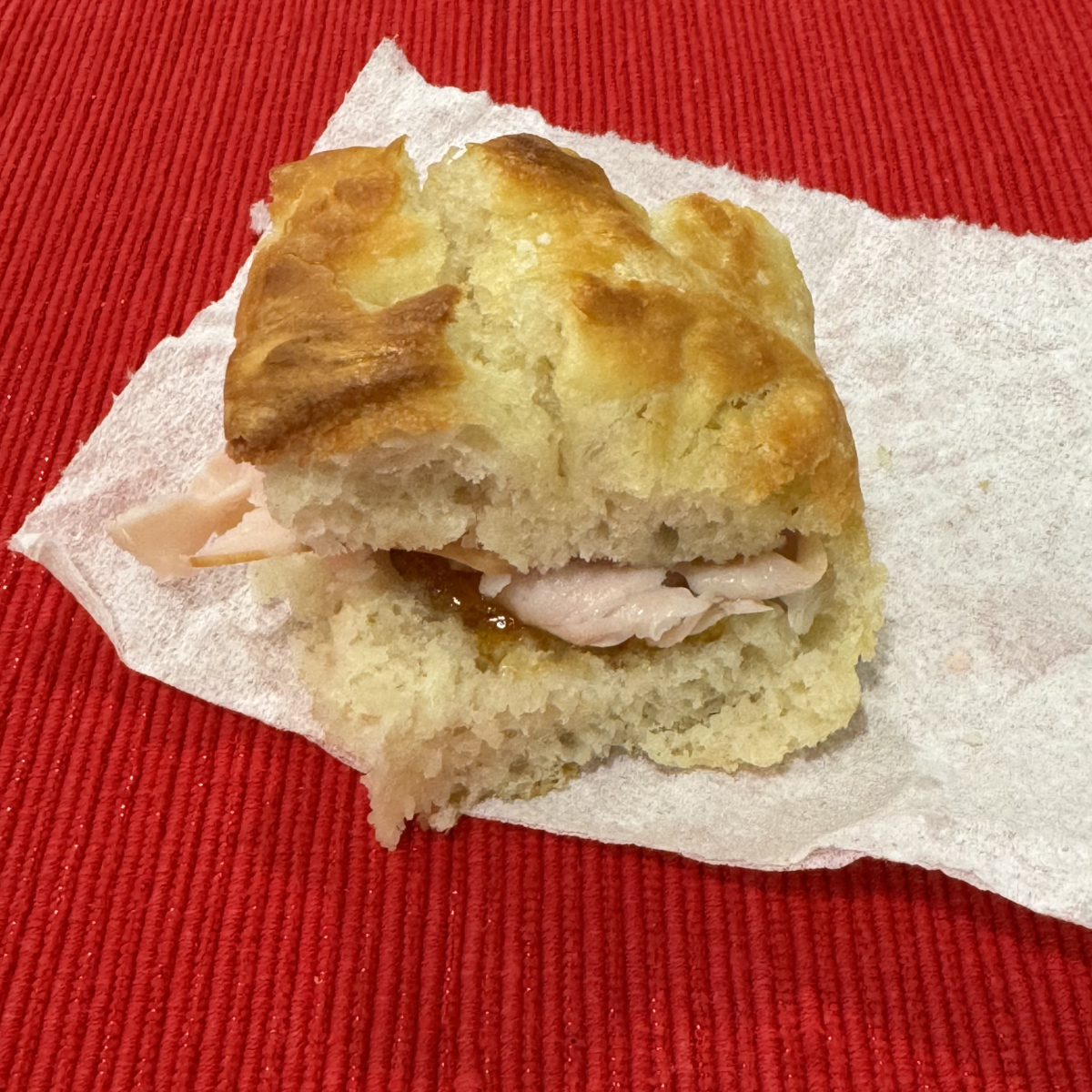 The Second Best Sandwich in the World uses the focaccia bread, spread with a little fig jam (not fig butter), then thinly sliced turkey. A good-tasting tomato will put it over the top.
The Very Best Sandwich in the World, is made as above, but with high quality mortadella, and is eaten in Italy. (See the top of the post.)