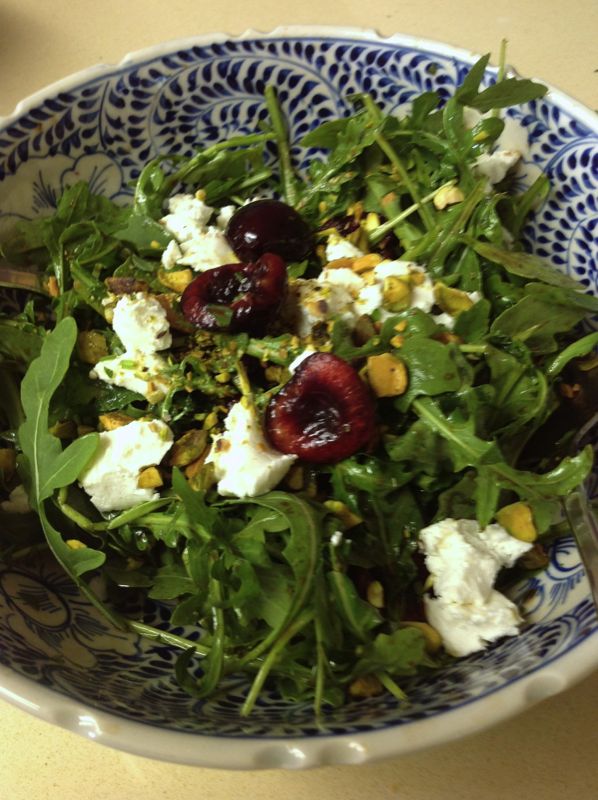 Bedridden from a foot surgery, I fantasized about getting up and cooking and about what I'd make when I could finally get out of bed.  An article in the New York Times about cherries was published just about that time, and a friend picked up the ingredients for me to make this creation from Martha Rose Shulman (whose recipes I generally adore).  It was just the ticket for bringing some new flavors to our menu which had been, for a week or more, built around prepared freezer meals from the grocery store.  It was wonderful!
It has a strong flavor so don't serve something delicate with it–to go along with this, try seasoned barbequed chicken thighs and a sturdy side dish.  But the combo of the tangy vinaigrette alongside some brilliantly flavorful cherries and creamy chevre was heaven.
 1 6-ounce bag baby arugula
16 cherries, halved and pitted
Scant 1/4 cup pistachios or almonds, (about 1 ounce), lightly toasted and chopped
1 tablespoon chopped fresh tarragon
1 tablespoon sherry vinegar
1 teaspoon balsamic vinegar
Salt and freshly ground pepper
3-5  tablespoons extra virgin olive oil
2 ounces goat cheese, crumbled
Combine the arugula, cherries, half the nuts and the tarragon in a large bowl.
Whisk together the vinegars, salt and pepper and olive oil. Toss with the salad. Arrange on a platter, sprinkle the goat cheese and remaining pistachios over the top, and serve.
Yield: 4 servings.
Cook's Note: I didn't have sherry vinegar, so I used rice wine vinegar with about 2 teaspoons sugar, for a substitute.
Nutritional information per serving: 212 calories; 18 grams fat; 5 grams saturated fat; 2 grams polyunsaturated fat; 10 grams monounsaturated fat; 11 milligrams cholesterol; 9 grams carbohydrates; 2 grams dietary fiber; 87 milligrams sodium (does not include salt to taste); 6 grams protein