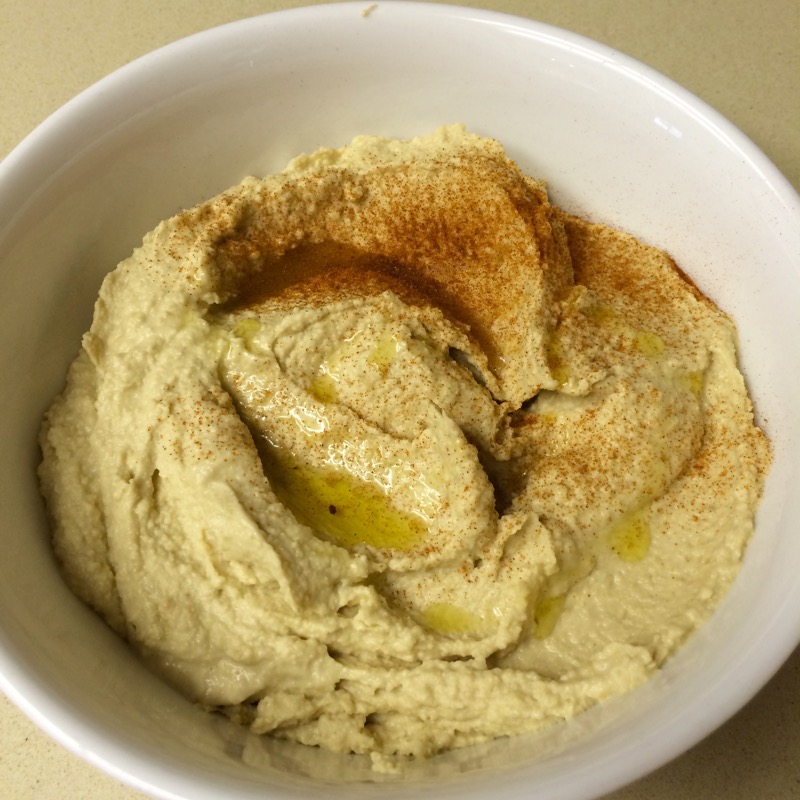 I whipped up a batch of hummus a while ago, based on this excellent recipe from the blog Inspired Taste.  While I list the ingredients here, head over there to see their video and their tips.  My sister-in-law Julie tipped me off to this–and they are right.  It is easy to make and really good.
Ingredients
one 15-ounce can (425 grams) chickpeas, also called garbanzo beans
1/4 cup (59 ml) fresh lemon juice, about 1 large lemon
1/4 cup (59 ml) tahini (I use their Homemade Tahini recipe, see below)
half of a large garlic clove, minced
2 tablespoons olive oil, plus more for serving
1/2 to 1 teaspoon kosher salt, depending on taste
1/2 teaspoon ground cumin
2 to 3 tablespoons water
dash of ground paprika for serving
Directions
In the bowl of a food processor, combine tahini and lemon juice. Process for 1 minute. Scrape sides and bottom of bowl then turn on and process for 30 seconds, as it whips up the tahini, making a smooth and creamy hummus possible.
Add olive oil, minced garlic, cumin and the salt to the whipped tahini and lemon juice mixture. Process for 30 seconds, scrape sides and bottom of bowl then process another 30 seconds.
Open can of chickpeas, drain liquid then rinse well with water. Add half of the chickpeas* to the food processor then process for 1 minute. Scrape sides and bottom of bowl, add remaining chickpeas and process for 1 to 2 minutes or until thick and quite smooth.
Most likely the hummus will be too thick or still have tiny bits of chickpea. To fix this, with the food processor turned on, slowly add 2 to 3 tablespoons of water until the consistency is perfect. Scrape the hummus into a bowl then drizzle about 1 tablespoon of olive oil over the top and sprinkle with paprika.
Store homemade hummus in an airtight container and refrigerate up to one week.
*On their website they did a comparison of hummus between slipping off all the chickpea skins, and not slipping them off before processing. After I saw the photos, I decided that I'd leave the skins on as it didn't seem to make that much of a difference.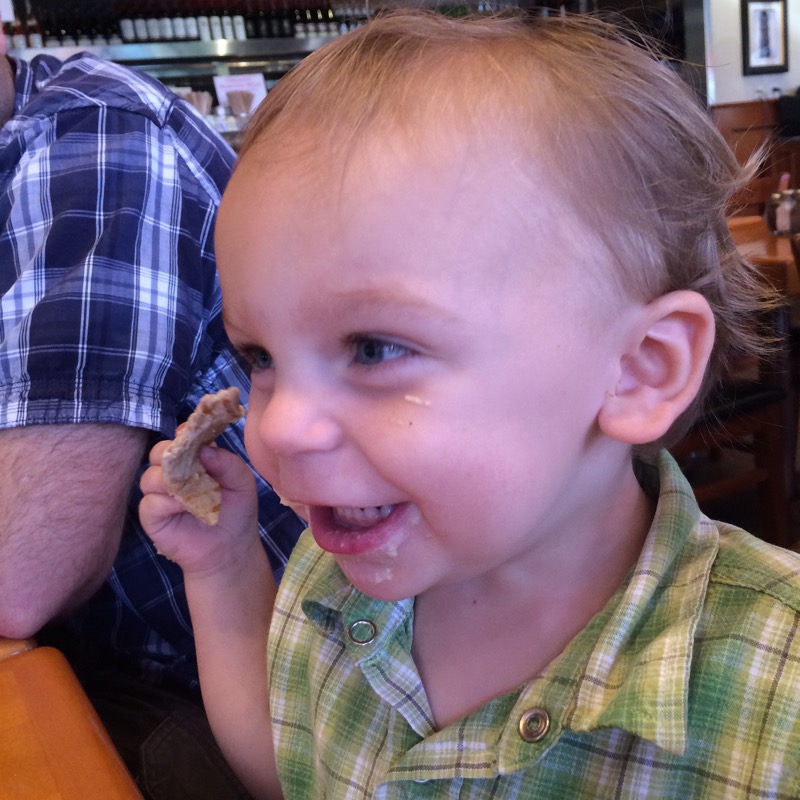 Here's our grandson Charlie enjoying a bit of hummus on his pita bread.
˚˚˚˚˚˚˚˚˚˚˚˚˚˚˚˚˚˚˚˚˚˚˚˚˚˚˚˚˚˚˚˚˚˚˚˚˚˚˚˚˚˚
Tahini Paste (from Inspired Taste)
Ingredients
1 cup (5 ounces or 140 grams) sesame seeds, we prefer hulled
3 to 4 tablespoons neutral flavored oil such as grape seed, canola or a light olive oil
Pinch of salt
Directions
Add sesame seeds to a wide, dry saucepan over medium-low heat and toast, stirring constantly until the seeds become fragrant and very lightly colored (not brown), 3 to 5 minutes. Transfer toasted seeds to a baking sheet or large plate and cool completely. (Careful here, sesame seeds can burn quickly).
Add sesame seeds to the bowl of a food processor then process until a crumbly paste forms, about 1 minute. Add 3 tablespoons of the oil then process for 2 to 3 minutes more, stopping to scrape the bottom and sides of the food processor a couple times. Check the tahini's consistency. It should be smooth, not gritty and should be pourable. You may need to process for another minute or add the additional tablespoon of oil.
Taste the tahini for seasoning then add salt to taste. Process 5 to 10 seconds to mix it in.
Store tahini covered in the refrigerator for one month. You may notice it separates over time, like a natural peanut butter would. If this happens, give the tahini a good stir before using.