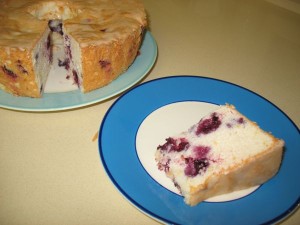 The first time I made this was when my parents were visiting.  It was summer and we needed a light dessert for a hot day.  Gale Gand's recipe seemed to fit the bill: it's a from-scratch angel food cake speckled with fresh blueberries with a bit of lemon to freshen the flavors.
Dave has requested it often for his birthday, preferring this to his other old favorite of German Chocolate Cake (I never could make that one very well–his mother did it better than I, I'm sure).
The taste of the homemade angel food cake is different than the store bought, although that one has its merits.  It's like the difference between any manufactured object and something that has had a human touch.  Try it and see what you think.
I've included a lot of photos to show how the mixture begins to peak; my apologies to those who find photos tiresome.
Blueberry Angel Food Cake–yield 8 servings (although we always get more out of it)
Gale Gand, from Cooking Light
Cake:
1 1/2 cups sugar, divided
1 cup sifted cake flour (I used regular)
12 large egg whites (about 1 1/2 cups)
1 1/4 teaspoons cream of tartar
1/2 teaspoon salt
1 teaspoon vanilla extract
1 1/2 cups fresh or frozen blueberries
2 Tablespoons sifted cake flour
1 Tablespoon grated lemon rind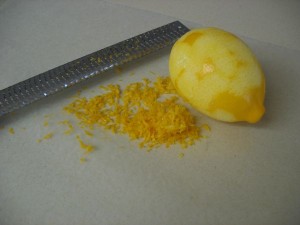 Note on grating rind: you want to just skim the yellow rind off the lemon, leaving the white pith behind (it can be bitter).  If I have a whole crop of lemons, I grade the rind onto a square of wax paper, then fold it up to the inside, place the packet into a small ziploc sandwich baggie and label it with the date.  I've used frozen rind for as long as 9 months without noticeable drop in quality.
Glaze:
1 cup powdered sugar
3 Tablespoons fresh lemon juice
Preheat oven to 375°F.
Sift together 1/2 cup sugar and 1 cup flour (I just whisked them together).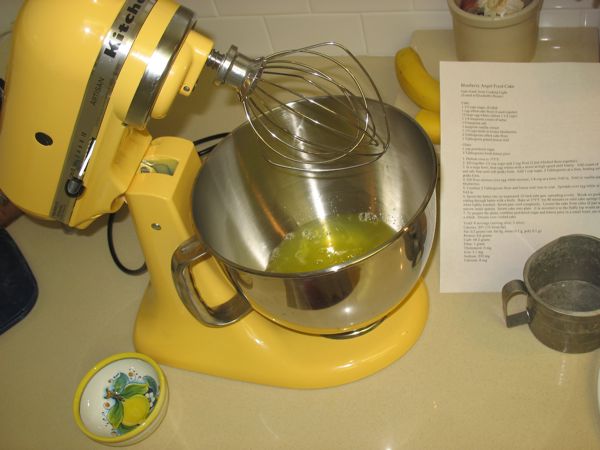 In a large bowl, beat egg whites with a mixer at high speed until foamy.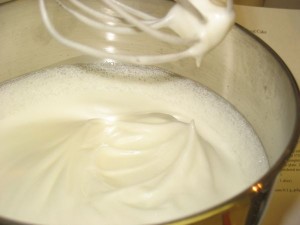 Add cream of tartar and salt; beat until soft peaks form.
Add 1 cup sugar, 2 Tablespoons at a time, beating until stiff peaks form.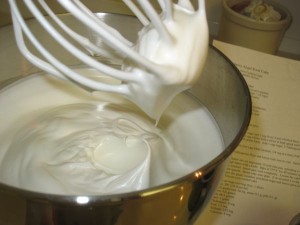 See the tip of the peak bending over like a wave?  Not quite done.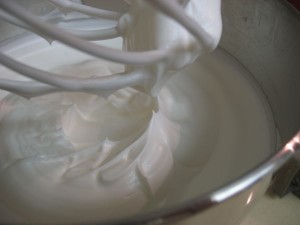 This peak stands straight up–it's done.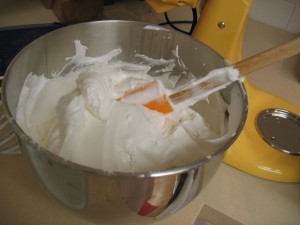 Sift flour mixture over egg white mixture, 1/4 cup at a time; fold in.  Here's a video on folding egg whites into another mixture; it's the same technique.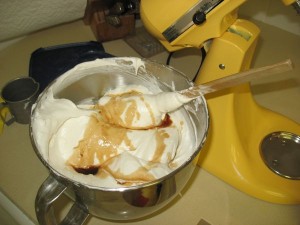 Fold in vanilla. . .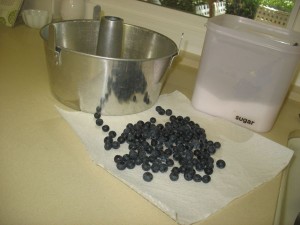 . . . and blueberries. If you've never seen an angel food cake pan before, it has three tabs sticking up from the sides, and a removable bottom (to which the center tube is attached).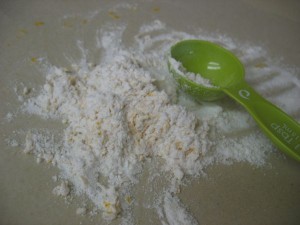 Combine 2 Tablespoons flour and lemon rind; toss to coat. Sprinkle over egg white mixture; fold in.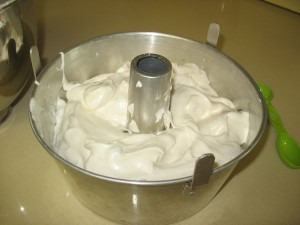 Spoon the batter into an UNGREASED 10-inch tube pan, spreading evenly. (Note:the recipe says to smooth out the top, but I like mine with more peaks and valleys, as shown here.  But I was a good girl, and smoothed it out so you could see what the end result looks like in a later photo.)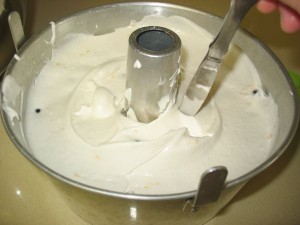 Break air pockets by cutting through batter with a knife. Bake at 375°F for 40 minutes or until cake springs back when lightly touched.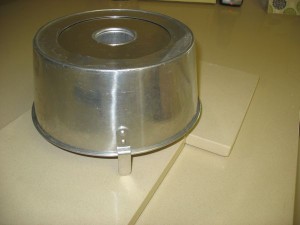 Invert pan; cool completely.  Yes, turn it upside down and balance it on those tabs until it is REALLY COOL to the touch.  No warmth anywhere.  That's why it's best to make this in the morning, if you plan to serve it that night.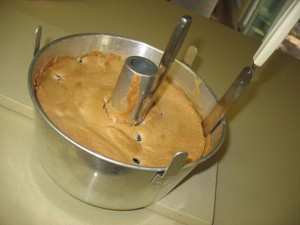 Loosen the cake from sides of pan using a narrow metal spatula.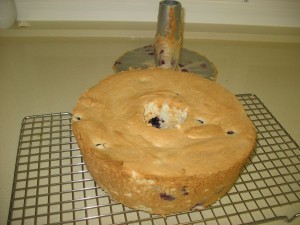 Invert cake onto plate. (I re-invert it so the top will show.)
To prepare the glaze, combine powdered sugar and lemon juice in a small bowl; stir well with a whisk. Drizzle over cooled cake.
Calories: 297 (1% from fat)
Fat: 0.2 grams (sat. fat 0g, mono 0.1 g, poly 0.1 g)
Protein: 6.6 grams
Carb: 68.2 grams
Fiber: 1 gram
Cholesterol: 0 mg
Iron: 1.1 mg
Sodium: 232 mg
Calcium: 8 mg