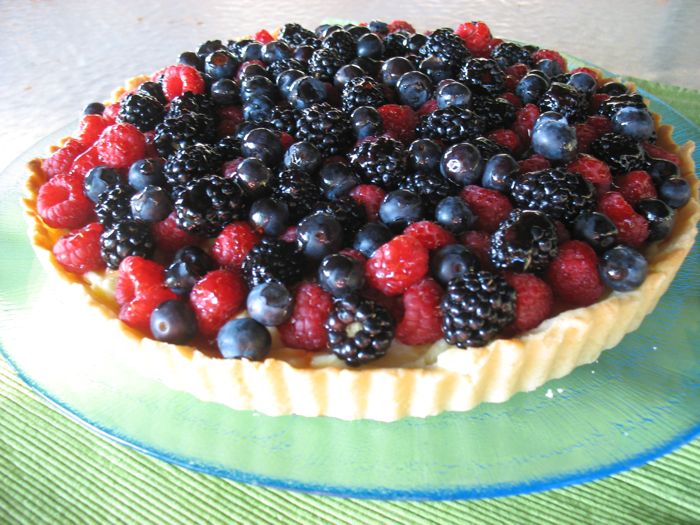 So, the church was having a Pie Judging Contest, and my husband said, "Why don't we bring a French pie–a French tart?"  Ever one to encourage individualism, especially at church, I agreed.
So we got busy and I made the tart crust (from the French Pear Tart recipe, found on this site), then the almond cream, because that was oh-so-delicious.  We picked up some raspberries, blackberries and blueberries on sale at our local grocer's and carefully placed them all around.  A trip to another store and we found the red currant jelly for the glaze (recipe follows) and we carefully toted this off to the church social.
For some reason, it was awful. So, take two.
This time we followed Dorie Greenspan's directions (recipe is from her book  Baking: From My Home to Yours–buy it!!)  and used the Pastry Cream for the filling, then put on our berries and glazed it.  Divine!  It was so good, we had to share it, so we delivered a plate to a friends who'd had a death in their family, a plate to our pastor (we call him a Bishop) and a plate to the woman (and her husband) who'd organized the church social.  Besides, we COULDN'T have all this yummy tart around–we'd eat it all.
Ingredients for French Berry Tart
We used two 6-oz containers of raspberries, one 6 oz-container each of blueberries and blackberries.  Taste your blackberries first to make sure they are young and tender–not all seedy and crunchy-ish (ick).
9-10 inch tart shell made with Sweet Tart Dough (see earlier post)
1 1/2 cups Pastry Cream, recipe follows (see note about quantity used)
1/3 cup red currant jelly mixed with 1 teaspoon water, for glazing
Smooth the pastry cream by giving it a couple of strong turns with a whisk.  Spoon enough of the pastry cream into the tart crust to come almost to the rim, then even the surface with a rubber spatula.  Carefully lay the berries on the cream.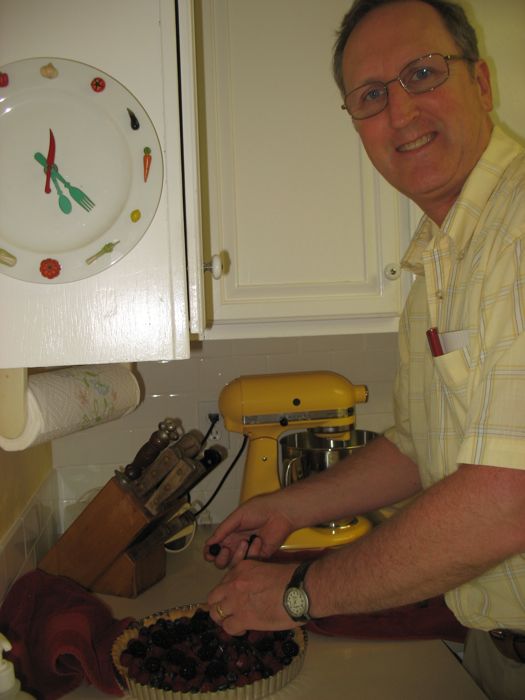 [Dave's method: place the raspberries about 1″ apart all over the surface.  Fill in with the blackberries.  Fill in, again, with the blueberries.]  If you are using strawberries, either halve them from top to bottom or slice them, depending on the size of the berries and your whim.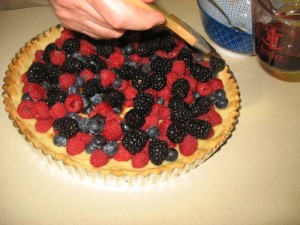 Bring the jelly and the water to a boil in a microwave oven or on the stovetop.  Working with a pastry brush, dab each berry with a spot of jelly, or glaze the entire surface of the tart, including the bit of pastry cream that peeks through the berries.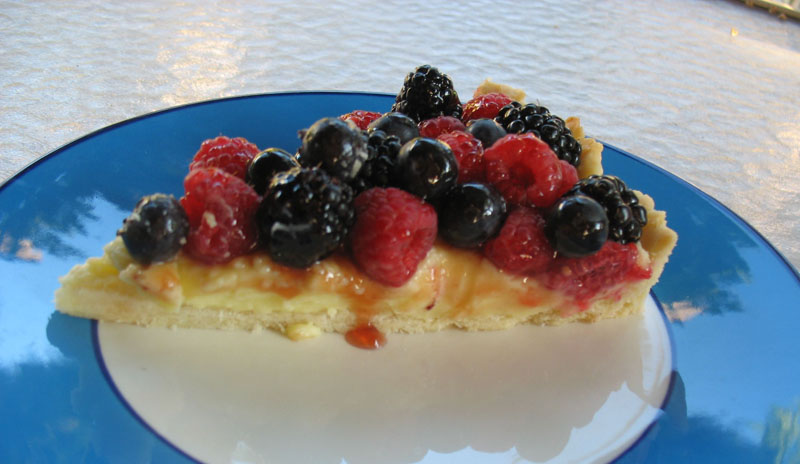 Pastry Cream
This makes two cups–you can pile it all on one tart (we did) or split it into two and make two tarts.  It keeps, tightly covered,  for up to three days in the refrigerator.
2 cups whole milk
6 large egg yolks
1/2 cup sugar
1/3 cup cornstarch, sifted (I didn't)
1 1/2 teaspoons pure vanilla extract
3 1/2 tablespoons butter, cut into bits, at room temperature
Bring the milk to boil in a small saucepan, stirring so it doesn't scorch.
Meanwhile, in a medium heavy-bottomed saucepan, whisk the yolks together with the sugar and cornstarch until thick and well blended.  Still whisking, drizzle in a bout 1/4 cup of the hold milk–this will temper, or warm, the yolks so they won't curdle.  Whisking all the while, slowly pour in the remainder of the milk.  Put the pan over medium heat and, whisking vigorously, constantly and thoroughly (making sure to get the edges of the pot), bring the mixture to a boil.  Keep at a boil, still whisking for 1 to 2 minutes, then remove the pan from the heat.  [Note: ours thickened up mightily at this point, so we jumped ahead.]
Whisk in the vanilla extract.  Let sit for 5 minutes, then whisk in the bits of butter, stirring until they are fully incorporated and the pastry cream is smooth silky.  Scrape the cream into a bowl.  You can press a piece of plastic wrap against the surface of the cream to create an airtight seal and refrigerate the pastry cream until cold or, if you want to cool it quickly,–as I always do–put th ebowl into a larger bowl filled with ice cubes and cold water, and stir the pastry cream occasionally until it is thoroughly chilled, about 20 minutes.