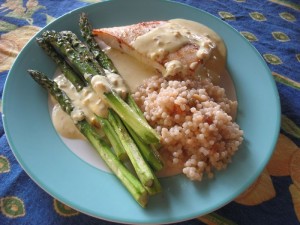 When I was in high school, our Spanish teacher, Miss Azevedo, corralled the class to join her at another teacher's house for some real paella.  She'd provide the ingredients, one of which was saffron.  We talked about this spice as she stood and stirred the seafood, the broth and the rice together, and she admitted that she couldn't afford the REAL saffron.  Instead she had a packet of "fake" saffron that she'd bought in Spain on her last trip home and brought it back with her.
That idea–that saffron was expensive beyond belief–stuck with me for more than 40 years.  This belief was confirmed by sightings of jars of saffron in the store–a regular sized jar with a thread or two of saffron for a whopping price.  It never made it into my spice cupboard, until one day in Trader Joe's I saw Spanish saffron in a small jar with a cork for a lid at a very affordable price.  I bought two.
So when I went hunting for a new recipe to make tonight with my frozen Costco halibut steaks, I found this in Mark Bittman's book How to Cook Everything. Creamy Saffron Sauce.  Given that I was now the proud possessor of some actual saffron threads (as well as having leftover Greek yogurt from dinner at the beginning of the week) I was in business.  We enjoyed it–hope you will too, as it's another quick and easy dinner.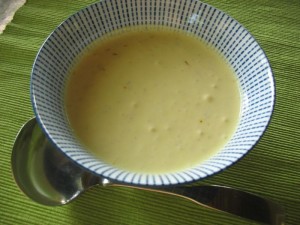 Sauce:
1 cup yogurt, preferable whole milk
salt and freshly ground pepper
small pinch cayenne pepper
1 shallot, minced
1/2 teaspoon saffron threads
Juice of 1/2 lemon, or more to taste (roughly 1-2 Tablespoons)
In a small bowl, whisk the yogurt with some salt and pepper, the cayenne and the shallot.  Rub the saffron threads between your fingers to crush them, then stir it into the yogurt miexture.  Let sit for about 20 minutes.  [It's like watching a Polaroid photo develop–the sauce starts to turn this fabulousy yummy shade of yellow from the saffron.  I kept giving it a whisk or two to help it along.]  Alternatively you can let it sit for up to 2 hours in the refridgerator.  Just before serving, add the lemon juice, then taste and adjust the seasoning.  It mainly needed more salt, in my estimation.
Halibut:
2 halibut steaks (about 3/4 pound)
1 tablespoon butter
1 tablespoon olive oil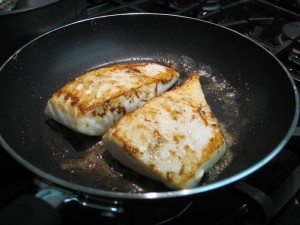 If halibut is frozen, let thaw, then rinse and pat dry.
Sprinkle the halibut with salt and pepper.  Put the butter and olive oil in a large [nonstick] skillet over medium heat.  When the butter melts, swirl it around the pan, then add the fish and cook gently, turning once or twice until a thin-bladed knife meets little resistance when inserted into the thickest part; this weill generally be less than 10 minutes.
Note: we served this with Baked Asparagus and Pearl Couscous with Pine Nuts and Sultanas.