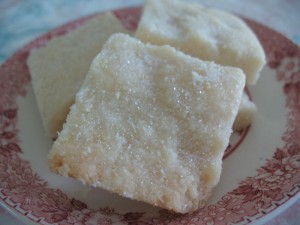 A long time ago in a galaxy far away, I pulled a recipe for shortbread cookies out of a newspaper.  It was just another one of those recipe blurbs in a Food Section in a small newspaper (I think it was in upstate New York where I ripped this out). For a while, I lost the recipe and tried to duplicate its perfect proportions and always failed.  Happily, I found it again. While I see lots of shortbread cookies out there, many of them are rolled cookies, which forces you to handle the dough in extra steps.  I think the secret to the tenderness of these cookies is the lack of dough-handling: mix, dump, press, bake.
I also liked the recipe because it was always fabulous (providing you use REAL butter), I could made it in one pan, and it made a lot of cookies.  When the children didn't have any cookies for their lunches, I could have enough for the week in under an hour. And when I take them to church and serve them to the ladies, they LOVE them.  So do I.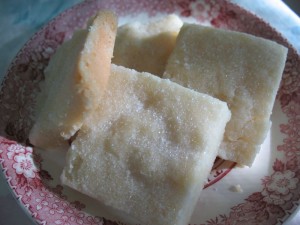 Scottish Shortbread
Preheat oven to 325 degrees F.
Cream 1 pound butter (4 sticks) with 1 cup sugar until light and fluffy.  Stir, or sift together, 4 cups flour and 2 teaspoons salt (can use 2 1/2 if your butter is unsalted).  Blend into butter mixture with a light touch.  Don't overmix–you want it barely stirred in.
Press dough into a rimmed cookies sheet, moistening your fingers with cold water if you find it too sticky.  Bake for 30 minutes, or until edges are just browning (don't overbake) and immediately after pulling from oven, shake a hearty amount of granulated sugar over the entire surface.
Cut into "fingers," 1″ by 3″.  Of course, you can also make them square-shaped, which is what I did.  For a pretty cookie, before baking use a cookie press to stamp a design over the top in a grid.