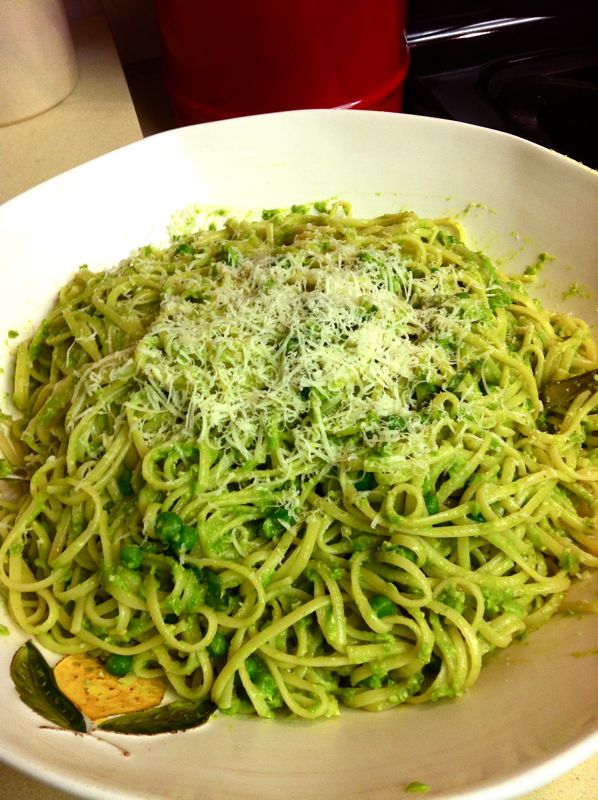 This recipe is from Smitten Kitchen (link to the right), but my sister Christine says she's made it, so I know it's been around a while.  Basically you puree some peas, add the rest of the pesto ingredients and toss cooked linguine with this and some of the pasta water, and you have a quick and delicious summer meal.  I mean it was so delicious I've had it every day this week and I'm still not tired of it.  It's creamy without being high-fat-high-calorie.  I used the frozen peas, but did buy a fresh bag so we didn't have to use that bag that's been kicking around the back of the freezer all winter.  We served it with fresh tomato bruschetta on crostini--a perfect meal.
Ingredients
1 1/2 cups (from approximately 1 1/2 pounds peas in pods) fresh pea or a 10-ounce package frozen peas (I didn't defrost mine–just dumped them into the boiling water.)
1 small garlic clove, minced
2 tablespoons pine nuts, toasted and cooled
1/2 cup (1 1/8 ounces) finely grated parmesan cheese
1/4 teaspoon table salt, plus more for pasta water
1/3 cup olive oil
1 pound dried linguine
Garnish (optional): thinly slivered basil leaves
Prepare an ice bath, a large bowl filled with ice water. Bring a small saucepan of lightly salted water to a boil. Add peas and cook for 2 minutes (this leaves them with a bit of structure). Drain peas then add them to the ice bath (if using) and drain again. If you haven't used an ice bath, let your peas cool to lukewarm before making the pesto.
Set aside 1/2 cup of your cooked peas. Whirl the remaining cup of peas in the work bowl of a food processor with garlic, pine nuts, 1/3 cup parmesan and salt until smooth, about 2 to 3 minutes, scraping down the bowl as necessary. With the machine running, drizzle in olive oil.
Cook your linguine until al dente. Reserve about two cups pasta cooking water, as the pea pesto will be surprisingly thick, then drain linguine and return it to pot. Over moderate heat, toss pasta with pesto, reserved peas and as much reserved pasta water as needed to smooth and distribute pesto; let cook for one minute so that the pesto adheres. Adjust salt to taste, add freshly ground black pepper if desired. Serve immediately, garnished with fresh herbs, if using, and remaining parmesan.