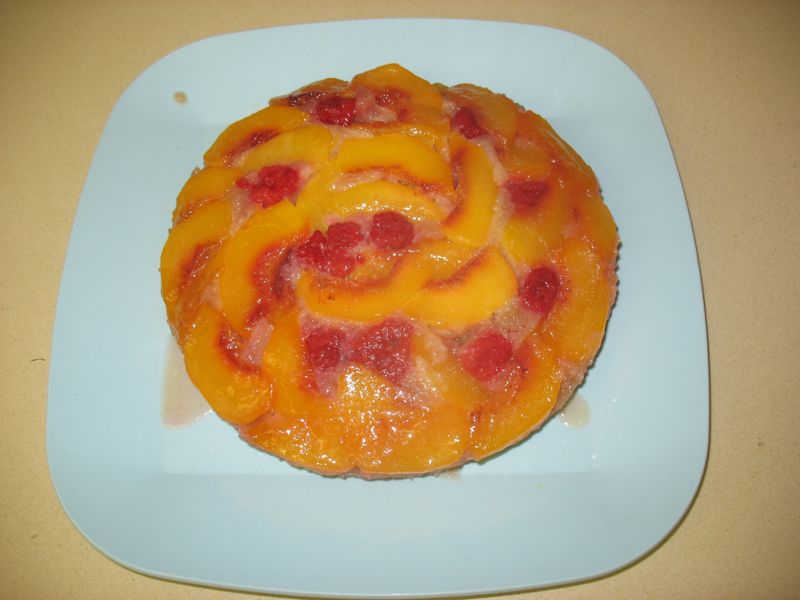 Once again, Dorie Greenspan writes a winner recipe.  This time it is a recipe for a peach upside-down cake, but it's lighter than usual, and uses a granulated sugar mix for the fruit, rather than a brown-sugar mixture.  We had a few extra peaches (okay–confession–I bought extra just so I could make this), a few raspberries and when it came out of the pan, Dave and I couldn't resist taking a small slice.  (Okay.  Confession.  We each had one more right then, promising to save the rest for later on tonight.)  I like the lightness of this–not so gooey, sicky sweet like that old pineapple standby.  (But I confess I liked that too, in its day.)
Ingredients:
1 cup all-purpose flour
1 teaspoon baking powder
1 teaspoon ground cinnamon
1/4 teaspoon salt
1 3/4 sticks (14 Tablespoons) unsalted butter, at room temperature (mine was neither unsalted nor room temperature)
granulated sugar, divided into 6 Tablespoons (part I) and 1/2 cup (part II)
2 large eggs
1/4 teaspoon almond extract
3/4 teaspoon vanilla extract
1/3 cup whole milk (we only have skim milk around here, so I poured in about 1 Tablespoon cream into a measuring cup and filled up the rest with skim milk)
3 large peeled and pitted peaches, sliced
a few raspberries for color (optional)
Center a rack in the oven and preheat the oven to 350 degrees F.  Put an 8×2-inch pan on a baking sheet.  Warning!  This is taller than the usual pan we have in our cupboards.  I bought mine at Michaels last time they included a coupon in the newspaper.
Whisk together dry ingredients.
Melt 6 TBLS of the butter in a small saucepan.  Sprinkle in 6 TBlS of the sugar and cook, stirring, until the mixture comes to a boil.  Pour this evenly over the bottom of the cake pan, then scatter the raspberries over the butter mixture.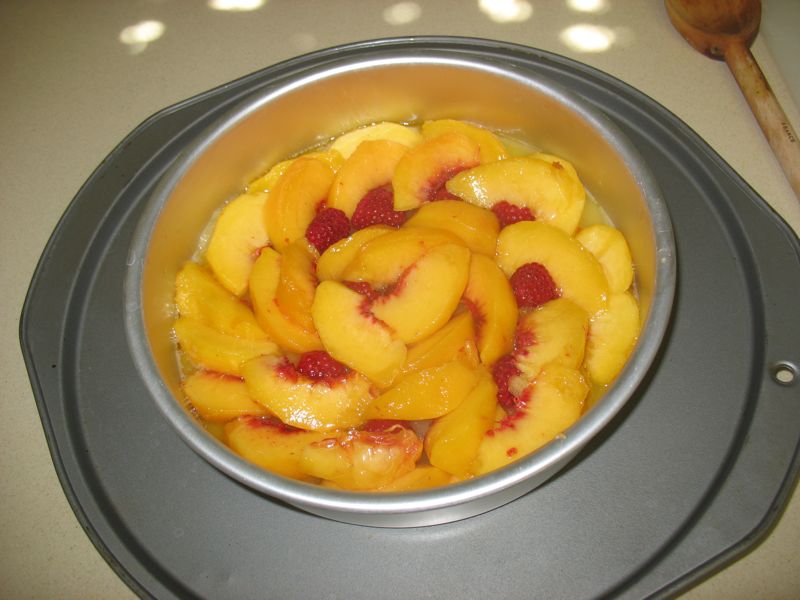 Beginning at the outer edge, ring the pan with the peach slices, ending at the center, fitting the raspberries in and around as you go.  (I had to take a picture of this step–it looks very pretty just sitting there.)  Set aside.
Working with a stand mixture, fitted with a paddle attachment (or with a hand mixer in a large bowl), beat the remaining stick (8TBLS) of butter on medium speed until smooth.  Add in the remaining 1/2 cup of sugar and continue to beat until pale and creamy, about 3 minutes.  (Don't fret if yours doesn't do this–mine didn't either, but I think it was because the butter was cold.)  Add the eggs one at a time, beating for 1 minute after each addition and scraping down the bowl as needed.  Pour in the vanilla/almond extract.
Reduce the mixer speed to low and half of the dry ingredients, mixing only until they disappear into the batter. Mix in the milk, then the rest of the dry ingredients, scraping the bowl as needed.  Spoon the batter over the fruit, and smooth the top with a rubber spatula.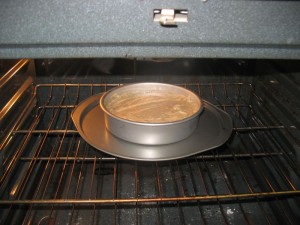 Bake for 40-45 minutes, or until the cake is golden and a thin knife inserted into the center of the cake comes out clean.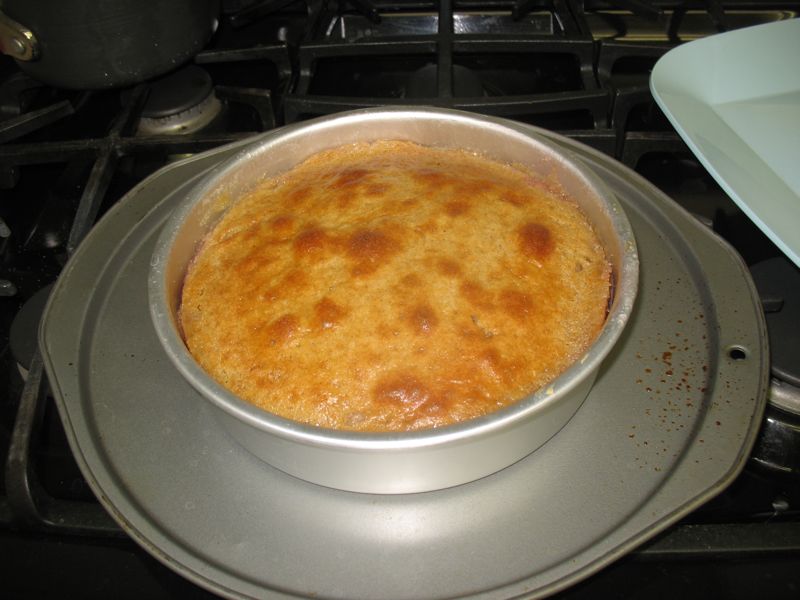 Remove it from the oven and run a blunt knife between the sides of the pan and cake.  Let sit for at least 15 minutes to allow the peach juices to absorb into the cake, then invert on a serving platter.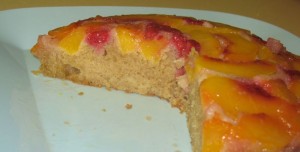 Yum! This is one of those recipes that isn't terribly glamorous, but that will disappear very quickly, as you can see by our photo above.  Very quickly.  Greenspan, who wrote the book from which this recipe was taken (Baking From My Home to Yours), made this first in a cranberry-nut version.  You can bet I'm going to try that come fall, when the cranberries hit the shelves.  Check back for that one, but in the meantime, go buy Dorie Greenspan's book.