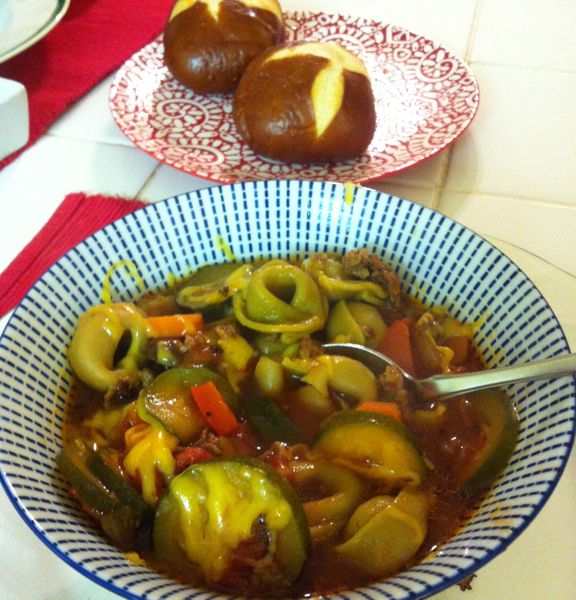 When it's raining or cold outside, it's a Soup Night inside.  And this one is a good candidate because it is chunky, hearty and has lots of vegetables and flavor.  It is — as are all soups — generally better the next day, so you can use that as your excuse for making a big batch and serving it twice.
This soup was originally published in Bon Appetit, but I have made changes over the three billion times I've made it.  Well, maybe I haven't made it that many times, but I've made it for our own supper, potlucks, soup parties and everytime I bring it somewhere, someone asks for the recipe.  Here it is.
Italian  Sausage  Soup  with  Tortellini–Yield: 8 servings, 1 1/2 cups each
(That's the official name, but we just call it Tortellini Soup.)
1 lb. Italian sausage (I use Jimmy Dean's Sage sausage as a back-up.)
1 coarsely-chopped onion
2 garlic cloves, sliced
4 cans (14.5 oz)  beef broth
1/2 cup water
2 1/2 cups (5 medium) chopped, seeded, peeled tomatoes, or 1 1/2 pounds Roma tomatoes (see note below)
1 cup thinly sliced carrots (about 3)
1/2 tsp. basil leaves
8 oz. can tomato sauce
1 1/2 cups sliced zucchini (about 2 medium–8″ long)
1 bag of dried tortellini (8 oz)
1 pepper, preferable a sweet red or golden pepper
Grated Parmesan Cheese (I used cheddar tonight, which is what you see above.)
If sausage comes in a casing, remove casing and brown sausage in a 5-qt. soup pot.  Remove sausage; drain.  In 1 Tbs. of drippings, sauté onions and garlic until tender.  [Cook's note:  I just throw in the onions and garlic to the almost browned sausage and keep stirring.]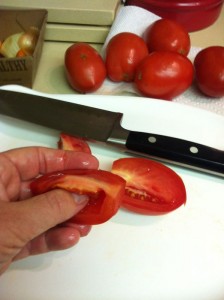 (They call for peeled seeded tomatoes.  Sometimes I do peel mine, but other times, I just cut them  up, then pop out the seeds with my thumb.)
Add beef broth, water, tomatoes, carrots, basil, tomato sauce and sausage.  Bring to a boil.  Reduce heat; simmer uncovered 30 minutes.  Skim fat from soup.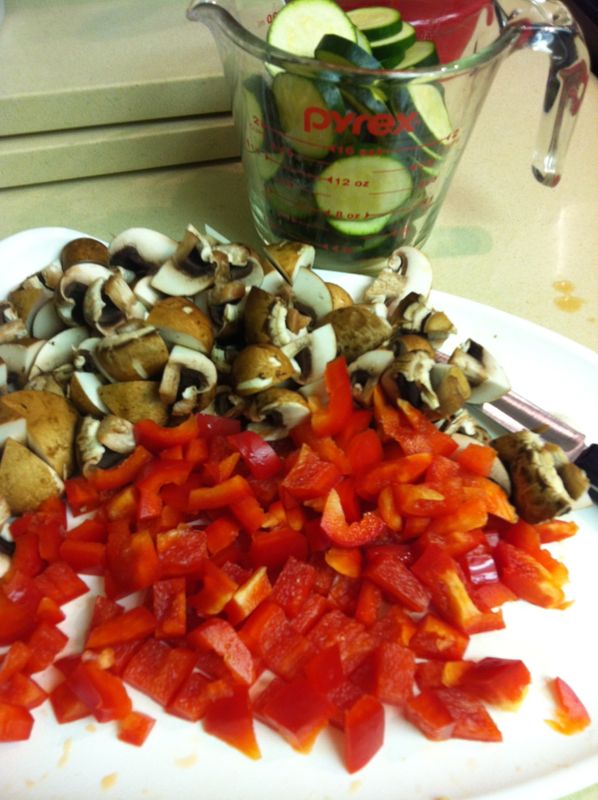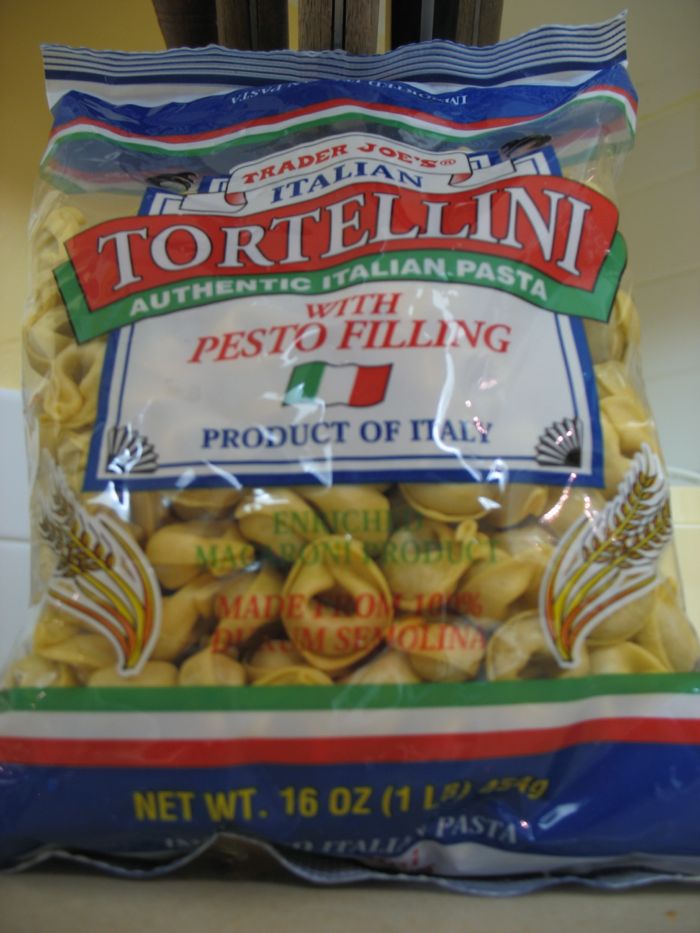 (If you use the full 16 oz. package of dry torrellini, you will have less of a soup and more of a casserole; try using just half of the package for a more soupier soup. Fresh tortellini can also be used, but it won't be as delicious, as the dry pasta soaks up the broth and flavors of the soup.)
Stir in zucchini, tortellini and pepper.  Simmer covered an additional 35-40 minutes or until tortellini are tender.  Sprinkle Parmesan cheese on top of each serving.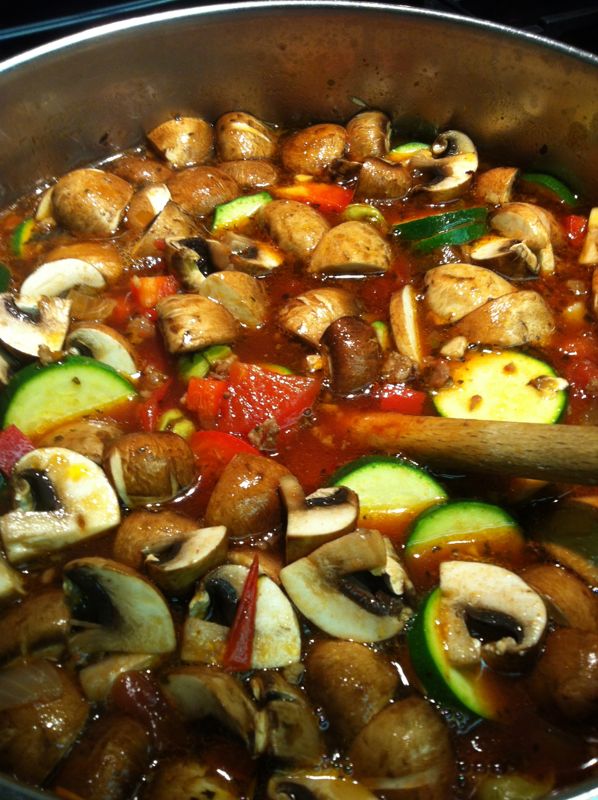 NOTE: I added crimini (brown) mushrooms this time around, cuting them into chunks.  This is strictly optional.  If you use the Jimmy Dean's sausage instead of the Italian, add a pinch of red pepper flakes to amp up the flavors.